Some places have come to symbolize a certain way of life, for instance, the Pacific Northwest city of Portland, Oregon. Its inhabitants have been immortalized in the quirky characters played by Fred Armisen and Carrie Brownstein in Portlandia, which returns to IFC tonight (January 18) for its eighth and final season.
Below is a list of some of the most infamous U.S. and U.K. locations, which have been put on the map — sometimes literally, in the case of the fictional ones — by comedians since time immemorial. Here are 10 American towns that have really got it in the neck from the comedy world.
10. Newark, NJ
The much maligned state of New Jersey has got it in the neck from comedians since forever. Brooklyn native Woody Allen declared in his 1973 film Sleeper, "I believe there's an intelligence to the universe, with the exception of certain parts of New Jersey." Meanwhile George Carlin suggested its nickname should be "The Tollbooth State." Conan O'Brien took it one step further in 2009, however, when his joke that a plan to improve Newark citizens' health care should "consist of a bus ticket out of Newark" got him banned from New Jersey's most populous city.
9. Norfolk, England
One of Norfolk's civic leaders tabled a motion in 2002 that BBC sitcom I'm Alan Partridge portrayed Norfolk as "a backwater populated by yokels." Quite understandably, he couldn't comprehend why the mere mention of the names of Norfolk villages — such as Spixworth and Acle — produces gales of laughter from the studio audience. We're not entirely sure, either. But they do. It seems the council had a change of heart, however, if this promotional video by Alan "in co-production with the Norwich Chamber of Commerce" is anything to go by.
8. "Pawnee," IN
It may be fictional, but Parks and Recreation's setting of "Pawnee" has a lot in common with real Midwest mid-sized cities like Bloomington and Muncie, with its colorful history and inhabitants providing some of its funniest jokes. Like city councilor Leslie Knope (Amy Poehler), the quaint little town is delightfully sunny and amusingly quirky, even in the face of a raccoon infestation and an obesity crisis.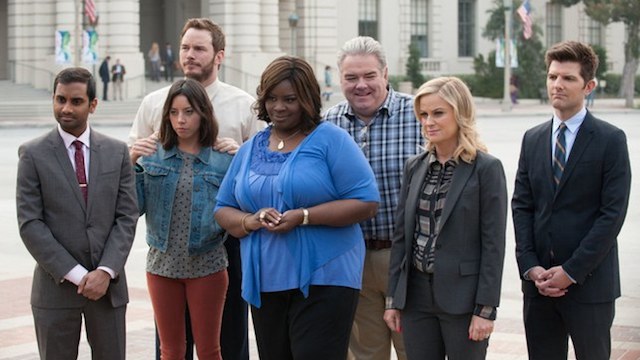 7. "The Pines of Mar Gables," FL
The fictional gated community in Seinfeld where Jerry's parents Morty (Barney Martin) and Helen (Liz Sheridan) reside is meant to represent a warm, peaceful Florida idyll in which seniors live out their final years together. In reality, though, it's a den of rivalries and backbiting, with a distinct lack of air conditioning that makes it unbearable for New Yorkers Jerry and Elaine (Julia Louis-Dreyfus).
6. "Mayberry", NC
The gentle (and fictional) Southern small town where Andy Griffith served as sheriff has become a byword for a cornpone utopia that never really existed. Nothing much happens in the sleepy village — nothing that can't be resolved through neighborliness and some aw-shucks common sense, anyway. To this day North Carolina exemplifies the simpler way of life, as comedians Kristen Wiig, Owen Wilson and NC native Zach Galifianakis discovered when they filmed heist movie Masterminds there in 2016.
5. West Covina, CA
As every character in Crazy Ex-Girlfriend will attest, West Covina is only two hours from the beach (four in traffic). It's one of the many, many attractions of this southern Californian suburb, and there's no other reason for New York lawyer Rebecca Bunch (the infernally talented Rachel Bloom) suddenly moving there. Oh no.
4. Slough, England
The drab English town of Slough gets star billing in the opening titles to The Office (U.K.), which feature such sights as the trading estate and the bus station. Slough was so underwhelming, in fact, the poet John Betjeman recommended its total destruction, calling the town not "fit for humans" and exhorting "friendly bombs" to fall on it. Hmm. Still not convinced you should add it to the itinerary of your next U.K. trip? Then here's David Brent (a.k.a. ex-lead singer and Bowie fan Ricky Gervais) with a song:
3. Scranton, PA
Producers had to choose an American Slough equivalent when The Office was being remade for American TV, and they found it in Scranton, Pennsylvania's sixth largest city. The show is actually filmed in California, but that hasn't stopped Scranton becoming a sort of Mecca for fans of the show, with many traveling vast distances to visit Michael Scott's (Steve Carell) favorite restaurant and the Dunder Mifflin gang's local pub. One nice touch: the office in question is located at 1725 Slough Avenue, a nod to the original series.
2. "Shelbyville", ??
If Springfield was designed to represent Anytown, U.S.A., then Shelbyville is Anytown's rival city, and therefore the butt of numerous jokes in The Simpsons. It too has its own nuclear power plant, and "Speed-E-Mart" convenience store, plus a pub called "Joe's Tavern". If anything, it's a mirror town to Springfield – proving we often have more in common than we think with what we laugh at.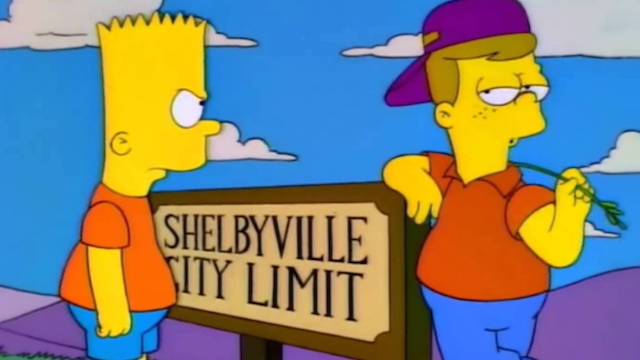 1. Brooklyn, NY
Plenty of shows have made Brooklyn look like a haven for the downtrodden, from 2 Broke Girls all the way back to The Honeymooners. As recently as 2003, Miranda in Sex and the City wouldn't even consider moving to Brooklyn, despite having to sleep in the dining room of her Manhattan apartment after the birth of her and Steve's baby. Now, of course, the borough is New York City's most ostentatiously trendy and expensive neighborhood — and Steve and Miranda, who did eventually give in to the lure of the cheaper, more family friendly borough — are presumably millionaires.
Can you think of any places we missed?
Read More