You might recall we were first introduced to Sherlock Holmes' on-screen sister Euros (played by Siân Brooke) in the latest season of Sherlock. Even the detective himself was surprised to learn of the existence of his savant sibling, with the two having been separated at an early age.
And now, a little confusingly, an altogether different version of Sherlock's sister is having her story adapted for the big screen. Millie Bobby Brown, the 13-year-old who blew us away with her portrayal of Eleven in two seasons of Stranger Things, is set to portray Enola Holmes, the teenage sibling of Sherlock and Mycroft, reports Empire.
And another thing: Enola's story was not, in fact, dreamt up by Sherlock Holmes creator Sir Arthur Conan Doyle, but instead comes from the mind of author Nancy Springer, whose mystery novel series kicked off in 2006 with "The Case of the Missing Marquess." Incidentally, Conan Doyle never actually gave his super sleuth a sister. The Sherlock character was entirely the creation of Steven Moffat and Mark Gatiss. 
Got it? Whew!
Here's the book's description for the Missing Marquess:
"When Enola Holmes, sister to the detective Sherlock Holmes, discovers her mother has disappeared, she quickly embarks on a journey to London in search of her. But nothing can prepare her for what awaits. Because when she arrives, she finds herself involved in the kidnapping of a young marquess, fleeing murderous villains, and trying to elude her shrewd older brothers—all while attempting to piece together clues to her mother's strange disappearance. Amid all the mayhem, will Enola be able to decode the necessary clues and find her mother?"
And, in case you're curious, here's its cover: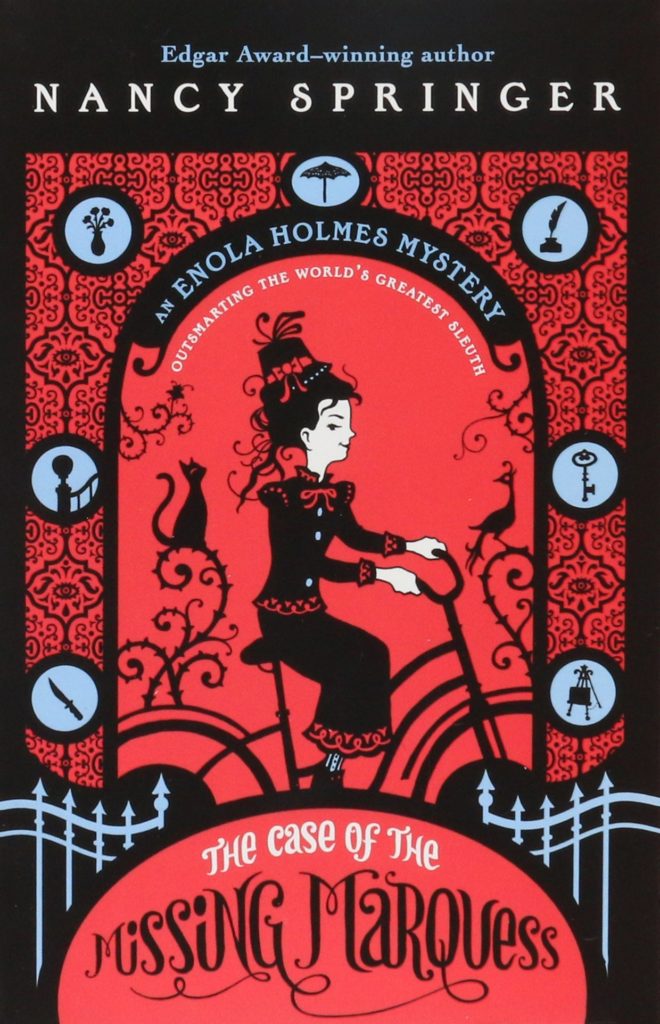 Ooh, she gets around town on a bicycle! And instead of a Watson, it looks like she has a black cat as an aid. Alas, we can't judge a book by its cover, so we shall have to wait for more details on the forthcoming project, which is being made by film production company Legendary.
But, we do know Brown is also confirmed to executive produce the film. That's a lot for a 13-year-old to take on, but based on what we've already seen of her — like holding her own on the red carpet with Anglophenia's Maude Garrett and rapping a recap of Stranger Things — we're pretty certain there's nothing this gal can't handle.
In case you've not caught Brown's performance in Stranger Things, here are the trailers for seasons one and two:
Brown has already completed filming on Godzilla: King of the Monsters, also coming out of Legendary and set for a March 22, 2019 release.
Are you up for more Holmes… even if not Sherlock? 
Read More
Filed Under: