Cult British comedy The I.T. Crowd is being remade for U.S. TV, with NBC hoping it's third time lucky.
The network has tried making an American version of the show twice already, but this new attempt will be the first to involve original series creator Graham Linehan, according to Variety.
He'll write and executive produce a U.S. reimagining of the show, which, far from following the exploits of a cool "it crowd," follows employees in the I.T. department (read: basement) of a large corporation.
The original series launched the careers of Chris O'Dowd and Richard Ayoade, and also starred Katherine Parkinson (Humans), Matt Berry (Toast of London), Chris Morris (Brass Eye) and Noel Fielding (Mighty Boosh), but has failed so far to make the transatlantic jump that The Office did.
First there was a pilot in 2007, filmed a year after the British original first aired, which saw Richard Ayoade reprise his role of Moss alongside Joel McHale in place of Chris O'Dowd's Roy.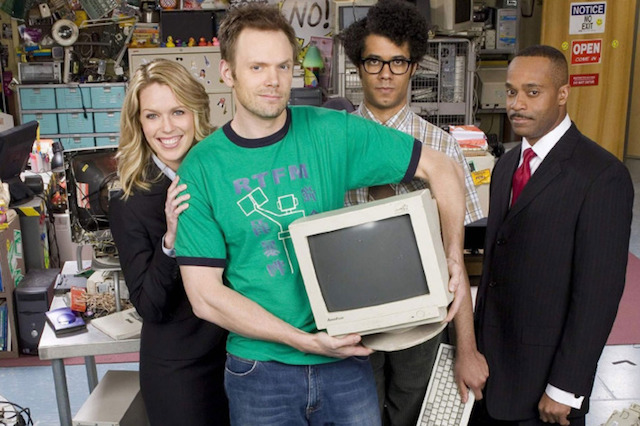 Joel of course went on to success as Roy-a-like Jeff Winger in NBC's Community, which debuted two years later, while another attempt in 2014 to remake The I.T. Crowd also failed to get off the ground.
Writer Graham might just be the missing ingredient, however. As well as being responsible for the original series, he's the writer behind British comedies such as Father Ted, Black Books, and now Motherland, which he co-wrote with Divorce and Catastrophe creator Sharon Horgan and is currently getting rave reviews in the U.K.
Clearly Graham has high hopes for this American update, tweeting yesterday (December 14):
Oh, yeah. Working on it. Don't expect the same kind of show and EVERYONE WILL BE HAPPY https://t.co/vtTUQZyJlB

— Graham 'jack and biz are nazis I guess?' Linehan (@Glinner) December 15, 2017
Fingers crossed, Graham, fingers crossed.
Will you be happy to see a U.S. version of The I.T. Crowd?
Read More
Filed Under: