The holidays are a time for coming together, and one of the cutest traditions is surely a lovers' kiss under the mistletoe. So it's sweet to see that Miranda Hart has decorated the set of her U.K. holiday special, Miranda Does Christmas, with a sprig of the festive plant, and taken the opportunity to give one of her guests, David Tennant, a seasonal smooch.
Channel 4 has released a photo of the magical moment ahead of the show's airing, and you can take a sneak peek below. We're sure a GIF of the Hart-Tennant embrace will find its way onto Twitter in the hours after Miranda Does Christmas goes out on December 27 in the U.K.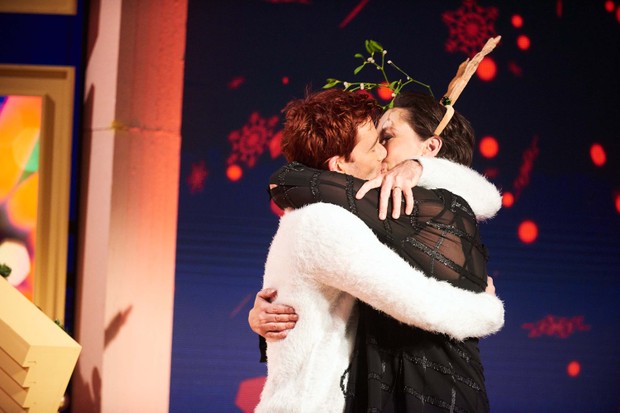 It's hard not to look at the picture and wonder what might have been. Hart would definitely have made an excellent Doctor Who companion back when Tennant was playing the Timelord. Equally, Tennant would have been a fabulous guest star (and potential love interest) on Hart's popular BBC sitcom Miranda. Who knows, maybe this kiss could spark a future collaboration between the two U.K. faves?
Hart, of course, has had quite an exciting week already. At the Royal Variety Performance in London on Monday, she managed to persuade Prince William, the future King of England, to do his impression of her signature Miranda "gallop." Honestly, is there nothing this woman cannot do?
Do you think this pair have Christmas chemistry? 
Read More
Filed Under: