There's no mistaking who she's supposed to be, but under all that ivory make-up and that red-haired wig is Emma Thompson.
The Nanny McPhee star has been made to look like Queen Elizabeth I for a special Christmas episode of Upstart Crow, a sitcom about William Shakespeare written by Blackadder's Ben Elton.
Don't believe us? Then here's Emma in all her Elizabethan finery: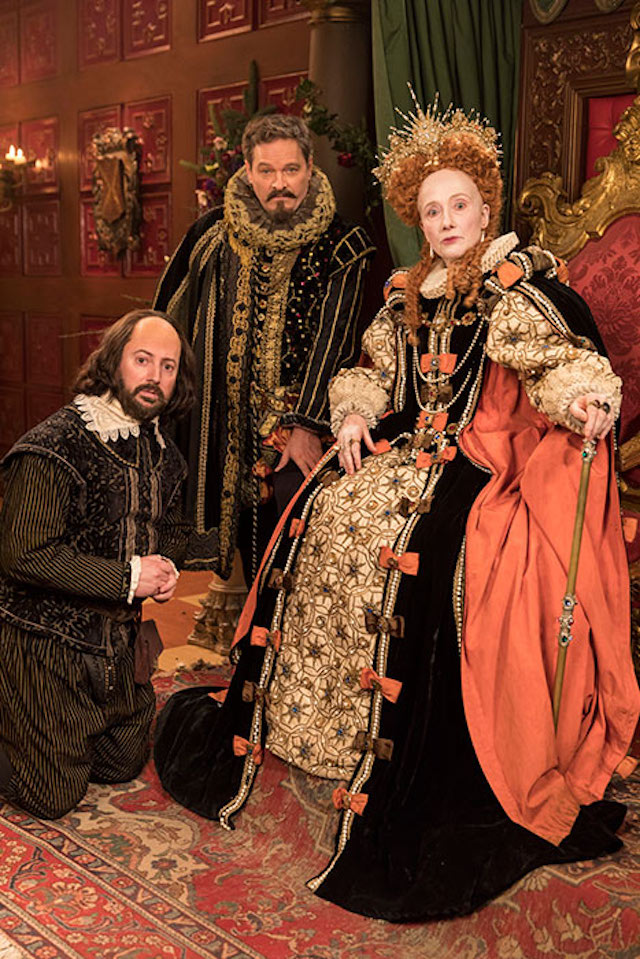 Also pictured are David Mitchell (Peep Show) and Mark Heap (Spaced), who play Shakespeare and his nemesis and real-life rival dramatist Robert Greene respectively.
Other historical figures who pop up in the show include Christopher Marlowe (Paddington's Tim Downie), actor Richard Burbage (Pirates of the Caribbean's Steve Speirs) and the composer Thomas Morley (memorably played by The Mighty Boosh's Noel Fielding), not to mention Shakespeare's mum (Paula Wilcox), dad (Harry Enfield), wife (Liza Tarbuck) and daughter (Helen Monks).
It was only a matter of time before the Queen of England put in an appearance. Our fascination with the first Elizabeth shows no sign of diminishing, as recent photos of Margot Robbie looking unrecognizable on the set of Mary Queen of Scots testify.
The Virgin Queen has been played by some of our favorite actors, from Dames Judi Dench and Helen Mirren to Anne-Marie Duff and Cate Blanchett, as well as a delightfully unhinged performance by Miranda Richardson in Blackadder.
How Emma's performance will compare is anyone's guess, but the episode, which airs in the U.K. on 25 December, will apparently see Will rehearsing his latest play for a special Christmas performance in front of the Queen. But in true sitcom-tradition, things don't quite go to plan…
Upstart Crow can be viewed on Amazon Video and iTunes in the U.S.
Did you recognize Emma?
Read More
Filed Under: