The western is a tireless form, which still has the power to resonate today despite its nineteenth-century setting.
It's also infinitely versatile, as demonstrated by Godless, which launches this month (November 22) on Netflix. Starring Jeff Daniels, Jack O'Connell (Money Monster) and Thomas Brodie-Sangster (Love Actually), it depicts a Wild West we know well, from gun battles and galloping horses, to shots of tumbleweed blowing across wide open spaces, and climactic showdowns in the middle of dusty main streets.
What makes it so different, however, is a narrative dealing with race, sexual orientation, and gender. Downton Abbey's Michelle Dockery plays Alice Fletcher, a young widow living near the town of Labelle, where the population is all-female on account of a devastating mining accident that wiped out nearly all the local men.
It may sound like a sci-fi premise — and after Westworld you'd be forgiven for jumping to that conclusion — but it's just the latest modern western to reanimate the genre for 21st-century audiences. Below is a list of 10 of the best.
10. Westworld (2016)
It could be argued that science fiction has replaced the western in our imaginations, what with its obsession with finding a promised land and pushing frontiers. This recent adaptation of Michael Crichton's novel about a Western-themed park populated by robots goes one step further by bringing the two genres together.
9. Django Unchained (2013)
It was only a matter of time before shock director Quentin Tarantino tackled the western, and when he did, he was as ruthless with convention as you'd expect. Whatever you think of its stylized depiction of the 19th century Deep South, it remains an entertaining take on the good, the bad and the ugly of American history.
8. The Proposition (2006)
The twist here is that the setting is the sun-baked Australian outback, not the American Wild West, but otherwise the genre's tropes remain intact. Weather-beaten men? Check. Desolate terrain? Check. People shooting each other? A lot? Check, and double check.
7. The Homesman (2014)
Like Godless, this western directed by and starring Tommy Lee Jones focusses on the female perspective, as he escorts a group of women led by Hilary Swank home to Iowa. By mirroring the psychological and geographical turmoil that can make one slowly drift away from one's own mind, it offered a fresh new take on the western.
6. Brokeback Mountain (2006)
Film fans and critics alike have long detected a strain of homoeroticism in westerns, what with their isolated male camaraderie. It reached an apotheosis in this adaptation of an Annie Proulx novella about a secret love affair between a ranch hand and a rodeo cowboy, and though it's set in the comparatively modern era of 1963, it still fits the western mould.
5. Blackthorn (2011)
This film from director Mateo Gil doesn't just update the western, it updates the story of one of the genre's greatest heroes. It posits the idea that bank robber Butch Cassidy didn't die in that shootout in Bolivia, made famous by the 1969 classic Butch Cassidy and the Sundance Kid starring Paul Newman and Robert Redford. Instead he made it out alive to a secluded village, where he now lives under the assumed name James Blackthorn (Sam Shepard).
4. Deadwood (2004 – 06)
This landmark HBO show gets down and dirty with the western genre, depicting the past as corrupt, brutal and racist, and anything but epic.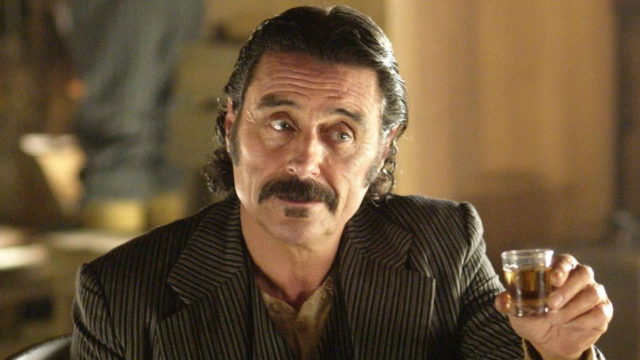 3. No Country for Old Men (2007)
Dubbed a "neo-western," this Coen Brothers film features a baddie (Javier Bardem) taken straight out of the Wild West copybook, albeit with a few modern touches. While the hero (Tommy Lee Jones) carries a revolver, rides a horse, and wears a white hat like a classic cowboy, his nemesis uses a silenced, semi-automatic shotgun, tracks Moss with a radio-transmitter, and replaces a hat with a really bad haircut.
2. Meek's Cutoff (2010)
Wagon trails are usually spotted from on high in classic westerns, a line of unsuspecting settlers that become the target of opportunistic outlaws. Kelly Reichardt's bleak and mysterious film instead situates us directly among families following the Oregon trail, showing what a grueling and dirty ordeal it must have been.
1. The Assassination of Jesse James by the Coward Robert Ford (2007)
Brad Pitt puts in an impressively cool performance as notorious outlaw Jesse James, but it's Casey Affleck's deeply creepy Robert Ford — not to mention some jaw-dropping cinematography — that makes this film so mesmerising.
Read More
Filed Under: