C'mon — 'fess up. We've all messed up with our cell phones — though perhaps not in quite so public a manner as Mark Ruffalo on Tuesday (October 10).
The Hulk star was attending the L.A. premiere of Thor: Ragnarok, the third installment in Marvel's Thor franchise that opens in theaters on November 3, when the phone malfunction occurred.
And this wasn't just an embarrassing buttdial, or liking an ex's tweet by mistake. Oh no. Mark accidentally live broadcast the first 10 minutes of one of the most hotly anticipated movies due out this fall, made by a company famous for its secrecy.
It all began as Mark live-streamed the event via Instagram, showing co-stars Chris Hemsworth, Tom Hiddleston, and Cate Blanchett as they arrived on the red carpet. What he didn't realize, however, as he settled in his seat in Hollywood's El Capitan Theatre to watch the film alongside the rest of the cast, is that the livestream was still running.
Eesh. Luckily almost 2,500 of his followers noticed:
Mark Ruffalo leaked a sneak peek of #ThorRagnarok from yesterday's premiere! pic.twitter.com/JE5VfmQMPY

— Best of Marvel (@thbestofmarvel) October 11, 2017
The stream had no discernible video, on account of it presumably being in Mark's pocket. But the audio of the film, complete with audience laughs and cheers, was enough to send those watching into paroxysms of excitement.
Mark was quick to own up to the mistake, posing rather sheepishly with his camera during the curtain call at the end of the movie: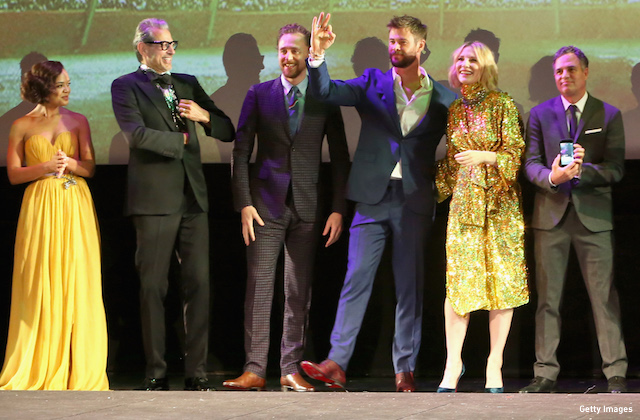 The good news is that Mark's faux pas did not detract from what was happening in the theater, with many of the film fans and critics in attendance tweeting praise for director Taika Waititi's addition to the franchise.
That didn't mean Mark was off the hook, however. After a day of being ribbed by his fellow cast members and on social media, last night (October 11) Mark issued a fulsome apology:
All kidding aside… I'm sorry @Marvel. Can I have my phone back? https://t.co/kVoPYyXlPn

— Mark Ruffalo (@MarkRuffalo) October 12, 2017
What do you think, should Mark be given his phone back?
Read More
Filed Under: