Has your social media been filled with intriguing promos for Fearless, the new drama that just landed stateside courtesy of Amazon Prime. Yep, ours too — we're talking about this kind of thing:
Look closely and you'll see light writing on the areas whited out in the above, completing the sentences, which in full read: "I confessed to knowing the 14-year-old schoolgirl because I was tired and scared and the lawyer wouldn't let up. I did it because she said it would help me in court. She lied."
The clever teasers have us hooked, but they also leave us wanting to learn more about the show's compelling lead actress, Helen McCrory. She portrays human rights attorney, Emma Banville, who takes on the case of Kevin Russell (Sam Swainsbury), a man jailed for the murder of a schoolgirl 14 years ago, when he wasn't much more than a child himself.
If McCrory is new to you, perhaps you're getting a Broadchurch/Olivia Colman vibe — understandable considering the series' subject matter and Emma's mission to solve a murder. But the experienced actress stands out in her own right, which is where this list comes in:
1. She started out in theater.
Growing up in Africa, as she mentions in the interview below, McCrory wasn't immersed in film and TV. When she moved to the U.K., she started seeing plays in grade school and quickly decided she'd rather be on stage than in the audience. Having caught the "acting bug" young, she enrolled at the Drama Centre in London, and from there starred in major theatrical productions, like Harold Pinter's Old Times in 2004, directed by Roger Michell, which she elaborates in the below discussion.
2. Her first on-screen role was in 1993.
She's been making the rounds on U.K. and U.S. TV screens in recent years, but she didn't just turn up out of nowhere. McCrory has been a working television actress for nearly two and a half decades. Her very first on-screen performance was in the early 1990s in an episode of the British comedy Full Stretch. She gained more screen-time, with more developed roles, like in the 1996 TV series The Fragile Heart and 2000 miniseries Anna Karenina in the title role.
3. Yes, yes, you did see her in Peaky Blinders.
If McCrory looks familiar, it's probably because she plays Aunt Polly in the popular period drama. Polly Gray is not only the Shelby family's matriarch, but also the treasurer for the Birmingham gang known as the Peaky Blinders. She managed the "business" when the Shelby boys (Cillian Murphy, Paul Anderson and Joe Cole) were away during World War I. Peaky Blinders is heading into its fifth season in 2018, but if you need some catching up, the first three are available over at Netflix.
4. And, you're right, that was her as Madame Kali in Penny Dreadful.
We could carry on rattling off her TV roles, but this one and Peaky are the most recent — and arguably her best to-date — so we wanted to dedicate an item to each. Set in Victorian England, Showtime's horror drama series Penny Dreadful, is a mashup of classic literary characters, like Dr. Victor Frankenstein (Harry Treadaway), his Creature (Rory Kinnear) and the never aging Dorian Gray (Reeve Carney). She poses as a spiritualist entertainer, but actually she's no charlatan. Madame Kali is totally legit, possessing great powers and a lot of evil intent.
5. She's married to someone you know from the screen.
McCrory isn't all work. She and Anglo fan favorite Damian Lewis (Homeland) are loved-up and married with two children. The pair met in 2003, starring opposite each other in the stage production of Five Gold Rings. Lewis was actually instrumental in her casting. Despite not knowing her personally, the Billions star called McCrory and persuaded her to do the play with him. She said yes and the two hit it off instantly, with McCrory talking about the chance meeting to The Daily Mail, saying, "He just made me laugh a lot. And still does." Some celebs are kind of hush hush about their private life, but McCrory is more than happy to gush about her thesp hubby, saying in an interview earlier this year, "You know… he's lovely, otherwise I wouldn't have chosen him. If I don't think he's lovely, we're all screwed." Fair point.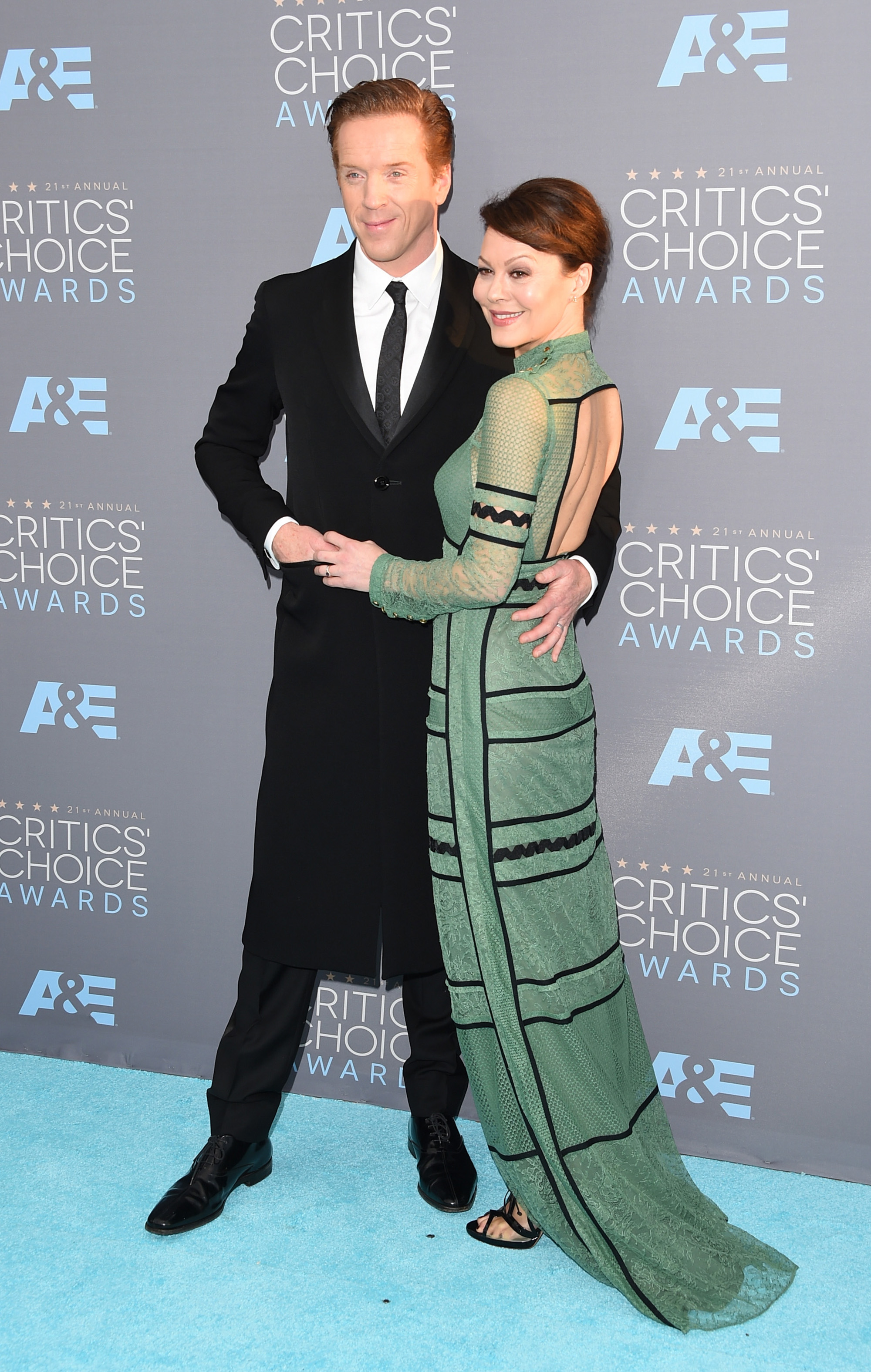 6. She's dramatic on-screen, but also has a funny side.
Staying on topic, McCrory told a British chat show what might happen to her lovely marriage if Fearless flopped. OK, rest assured, Fearless is a confirmed success in the U.K., debuting with five million viewers, and now breaking out in the U.S. But before she knew how Fearless would be received, McCrory pleaded with viewers to, "Save a marriage today!" We know she wasn't serious, but it did make us wonder if that kind of pressure might cause stress in a household headed by two big name actors. Almost as much stress as, say, commuting between England and California to make a show. This was exactly what befell the McCrory/Lewis family when Fearless started. Lewis, filming Billions in L.A., looked after the couple's two children, while McCrory stayed in London to shoot. She traveled back to L.A. every eight days to be with her brood. That's gotta be tough, so it's lucky she's in possession of an excellent sense of humor.


7.  She's been a storyteller since a young age.
This little tidbit, shared in a sit-down interview from 2015, gave us a giggle. When asked about what kind of child was, she responded, "A feral, compulsive liar." At least she's honest in the retelling. McCrory moved a lot with her parents when growing up, adding, "Every country we went to, I would make up these fantastical stories about who I was and what my parents did, and just pray to God that my father's posting would come around quickly before I was rumbled in the playground." She provided an example of one of her tall tales: "I would say things like, 'My father works for the Queen,' which was based in truth as he worked for the Foreign Office, but I was just such a liar. I suppose in the end it was good practice for being an actress." No judgment here.
8. She believes in the "revolution" for actresses of a certain age.
There's no official rule that women age out of acting, of course, but the unfortunate reality is that there aren't so many roles for women over 40. But, that doesn't deter McCrory, 49. She's adamant that actresses don't need to step aside, referring to women persevering in the profession as a "revolution." When she was asked about older women winning substantial roles, McCrory responded: "I think we've still got a long way to go, but yes, slowly and surely we're getting there." She expounds on her theory, saying, "I think the revolution started off in television, when you had new novelistic drama which was embraced by America and put right in the center, women." She's right, of course. The roles themselves have to exist in the first place. Here's a look at McCrory in just such as powerful female role as Clair Dowar MP in 2012's Skyfall.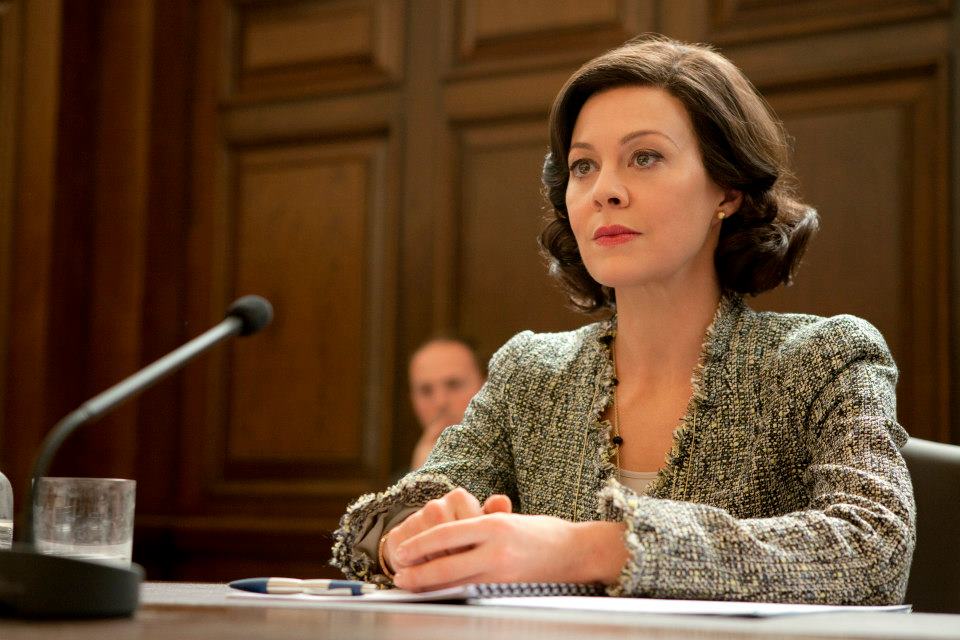 9. She's a fan of the classics… and working with her hubby.
Two centuries after Mary Shelley wrote Frankenstein, McCrory and Lewis teamed up to act out extracts from the novel at the 2016 Keats-Shelley Prize ceremony in London. McCrory sets the stage, reading a passage from the book: "It was already one in the morning. The rain pattered dismally against the panes. And my candle was nearly burnt out…" So far, so eerie. Lewis continues the story, taking on the voice of the Creature, when he realizes Dr. Frankenstein, his maker, is cold to the touch: "He cannot answer me." It's nice that they were able to carve out some time from their hectic schedules to combine their working and personal lives.
10. She's fearless.
In the clip below, McCrory tells a story about chasing after a man who she'd overheard on a train talking about his work as a human rights lawyer. After he'd gotten off, she realized this was a great opportunity to get a first-hand account of what comes with the vocation, and to help her prepare for her role in Fearless. So she exited the train too and ran after him. When McCrory caught up and explained, he was a little taken aback, but quickly warmed up to her request to learn more. Which she did, like the difference between the roles of a solicitor and a barrister in Britain.
Now that you've got some background on McCrory, you're all set to binge watch the six-part series Fearless this weekend.
Let us know your thoughts on Monday — we can swap notes!
Read More
Filed Under: