We're nearing the winter months when staying inside seems a lot more tempting than braving bad weather. Some might feel a tinge of guilt not being out and about… but, not us! We'll happily ditch the great outdoors for a movie marathon, cuddled up on the couch.
If like us you're looking for an excuse to spend the day in hibernation, here's a list of guilt-free films to keep your toesies cozy:
1. Blade Runner (1982)
The original Blade Runner, starring Harrison Ford as a police officer hunting rogue clones known as replicants, may lean more toward sci-fi than sexy… but it's definitely heated. Ford is smoldering as Rick Deckard. He doesn't seem to care much about anything, until he meets the stunning Rachael (Sean Young). She works on behalf of Dr. Eldon Tyrell (Joe Turkel), who's responsible for creating the replicants. Rick isn't sure what to make of her, but finds himself drawn to the buttoned-up assistant. The replicants themselves (Daryl Hannah, Rutger Hauer) ooze attractiveness. They're basically perfect specimens of the human species, apart from one small detail: they're not actually human. If you're going to spend the day inside, this exhilarating film will get the blood flowing.
2. Fatal Attraction (1987)
Fatal Attraction stars Michael Douglas as a lawyer, who seems to be happily married, and Glenn Close as a book editor, who seems to be single and ready to mingle. The two meet, spend the night together, and things get seriously wackadoo quickly. Clearly, something was going on before this chance encounter, because one night of hawt sex should not translate into such a severe attachment to another person. Yet Closes's character becomes beyond obsessed, which quickly turns into stalking. While this film is not all that romantic, its edginess will keep your heart racing. And even if you're not feeling the fire, a certain pet bunny takes enough heat for the both of you.
3. Dangerous Liaisons (1988) 
This time around, Glenn Close stars as Marquise de Merteuil in Dangerous Liasions, the film adaptation of the novel Les Liaisons dangereuses, first published in 1782. The Marquise challenges her former lover, played by John Malkovich, to seduce an honorable woman (Michelle Pfeiffer). Her plan backfires, however, when he falls in love with his conquest. If you want to have a mini-marathon, Colin Firth stars in 1989's Valmont, based on the same novel. And, there's a more modern take on the story with 1999's Cruel Intentions, starring Sarah Michelle Gellar and Ryan Phillippe as her step-brother, Sebastian.
4. A Perfect Murder (1998)
Apparently, some actors are just made for sexy films and we have another repeat name on the list. Michael Douglas also stars in A Perfect Murder, opposite Gwyneth Paltrow and Viggo Mortensen. Douglas and Paltrow play a cute and cosy looking married couple. Only in this tale, it's the wife who strays. She and Mortensen, a starving artist, begin an illicit affair. But, unbeknownst to Paltrow's character, she is being set up. Her husband finds out about their relationship, steps in, and pays her lover to kill her. But, plans change… It's the twists and turns of this tale that keep the momentum going and the temperature raised as you watch nervously from under the covers.
5. Sex and Lucia (2001)
Sex and Lucia, a Spanish film with English subtitles, doesn't involve as much conniving and backstabbing as some of the films we've already covered… phew! But, don't get us wrong, it's no simple story and actually gets pretty complicated. Lucia, played by Paz Vega, finds out her boyfriend Lorenzo (Tristán Ulloa) has gone missing. She's afraid he may have taken his own life. Rather than facing her fears, she runs off to an isolated island. As you do. The film then backtracks to six years earlier, when the two met. And from there, it goes back and forth between then and now. Not knowing Lorenzo's fate, Lucia indulges in a casual relationship with a local scuba diver. She also befriends a woman living on the island, but soon realizes her new friend also knows her Lorenzo. Watching this film will allow for some armchair travel to the warm Mediterranean.
6. Eyes Wide Shut (1999)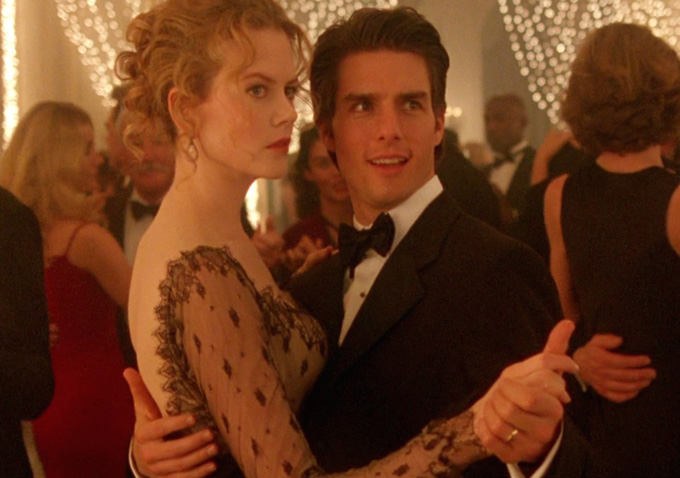 You may need to get out from under the covers for Eyes Wide Shut.… things get steamy quickly. Tom Cruise and Nicole Kidman, who were still married — to each other — at the time of filming, star as married couple, Dr. and Mrs. Harford. Director Stanley Kubrick certainly brings a bit of voyeurism to the screen with his choice in casting. The film kicks off with the husband and wife talking about how men and women have different needs. Dr. Harford says he's sure his wife would never cheat on him — a claim that prompts her to yell, "You're pretty sure of yourself." The argument ends with him leaving, going into a sort of spiral and landing at a secret sex party where all the guests wear masks. This is one of those films that reminds us: parties are overrated. Staying at home watching movies is much… safer. The trailer is a little NSFW, but you can watch it over at YouTube.
7. Young Adam (2003)
Ewan McGregor plays a drifter who finds a job on a barge. It's clear that the captain's wife (Tilda Swinton) has a soft spot for him when she suggests he do something more interesting than work to pass the time onboard. He takes her up on the indecent proposal, one thing leads to another, and you, dear viewer, get to glimpse McGregor in a stark (naked!) new light. And if that doesn't warm the cockles of your heart, we're not sure what will.
8. Match Point (2005)
In Match Point, Jonathan Rhys Meyers (starring opposite Scarlett Johansson), plays a man who wants what he can't have. This romantic thriller sees Meyers, a tennis instructor, get chummy with one of the members (Matthew Goode) of the club he works at, and later get engaged to his new friend's sister (Emily Mortimer). But, he has a wandering eye and sets his sights on his friend's girlfriend (Johansson). The two get together, but when things become complicated, it's clear that holding onto his comfortable life is more important than a fleeting fling. The thing is, for someone who always wants more, there is no satisfying that urge… The back and forth of this drama will keep your thermostat at a steady h-o-t.
9. Black Swan (2010)
Natalie Portman portrays aspiring ballerina, Nina, in Black Swan. She's living with her single mother in a small apartment in NYC when she lands the lead role in a production of Pyotr Ilyich Tchaikovsky's Swan Lake. With this new gig, she meets new friends, including fellow dancer Lily (Mila Kunis). Lily helps Nina come out of her shell and, more importantly, get out from under her mother's thumb. The new friendship results in a sexual awakening for Nina, but things become quite confusing and it gets to the point where she can't tell if something's actually happening, or if it's just her mind playing tricks. We should mention, Winona Ryder makes an appearance as the former Swan, who's been knocked off the stage, aging out of the spotlight. Keep your elbows in, because Black Swan will take you for a ride.
10. Shame (2011)
Director Steve McQueen's Shame is sex with a side of sex. Michael Fassbender plays NYC businessman, Brandon Sullivan, who's been extremely busy, not at work, but having paid-for-sex, daydreaming about sex and getting down and dirty in the office bathroom. He finds himself in a bit of trouble when he's busted for spending too many office hours online surfing porn sites. His sexed-up lifestyle is thrown off, however, when his little sister (Carey Mulligan) comes to town unannounced and doesn't seem to have any plans to leave. The content is edgy, and possibly a little raw, so definitely a film one to watch home vs. in a theater with strangers. We'd suggest making sure the blinds are down and curtains closed.
Do you have any additions to our hot list? 
Read More