Viceroy's House starring Hugh Bonneville opens in theaters today (September 1), and inevitably it's got critics comparing it to Downton Abbey.
Okay, so it's set in India, and the year is 1947, but Hugh does play a Lord (hooray!) — Lord Mountbatten, to be exact, the real-life last British viceroy to India before it finally gained independence in 1948. Gillian Anderson plays his wife Lady Edwina Mountbatten, with Manish Dayal (Agents of S.H.I.E.L.D) and the late Om Puri (The Reluctant Fundamentalist) joining them, and Anglo veterans Simon Callow and Michael Gambon also popping up.
To celebrate Hugh's return to his rightful role, we've put together some of his funniest and most surprising moments.
1. That Time He Didn't Recognize Julia Roberts
Long before Hugh graced our TV screens on Downton, he made a small appearance in British rom-com Notting Hill, opposite Julia Roberts and Hugh Grant. He played a bumbling character called Bernie, who couldn't spot a Hollywood star if she, uh, sat right in front of him.
2. When He Reminisced About Being a Child Diva
And even further back than that, he was a dab hand with the dressing box. Here he is telling Kirsty Young on BBC Radio's Desert Island Discs about the plays he put on as a child.
3. That Time He Wore Lipstick on Top Gear
Hugh's Top Gear appearance caught people's attention for reasons other than his position on the leaderboard. Specifically, it was that chunky knitted sweater — and his unusually ruby lips. Trust our Graham to bring it up when Hugh was a guest on his couch, prompting uncontrollable laughter from other guests Bill Murray and Matt Damon.
4. When He Understudied For Ralph Fiennes
Ever thought how much Hugh looks like Ralph Fiennes? Nope? Neither have we. But way back in 1986 he understudied for the Invisible Woman star in the role of Lysander in Shakespeare's A Midsummer Night's Dream.
5. When He Gave Lord Grantham an American Accent
We were all shook up when Stephen Colbert persuaded guests Hugh, Michelle Dockery and Allen Leech to drop their plummy accents for an American twang in this 2015 episode of The Late Show. Michelle and Allen brought a whole new angle to a rather dull conversation about building works, but it was Hugh who really threw himself into the role.
6. That Time He Did the Ice Bucket Challenge
Remember the Ice Bucket Challenge? In 2014 it was all the rage, and Hugh is nothing if not a good sport. His Hans Christian Andersen: My Life as a Fairy Tale co-star Kieran Bew nominated him to dunk a bucket of ice water over his head for charity, and he in turn nominated fellow Downton-ers Allen Leech and Jim Carter.
7. When He Crossed Downton with Breaking Bad
Stephen Colbert strikes again, with this 2012 sketch from The Colbert Report that spoofs both Downton Abbey and Breaking Bad. Hugh plays a foul-mouthed and distinctly Walter White-esque version of Lord Grantham, who, having fallen on hard times, has been forced to make and sell his own tea.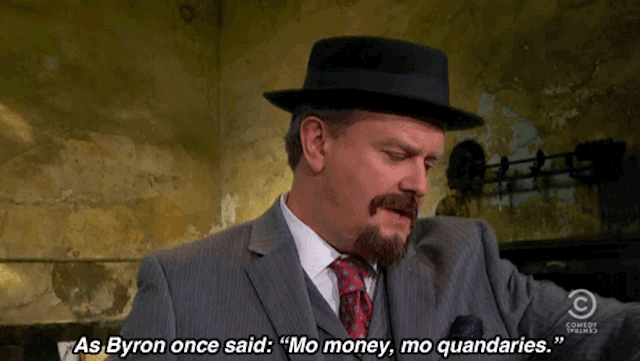 8. When He Did Improv with Mrs Overall
We know Julie Walters from roles such as her star turn in Mamma Mia! and Molly Weasley in the Harry Potter films. But before all that, she made her name as "Mrs Overall," the doddering tea lady from Victoria Wood's classic "Acorn Antiques" sketch. Graham Norton convinced her to reprise the role for a spot of improv, and Hugh was, as ever, game for a laugh. What happened next made no sense at all, least of all to Graham's other guest Nicole Kidman.
9. That Time He Was the Ultimate Good Sport
And then there was this moment, at the 2015 TV BAFTA Awards, when Hugh lost out to Toast's Matt Berry for the Male Performance In A Comedy Program gong. We're not sure if that counts as a stiff upper lip, Hugh, but it's a strong look nonetheless.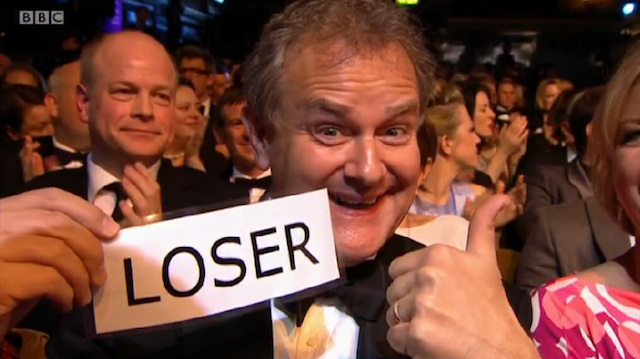 What's your favorite Hugh Bonneville moment? 
Read More
Filed Under: