Defending champ Andy Murray lost out to Sam Querrey in the quarter finals of the Wimbledon Lawn Tennis Championships yesterday (June 12), and, while the match provided plenty of heart-stopping moments, it's fair to say the real drama happened in the royal box.
That's because, tucked in among the onlookers in the prime seating at Wimbledon's famous Centre Court, were Dame Maggie Smith and Sir Ian McKellen.
And, just as we would expect, both showed the depth of their drama training, offering a full range of facial expressions —from elation and surprise, to disappointment, fear and even outrage — throughout the course of the match.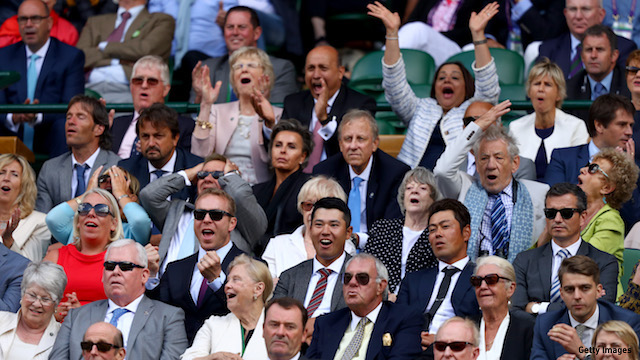 The two pals were soon spotted by others watching the match, including the official BBC coverage:
https://twitter.com/bbctennis/status/885123249650241536
Whoever is sat next to @IanMcKellen and Dame Maggie Smith watching @andy_murray has officially completed @Wimbledon and life

— Edd Dracott (@EddDracott) July 12, 2017
Can we take a moment to appreciate Dame Maggie Smith and Sir Ian McKellen at #Wimbledon pic.twitter.com/XpCTacWLOu

— jodie. ϟ*ೃ (@ImaGleekBaby) July 12, 2017
Sir Ian and Dame Maggie have been friends for a long time, having been pals since meeting in 1995 when they worked together on the film adaptation of Richard III.
Recently Sir Ian let it slip that they almost worked together again, when he was offered the part of Dumbledore in the Harry Potter films, in which Dame Maggie already played Professor McGonagall.
And, if that display of British acting royalty wasn't enough, later on in the day, as Roger Federer played Milos Raonic for his place in the semi-finals, the pair was joined by Dunkirk star Mark Rylance.
Haha @rogerfederer turned Mark Rylance and Ian McKellan into fanboys. #Wimbledon pic.twitter.com/yTH07nJQ01

— Daniel Stetson (@MrDanielStetson) July 12, 2017
And, only a good friend like Ian can get away with doing an imitation of Maggie, delivered on The Graham Norton Show:
Did someone say "dame, set, and match"?
Read More
Filed Under: