Monty Python star and film director Terry Gilliam will be popping champagne corks this week. A full seventeen years since he first attempted to get his take on Don Quixote off the ground, the movie finally wrapped this weekend.
Since the turn of the last century, there have been no fewer than EIGHT unsuccessful attempts to make The Man Who Killed Don Quixote, with names such as Johnny Depp, Ewan McGregor, Robert Duvall, Jack O'Connell, Michael Palin, and John Hurt attached, and everything from plane noise and flash floods to injured cast members hampering production.
In fact, the project was so notoriously troubled and stuck in "development hell" that a documentary called Lost in La Mancha was made about it in 2002.
In March this year, however, it was announced that filming had once again begun, with Jonathan Pryce in the lead role, alongside Star Wars' Adam Driver, Olga Kurylenko (Momentum, Quantum of Solace), and Thor's Stellan Skarsgård.
And it looks like they've made it through! So pleased was Gilliam, he took to Facebook on Sunday (June 4) to share the good news: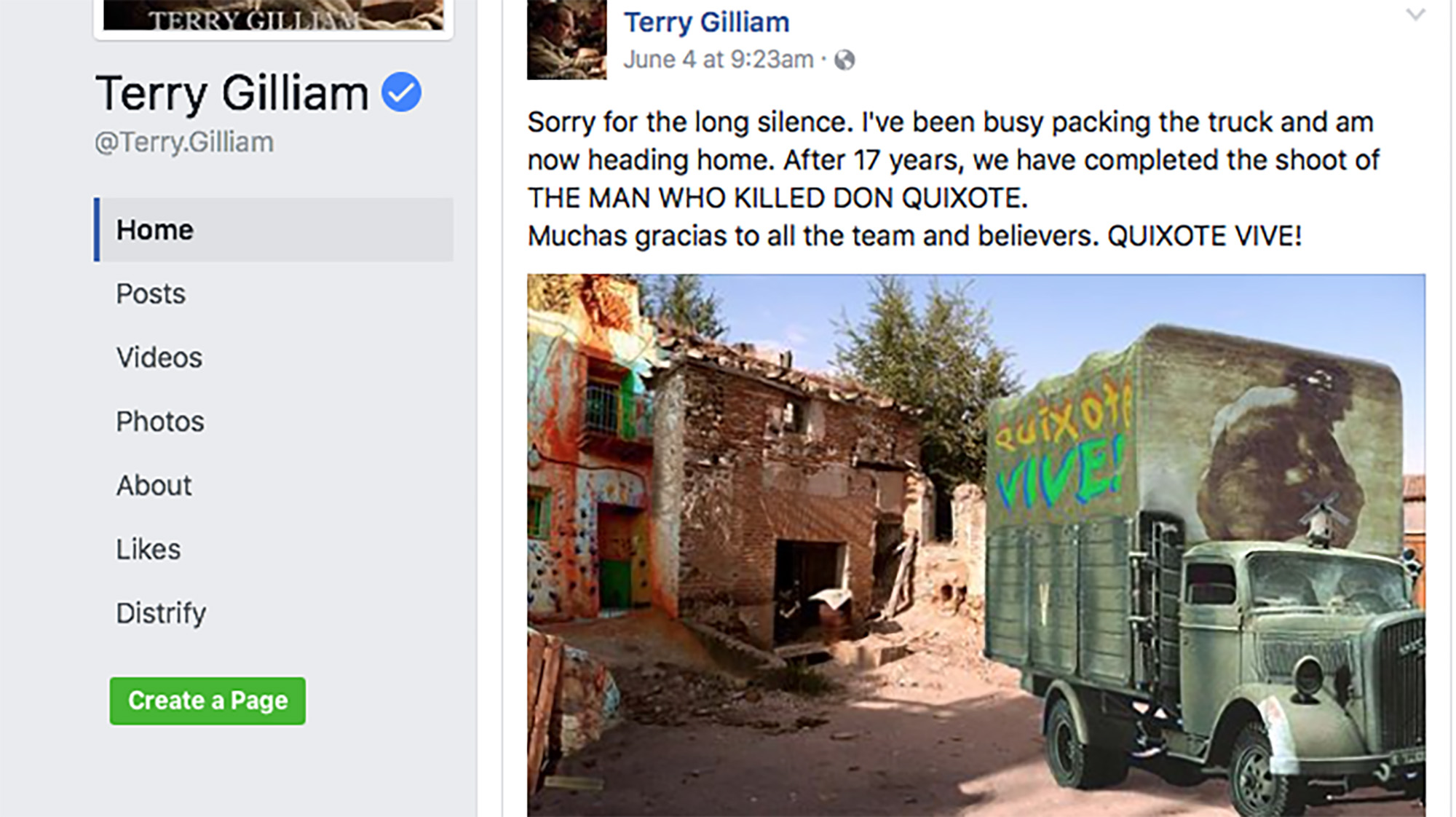 Don't expect a faithful rendering of Miguel de Cervantes' famous novel, however. This is Terry Gilliam after all — the man who brought us Brazil (1985), The Adventures of Baron Munchausen (1988), and Fear and Loathing in Las Vegas (1998) — to say nothing of a certain dismembered foot.
Sure enough, The Man Who Killed Don Quixote has more than a few fantastical elements. A time-traveling tale that jumps between the 21st and 17th centuries, it tells the story of a man who believes himself to be Don Quixote (Pryce), and mistakes an advertising executive (Driver) for his faithful sidekick Sancho Panza.
The project isn't out of the woods yet, of course — there still remains the small matter of post-production. But we can't begrudge Terry a moment of triumph after so many disappointments.
"We've been at it so long that the idea of actually finishing shooting this 'clandestine' film, is pretty surreal," Gilliam told the Hollywood Reporter. "Any sensible person would have given up years ago but sometimes pig-headed dreamers win in the end, so thank you to all of the ill-paid fantasists and believers who have joined to make this longstanding dream a reality!"
Hear, hear!
Are you looking forward to seeing this in theaters finally?
Read More
Filed Under: