When it comes to merch, there's no such thing as too weird. Any item, no matter how tenuously connected to the music, lifestyle or performers, can be badged up with an artist's logo and sold from a table at gigs. But some artists go the extra mile, really putting their creative energy behind such items as KISS's coffin, or the Killers' "Smile Like You Mean It" toothbrushes.
And some items — there is a Justin Bieber piñata doing the rounds — are unofficial knock-offs designed to play with the public's perception of a singer or a band.
Here are examples of some of the odder (and outright rude! Beware number 1o on the list…) items affiliated with musicians that have been offered for sale:
1. OK Go's air fresheners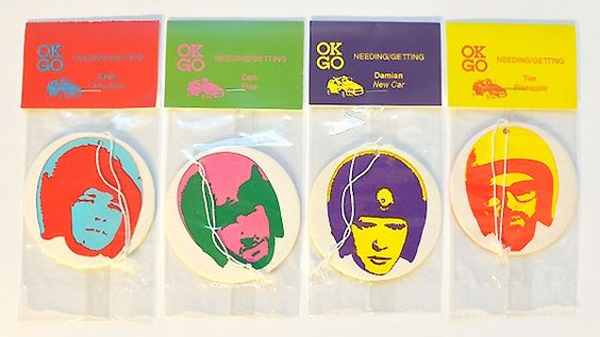 Having secured the attention of at least two sensory inputs — the ears and the eyes — it's natural for musicians to stake a claim for the nose. Some make perfume, for example, while OK Go created four individual car air fresheners, one for each member of the band. Andy Ross has cinnamon, Dan Konopka has pine, Tim Nordwind is pineapple, and, as a kind of meta-merch, Damian Kulash has a car air-freshener that smells of new car.
2. Weezer's Snuggie
Back in 2009, Weezer, who are a band blessed with a particular sense of humor, jumped on the snuggie bandwagon while promoting their new album Raditude. They even made this TV commercial, highlighting the superior comfort of a blanket with sleeves, and absolutely failing to mention whether their latest musical offering would provide similar levels of aural comfort.
3. Lady Gaga's electric seashell bikini top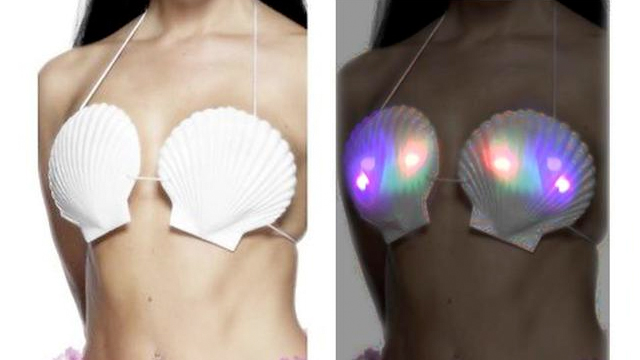 Ever the innovator, Lady Gaga took a mermaid's sole item of clothing and made it electric, something that mermaids cannot do as the seawater would cause irrevocable damage to the batteries and circuitry — and also because they're not real. Still, this is a reasonable facsimile of the costume Gaga wore at the 2013 VMA awards, and should come in handy in a luau situation if the lights fail.
3. Eminem's bricks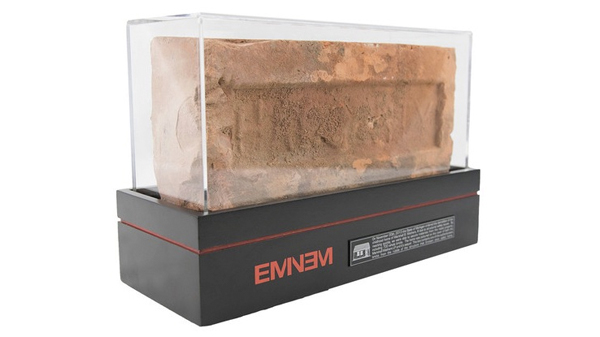 Having mined his troubled childhood thoroughly for inspiration it's perhaps no surprise to discover that Eminem chose to offer literal chunks of his former home as souvenirs. In 2013, the house he grew up in — that features on the cover of both 2000's The Marshall Mathers LP and the 2013 sequel — was demolished, and 700 of the bricks were salvaged and each placed in their own display stand. Fans wishing to buy them also received a certificate of authenticity (signed by Marshall Mathers) and a cassette (whatever that is) of the first album.
4. Deadmau5's cat headphones
More a promotional fundraiser for the American Society for the Prevention of Cruelty to Animals, these headphones were designed by Sol Republic for Deadmau5's cat, Professor Meowingtons pHD. Only 10 sets were made (unless demand increases) at a cost of $1000 a set (as this comic informercial makes clear). Sol Republic CMO Seth Combs told Mashable: "We believe if music sounds better, it feels better and that our headphones will help improve the lives of cats. They also have a mic and remote, but I don't envision many cats using that functionality."
5. The Flaming Lips' Silver Trembling Fetus Christmas tree ornament
The Flaming Lips have a bit of a thing for merchandise that looks like unborn babies. First there was the Gummy Song Fetus, which comprised a USB drive with three new Flaming Lips songs, buried inside a large molded fetus made of Gummy Bear, ah, gum. They went on to create made a wobbly silver fetus Christmas tree ornament, as Wayne Coyne explains, above.
6. Slayer's Christmas sweater
Speaking of Christmas, thrash metal hellions Slayer have a fondness for the festive season, to such a degree they've made more than one Christmas sweater, with their trademark pentagrams, the band's logo and various swords and stars. Band loudmouth Kerry King told AXS he's only recently come around to this particular promotional item, despite Moby's wholehearted endorsement above: "I've certainly not worn it. I do have one, though. I remember the first year it came out I was adamantly against it. I thought it was f****** awful… And actually, the one that came out the second year was actually cool. I liked it. So I have that one. I thought, 'If I'm going to have one, I'll have this one because this one's cool.'"
7. Metallica's light switch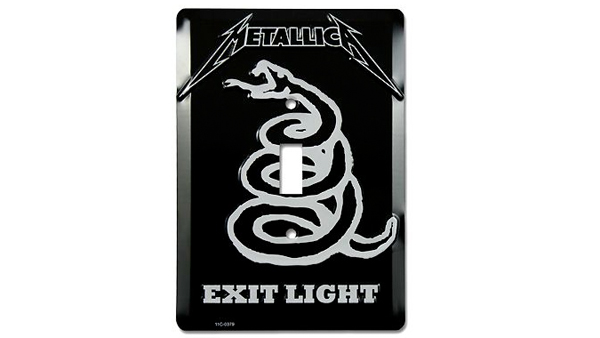 No explanation needed here, really. Metallica have a song ("Enter Sandman," as we all know) that contains the lyric "Exit light / Enter night." It is great. And when you've got a song that pops into the mind every time you switch your lights on, some bright spark will end up making a promotional lightswitch cover with that quote and the band's logo on it.
8. Slipknot's clutch bag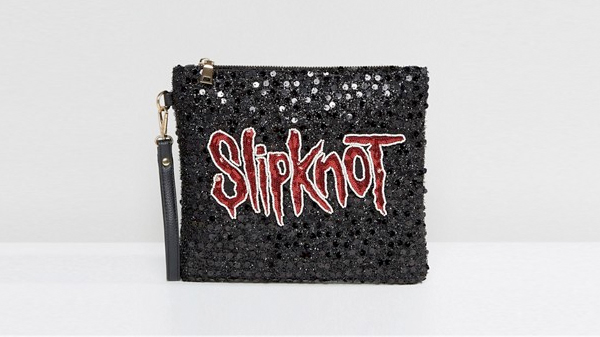 Who says dressing fancy has to be polite? Nothing says "I may look a million dollars, but I'm an honorary maggot til the day I die" like a sparking clutch with the logo of one of heavy metal's most furiously antisocial bands picked out in red sequins. This is definitely the bag you need if you want to take your dead crow in a jar to prom.
10. Grimes' Vagina Rings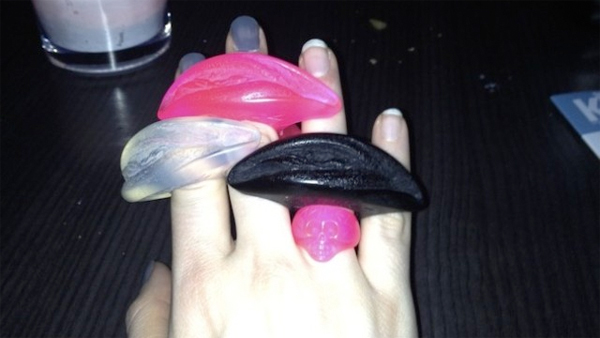 Polite company is not the place to tell you the given name of these particular items of jewelry. Suffice to say that when Grimes was invited to collaborate on a unique set of trinkets with Montreal-based jeweler and sculptor Morgan Black, they really focused in on the idea of making something absolutely no one else has — a ring in the shape of a vulva. You can be the judge of whether that's because no one has ever thought of it before, or they did and they don't want it. Still, it proves one thing, shock rockers like Marilyn Manson have got a lot of catching up to do.
Will any of these exceedingly tasteful items make your Christmas list this year? 
Read More
Filed Under: