The quirky yet slightly dark film, Beatriz at Dinner, starring Salma Hayek in the title role, premieres this Friday (June 9). Hayek plays Beatriz, a wholistic healer who's invited to join a client's dinner party when her car won't start. She proceeds to get to know the other guests, with some hilarious results.
Here's a taster:
This scenario makes us think about hosting our own sit-down with our longtime favorite stars — plus a few Anglophenia newbies to mix things up. It's going to be hard to sort through all that talent and whittle the list down to a mere 10 dream guests, but we'll give it a try. Let's just hope our party is not as chaotic as the one Beatriz crashed that fateful night… and call us lazy but we're thinking potluck might be the way to go.
1. David Tennant

The invites aren't going out in any particular order, but no Anglophenia dream dinner would be complete without lashings of David Tennant. We've got him on the brain more than usual right now because he's returning soon as DCI Alec Hardy to Broadchurch, which is heading to BBC America on Wednesday, June 28 at 10/9PM CST. Tennant, who is so sweet and genuine, as seen during his acceptance speech at the National Television Awards, can then get us up to speed on the third and final season of the hit crime drama. The series is set in the fictional coastal town of Broadchurch, but predominantly filmed in West Bay, England. So we look forward to Tennant turning up with a seafood plate, we're leaning toward clams… he may have to borrow the TARDIS to ensure freshness.
2. Dame Helen Mirren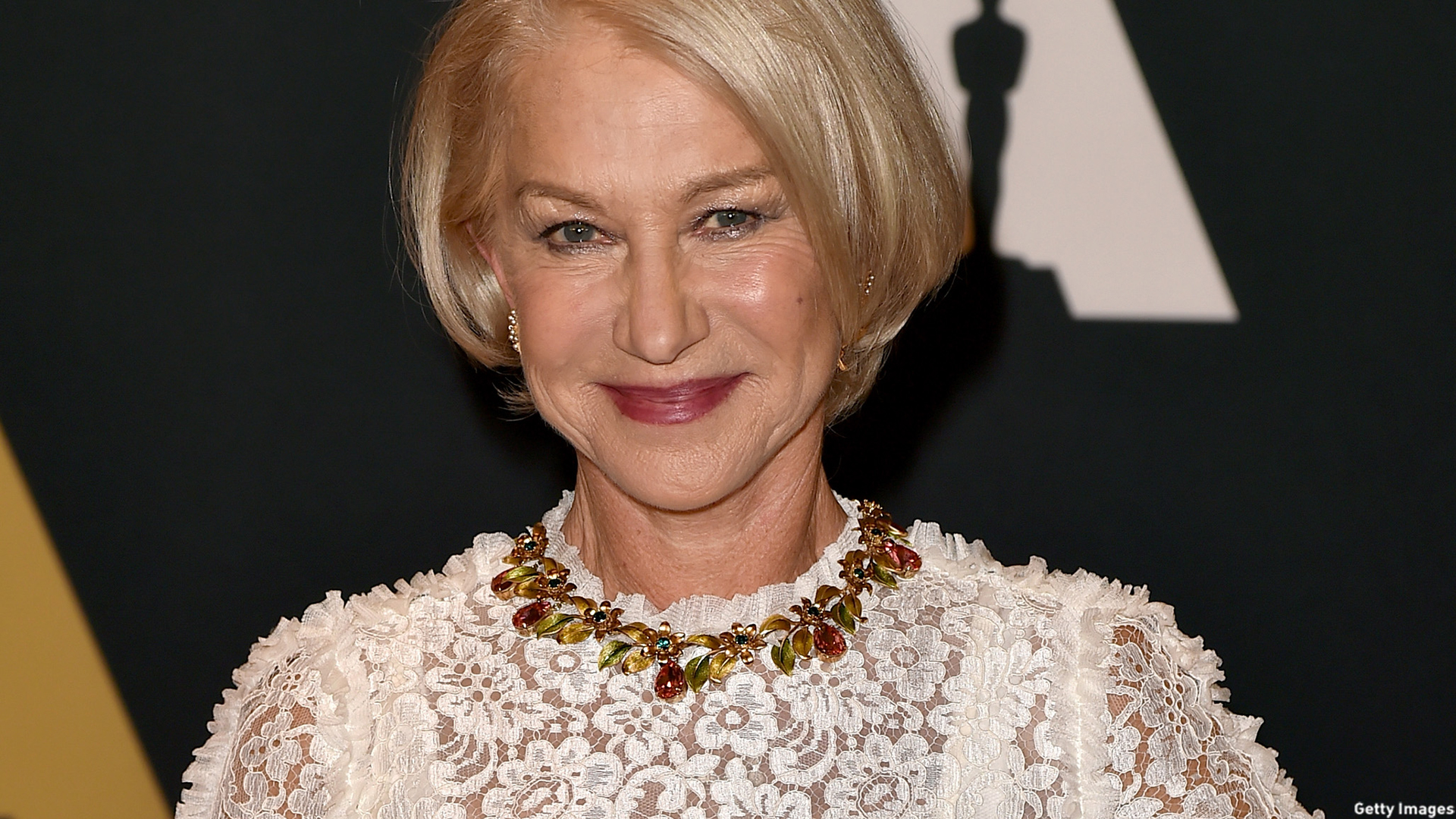 Dame Helen Mirren has quite a filmography, but for some reason we tend to default to her role as Queen Elizabeth II in The Queen. Having Mirren as a dinner guest will definitely elevate the conversation and lend the event an air of sophistication. While having a regal presence, she does also have a cheeky side, like the time she chugged some helium on the The Tonight Show with Jimmy Fallon. We hope Mirren brings a chocolate biscuit cake, said to be the Queen's favorite.
3. Tatiana Maslany

We're heading into the fifth and final season of Orphan Black this Saturday, June 10, so we're curious to quiz the show's star Tatiana Maslany on her future plans. We do know she's starring in Stronger, a biopic about Boston marathon bombing survivor, Erin Hurley due to be released in September this year. We're sad to say goodbye to OB and all the characters Maslany portrayed, but it's been an amazing run for the hit sci-fi BBC America original series. We can see the versatile actress bringing a multi-layered dish, like lasagna, but perhaps made with butternut squash — a little unexpected twist. It's those twists and turns in her OB storylines that keep us hooked season after season.
4. Kyle MacLachlan

After being away from Twin Peaks for 26 years, Kyle MacLachlan has reprised his role as Agent Dale Cooper. We'd have two questions for him: "Who killed Laura Palmer?" and, "What've you been up to for the past twenty-something years??" OK, the second question we say in jest, as we know precisely where MacLachlan's been, having starred in a number of popular series like Sex and the City (2000-2002), Desperate Housewives (2006-2012), How I Met Your Mother (2010-2014), The Good Wife (2013-2014), Agents of S.H.I.E.L.D (2014-2015) and Portlandia (2011-2017). Perhaps we can tweak it to: "What haven't you been doing?" We predict MacLachlan will turn up with a travel box of "damn fine coffee," for after dinner.
5. Idris Elba

Luther star Idris Elba is not only an actor but also DJ, singer, and inspiration for poetry. In addition to his talents, he enjoys race car driving and boxing. With such a rolodex of interests, he should have plenty of entertaining stories filed away. Oh, and we should mention, he can add chef to his list of side jobs, telling People magazine, "I like spices and I like experimenting with stuff. I love rice and vegetables but I love meat, spicing up meats." So we're guessing he'll offer up a spicy meat dish. Possibly something in the curry category. Delicious! Thanks, Idris.
6. Gal Gadot

Even if you've yet to check out Wonder Woman in theaters, you're probably seeing the lead, Gal Gadot, all over social media. She's everywhere. Before donning the trademark superhero arm bands, Gadot was spotted in smaller film roles, like 2009's Fast & Furious, 2010's Date Night, and 2016's Keeping Up with the Joneses. Hailing from Israel, she also starred in Israeli TV series Asfur (2011) and Kathmandu (2012), before making the cross-over to Hollywood. We'd like to pick her brain about becoming a household name after working as a jobbing actress for the last ten years. And, what would she bring to share? We're thinking angel hair pasta, inspired by Wonder Woman's golden lasso of truth.
7. Phoebe Waller-Bridge

We know actress and writer Phoebe Waller-Bridge can tell a good story in real life — and in character. She regularly breaks the fourth wall in Fleabag to talk directly to the audience. Like many of the guests on this list, Waller-Bridge packs a lot in and recently added showrunner for BBC America's Killing Eve (airing in 2018) to her resume. We really want to ask her how she does it all. Surely she could use a break from her hectic schedule and a nice chill night out at our fantasy dinner table would be just the ticket. But, that doesn't mean she won't be expected to bring a dish. Since her character runs a London-based bakery in Fleabag, we're thinking something British and baked. How about mini sausage rolls? We can nibble on them as appetizers.
8. Benedict Cumberbatch
Yes, yes, Benedict Cumberbatch will be called upon. We know he's SO busy — hence our affectionately calling him Busy Benedict — having already committed to 10 films between now and 2018, including but not limited to Thor: Ragnarok (2017), The Current War (2017) and Jungle Book (2018). But, it wouldn't be the same without him. We know he's a good sport, and we hope he can fit us in. We're thinking it might be a time-saver if we request a Sherlock-inspired contribution to the dinner. Holmes isn't a fan of fuss, like peeling, cutting, or cooking food, with his go-to being apples. Not apple dishes. Just apples. Perhaps our golden boy will spring for a farm fresh box of Golden Delicious.
9. Elisabeth Moss
Elisabeth Moss is intense as Offred in the TV adaptation of Margaret Atwood's dystopian novel The Handmaid's Tale, currently airing on Hulu with the season finale airing next week (June 14). But, we had a chance to meet the talented actress on the red carpet at this year's Tribeca Film Festival, where she came across as light and sweet in nature. She does a stellar job narrating The Handmaid's Tale, but we want to hear some of her own stories. Ooh, maybe she can fill us in on the TV series Fever, which is in development with BBCA. Or, the forthcoming second season of Top of the Lake. So many options. Circling back to the Handmaid's Tale, one of the dishes eaten by the Handmaids is stewed cinnamon apples. Perhaps we can persuade Moss to cook up Sherlock's raw apples.
10. YOU!
Our dream dinner party would not be complete without you, our dedicated Anglo readers. We can all swap stories. What do you plan on bringing?
Oh, and you know who will NOT be invited? Jon Snow, that's who. If it's not clear why, the reasons will be obvious after watching this clip:
What time should we expect you?  
Read More
Filed Under: