Her X-Files co-star David Duchovny might be reprising his role as transgender FBI agent Denise in the new Twin Peaks, but Gillian Anderson is embracing a gender-fluid role of her own. In a new clip of American Gods released yesterday (May 25), she's channelling the late, great David Bowie.
And nope, we don't mean she's wearing the natty suit of the Let's Dance era, or even Jareth the Goblin King's silver tights from Labyrinth. No. As iconic as those looks are, we mean something even more era-defining than that.
That's right — our Gill's gone full Ziggy Stardust, sporting the cropped, bright red hair, turquoise blue suit, and stacked platforms from the 1973 "Life on Mars" video: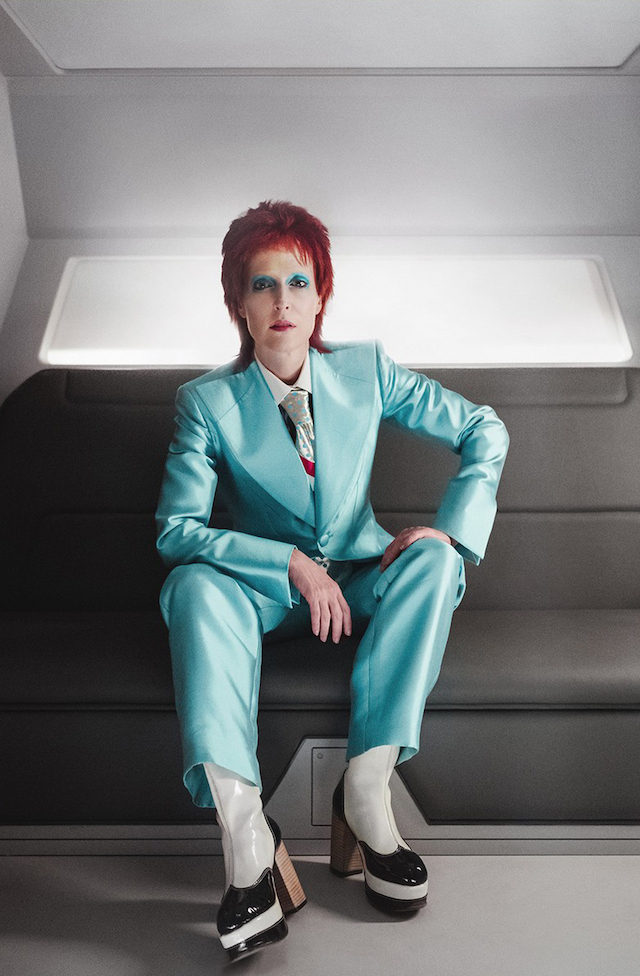 The X-Files star plays the modern goddess of Media in the show, whose whole schtick is that she embodies various pop culture icons — most notably an I Love Lucy-era Lucille Ball in Neil Gaiman's original book — in her efforts to lure in and manipulate the people around her.
So does that mean we'll get to see Gillian wear a 1950s-style pin curls and polkadot dress? We hope so. Upcoming episodes will also feature her impersonation of Marilyn Monroe, which we've already had a peek at.
Do you think Gillian pulls off the Ziggy look?
Read More
Filed Under: