The latest installment of the Pirates of the Caribbean franchise, Dead Men Tell No Tales, is in theaters today (May 26), with some familiar faces joining Johnny Depp as the inimitable Captain Jack Sparrow.
Skyfall's Javier Bardem, Skins' Kaya Scodelario, and Brenton Thwaites (The Giver) will embark on Disney's next adventure on the high seas, while Geoffrey Rush, Keira Knightley and Orlando Bloom all make a welcome return to the franchise.
Most recognizable of all, though — not to mention surprising — is former Beatle Sir Paul McCartney, who tweeted a photo of himself all got up in piratical garb last week.
#PiratesLife pic.twitter.com/9GXS5QB931

— Paul McCartney (@PaulMcCartney) May 13, 2017
Sir Paul will apparently play Jack's Liverpudlian uncle, ten years after his erstwhile band rival Keith Richards popped up in At World's End as Jack's father Captain Edward Teague (the cameo was particularly apt, as Johnny Depp had already admitted he'd modeled Jack on the erratic Rolling Stones guitarist).
Wait. So does this mean Keith and Sir Paul are brothers? It's not quite clear, and reports from early screenings suggest Sir Paul's cameo is brief. But it got us thinking about those rock stars for whom musical success isn't enough, and who crave a slice of Hollywood life — even if just for a few seconds. Below are 13 of the most unexpected.
1. Kylie Minogue in Moulin Rouge! (2001)
When Ewan McGregor's character Christian drinks absinthe for the first time, he quickly starts to have hallucinations of the Green Fairy, a tiny, playful sprite who sings a sexy rendition of "The Sound of Music." And who better to play her than tiny pop star Kylie Minogue? (Fun fact: Ozzy Osbourne provided the Green Fairy's demonic laugh.)
2. George Harrison in Life of Brian (1979)
Sir Paul's former fellow band member was a lifelong comedy fan, and founded Handmade Films, the production company behind such British classics as Time Bandits, Withnail & I, and Lock, Stock, and Two Smoking Barrels. One of the first films it financed was this second cinematic effort of the Monty Python crew, and George couldn't help but make a cameo or two in the crowd scenes.
3. David Bowie in Zoolander (2001)
As male supermodel supreme Derek Zoolander (Ben Stiller) challenges arch-nemesis Hansel (Owen Wilson) to the ultimate walk-off contest, coaching comes from an unexpected, but absolutely perfect, source: the late, great David Bowie, playing none other than himself.
4. Phil Collins in Hook (1991)
Most of Phil Collins' film work came in the form of providing soundtracks, until 1988's Buster that is, a film in which he starred as well as provided the music. His role in Steven Spielberg's Hook was a smaller one, however: that of Inspector Good, and English police detective investigating the sudden disappearance of Peter's (Robin Williams) children.
5. Dave Grohl in The Muppets (2011)
The recent big-screen reboot of The Muppets saw Kermit desperately trying to get the old gang together to save their beloved theater from being demolished by greedy capitalist Tex Richman (Chris Cooper). There's just one snag: since they went their separate ways, Fozzie Bear has hooked up with tribute group The Moopets, whose drummer, Animool — a spoof version of beloved percussionist Animal — looks mighty familiar.
6. Alanis Morissette in Dogma (1999)
A star-studded, highly offensive, R-rated road trip comedy about a descendant of Jesus Christ saving the world from two fallen angels, Dogma attracted major controversy when it came out, not least for its depiction of God, in the surprising form of Alanis Morissette.
"There's a Zen Buddhist serenity to Alanis that calls to mind something otherworldly," director Kevin Smith explained at the time. "She's definitely ethereal in nature, even when not speaking, and she carries an air about her that played into the role."
Whatever you say, Kev. Here's Alanis, alongside the late Alan Rickman as the archangel Metatron.
7. Alice Cooper in Wayne's World (1992)
Altogether now: "We're not worthy!" Wayne (Mike Myers) and Garth (Dana Carvey) bump into their hero Alice Cooper at a party, who proceeds to give them a history lesson on the native roots of Milwaukee. As Wayne says, does this guy know how to party or what?
8. Michael Jackson in Men in Black II (2002)
The King of Pop initially turned down a part in the original Men in Black movie, in a sequence where George Lucas, Sylvester Stallone, Danny De Vito and Steven Spielberg were all revealed to be aliens. He loved the film so much, however, that he lobbied director Barry Sonnenfeld non-stop for a part in its sequel, much like his character "Agent M" does in this brief cameo.
9. Red Hot Chili Peppers' Flea in Back to the Future II (1989)
If rock star cameos were a competition, then Red Hot Chili Peppers bassist and founding member Flea would surely be the winner. He's popped up in Fear and Loathing in Las Vegas, the Psycho remake, The Big Lebowski, and would later reprise a younger version of his Back to the Future character Needles in the third film as well.
10. Bruce Springsteen in High Fidelity (2000)
Record store owner and all-round commitment-phobe Rob Gordon (John Cusack) resolves to look up five of his ex-girlfriends to figure out where he's going wrong in relationships, but not before getting some encouragement from an imaginary friend, aka The Boss, his musical hero.
11. Anthrax in Calendar Girls (2003)
Wait, Anthrax, as in the hell-raising thrash metal band, were in Calendar Girls, the genteel comedy about a bunch of mature British ladies who strip off for charity? That's right. Cast your mind back and you'll remember band members Scott Ian, Frank Belo and John Bush joined Dame Helen Mirren, Penelope Wilton et al at an L.A. hotel poolside.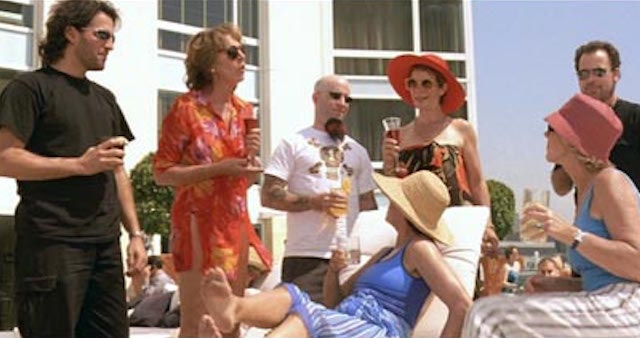 12. Billy Idol in The Wedding Singer (1998)
Adam Sandler's beloved retro rom-com The Wedding Singer features a delightful scene on board an airplane with rocker Billy Idol. While Adam's character Robbie nurses a broken heart, Billy, as his fellow passenger, inspires him to get back in the ring and take another swing for the heart of Drew Barrymore by performing an original song for her.
13. Madonna in Die Another Day (2002)
Madge provided the theme song for the 20th James Bond movie, but not without a stipulation of her own: she should play one of the characters, specifically Verity, a fencing instructor with an impressive line in (surprise, surprise) innuendo that almost — almost — equals Bond's (Pierce Brosnan) own.
Okay, what did we miss? Which rock star movie cameo is your all-time favorite? 
Read More
Filed Under: