He captured our hearts as Gandalf the Grey, but was Sir Ian McKellen almost one of the most beloved characters in Harry Potter too?
In an interview with the BBC's HardTALK program yesterday (April 3), Ian revealed he'd been approached to play Albus Dumbledore after Richard Harris died in 2002.
It makes sense when you think about it: he's a glaring omission in a cast that included pretty much every other great British actor.
The revelation came when host Stephen Sackur reminded Ian how fellow thesp Richard Harris once described him, as well as Derek Jacobi and Kenneth Branagh, as "technically brilliant, but passionless."
Ian's response?
"Nonsense," followed by applause from the audience.
And then, in a waspish aside reminiscent of his Vicious character Freddie, he pointed out that Gandalf trumps Dumbledore in the wizard stakes:
"When he [Richard Harris] died, he played Dumbledore the wizard. I played the real wizard."
The role of Dumbledore became vacant when Harris passed away after the release of the second film, Harry Potter and the Chamber of Secrets, and was eventually filled by Michael Gambon for the remainder of the franchise.
Before that though, there were a few other names on the call list, including Ian's.
"When they called me up and said would I be interested in being in the Harry Potter films, they wouldn't say what part," he explained. "I worked out what they were thinking and I couldn't. I couldn't take over the part from an actor who I'd known hadn't approved of me."
When Sackur asked, "You could have been Dumbledore?" Ian grinned but remained silent, before adding:
"When I see the posters of Mike Gambon, who gloriously played Dumbledore, I think sometimes it's me. We get asked for each other's autographs."
Now he mentions it, there is a resemblance.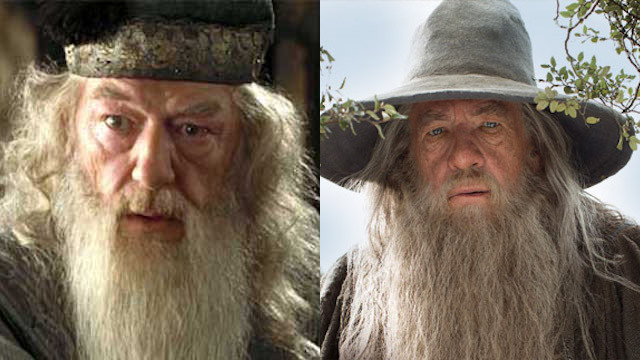 Ian will be reprising the role of Gandalf in a one-man show this summer, and, who knows, perhaps he'll do his impression of Dumbledore, too.
Could you see Sir Ian as Dumbledore? Or was Michael Gambon perfect for the role?
Read More
Filed Under: