A good cry can be a real stress-reliever. But surely the ultimate cathartic experience is laughing so hard it brings tears to your eyes. When a moment like that sneaks up on you out of nowhere, it's like, "Woah, I needed that." It's not something that can necessarily be planned, but Amazon original series Catastrophe, created by and starring Sharon Hogan and Rob Delaney, is our ultimate go-to for teary comedic release.
We're heading into season three now, premiering on Prime on April 28. But if you're late to the Catastrophe party and need some speeding up, the series kicks off with Rob, an American on on business trip, and Sharon, an Irish school teacher, meeting at a bar in London. A one night stand turns into a week-long fling, resulting in… conception. The two figure out how to maneuver through this life-changing event together.
During that first season, there were at least 12 times (big, fun spoilers ahead!) we had to press pause to catch our breath… and then carry on watching.

1. The getaway.
Sharon and Rob (a recovering alcoholic) spill into his hotel room after a night out, when Sharon announces, "I've never had casual sex with a sober person." The following day, she tries to make a clean exit, but Rob, who is still tucked into bed, spots her "sneaking away." She quickly writes her number down for him. Tearing off a piece of his… work visa. Rob is a little, "Wait, don't…" but, he takes it in stride. You can catch the scene in episode one at 1:37, via Amazon Prime.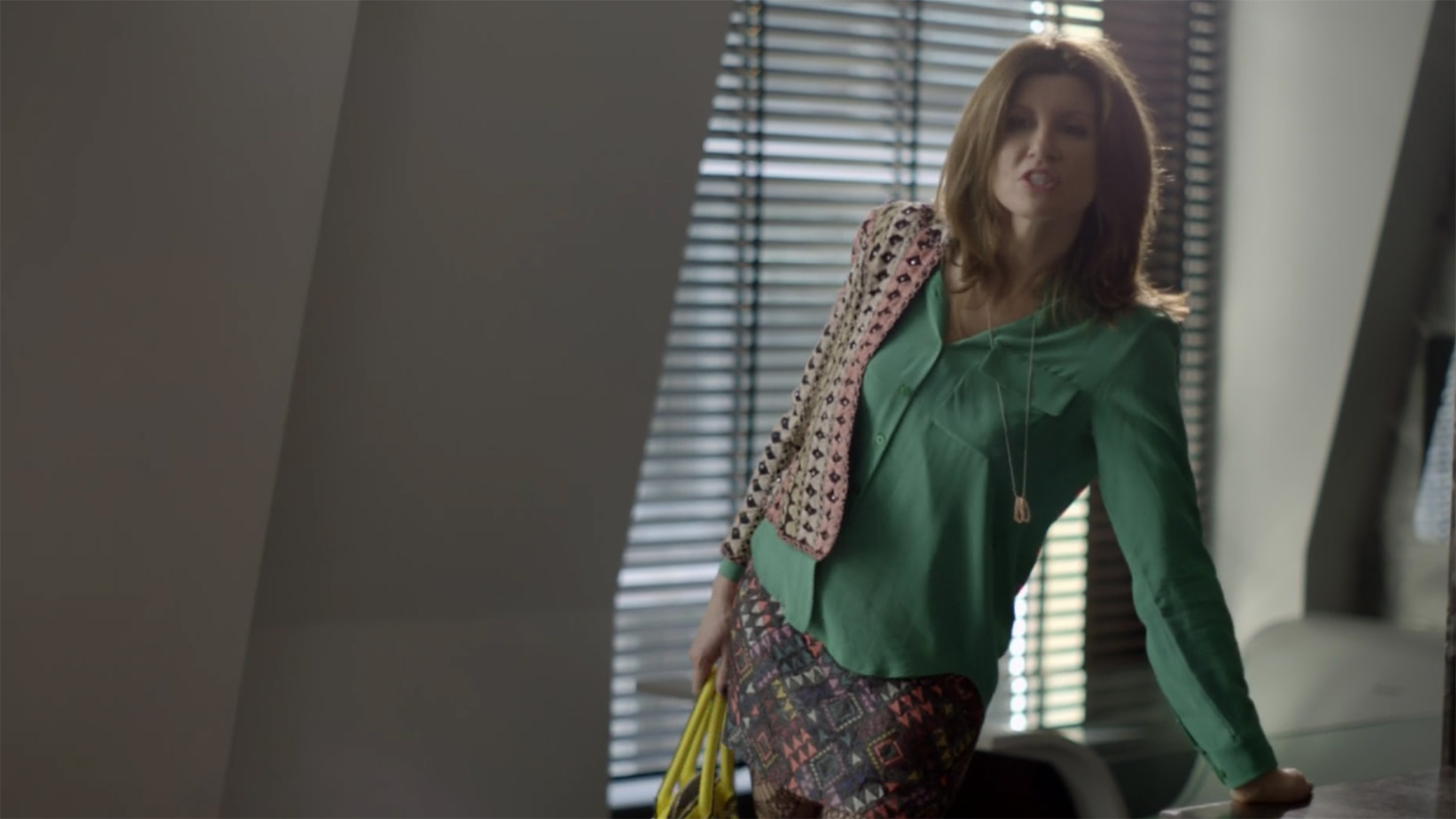 2. "Rob ?"
Sharon delivers the news to Rob over the phone that she is indeed prego. He asks her what she wants to do, and she, not quite being herself, exclaims, "I want to build a time machine out of your (insert curse word] carcass!" Instead, he calmly proposes he returns to London. When Sharon greets him at the airport, she has a sign made out of cardboard, with "Rob ?" scribbled on it in magic marker. Sharon tells him, "I wasn't sure you'd recognize me. It only says, 'Rob,' because, ah, I don't know your surname!" You can see how the telling scene plays out in episode one at 6:23.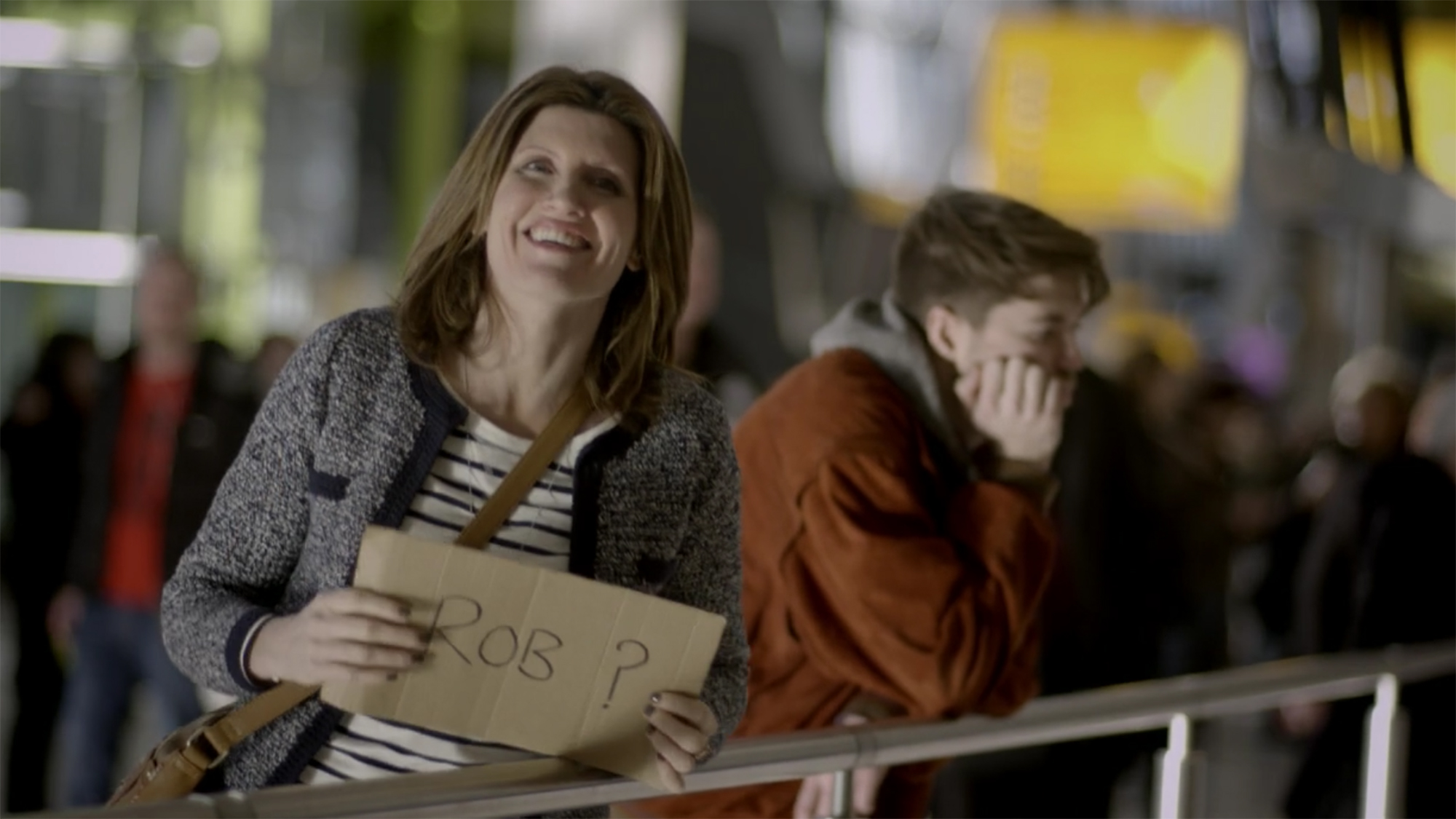 3. Rob's cuddling skills.
Sharon needs some space and asks Rob to go for a walk. Like, for HIM to take a very long walk, alone, and she'll stay behind. He manages to pass an hour but then makes his way back to the flat. When he tries to give her a cuddle, she kind of squirms in his arms, awkwardly asking, "What are you doing?" She shuts down his attempts at affection quickly: "No. Really. Seriously. You're hurting my arm. Get off." We have to remember, these two have only spent a week together prior to becoming parents-to-be. The cringe-worthy, yet hilariously honest, scene happens in episode two at 5:44.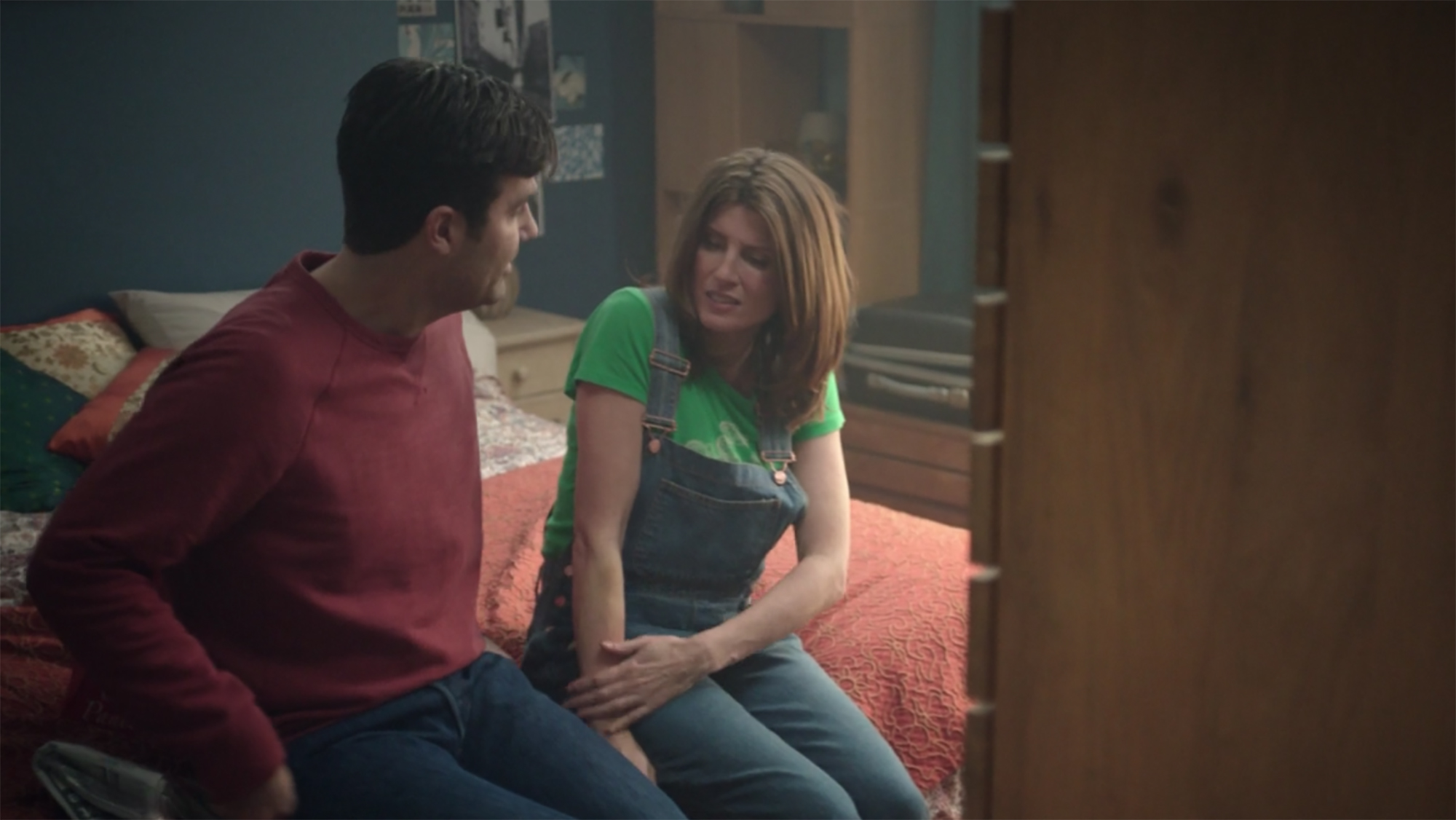 4. Sharon's brother's reaction.
Sharon and Rob decide to share the big news with Sharon's brother Fergal (Jonathan Forbes) . His initial response, is: "Are you going to keep it?" A bit awkward. Sharon zings him right back, "Oh, I don't know, are you going to keep yours?" He's already invested in his, braces and all. Sharon calls him out for having children young, three kids before 30, and it's a little harder for her nearing 40. Her brother is bowled over with her whole new life with Ron, correction Rob, but after it all sinks in, he offers, "Well, if anything does go wrong… your son will have a home here, Mallandra and I will raise him." Rob doesn't quite realize the brother is "winding him up." You can see how it all plays out in episode two at 7:40.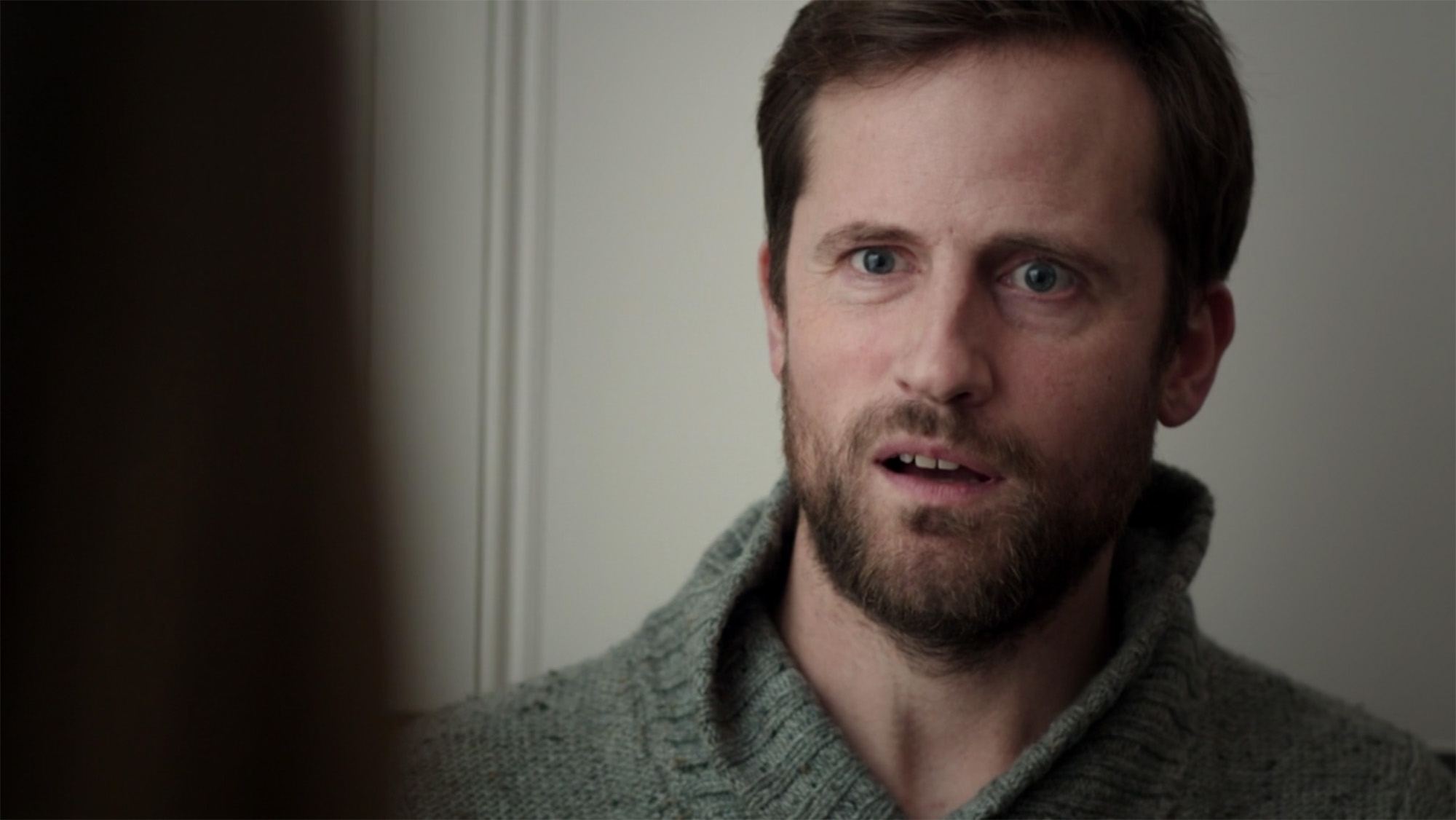 5. Rob's not so great conference call. 
Working remotely has its benefits, like the commute from your bed to your desk. But one can get a little too comfortable and, say, set up a makeshift office in the bathroom. We're not quite clear why Rob chooses this location, but it certainly doesn't dent his creativity. When his computer shuts down during an important work call, he has to adapt quickly, shifting gears. He reaches for a magazine for ideas, pitching… women's cooking pants? Oh, Rob. You're about to be a dad, you gotta step your game up. You can see what we're giggling at in episode three at 3:19.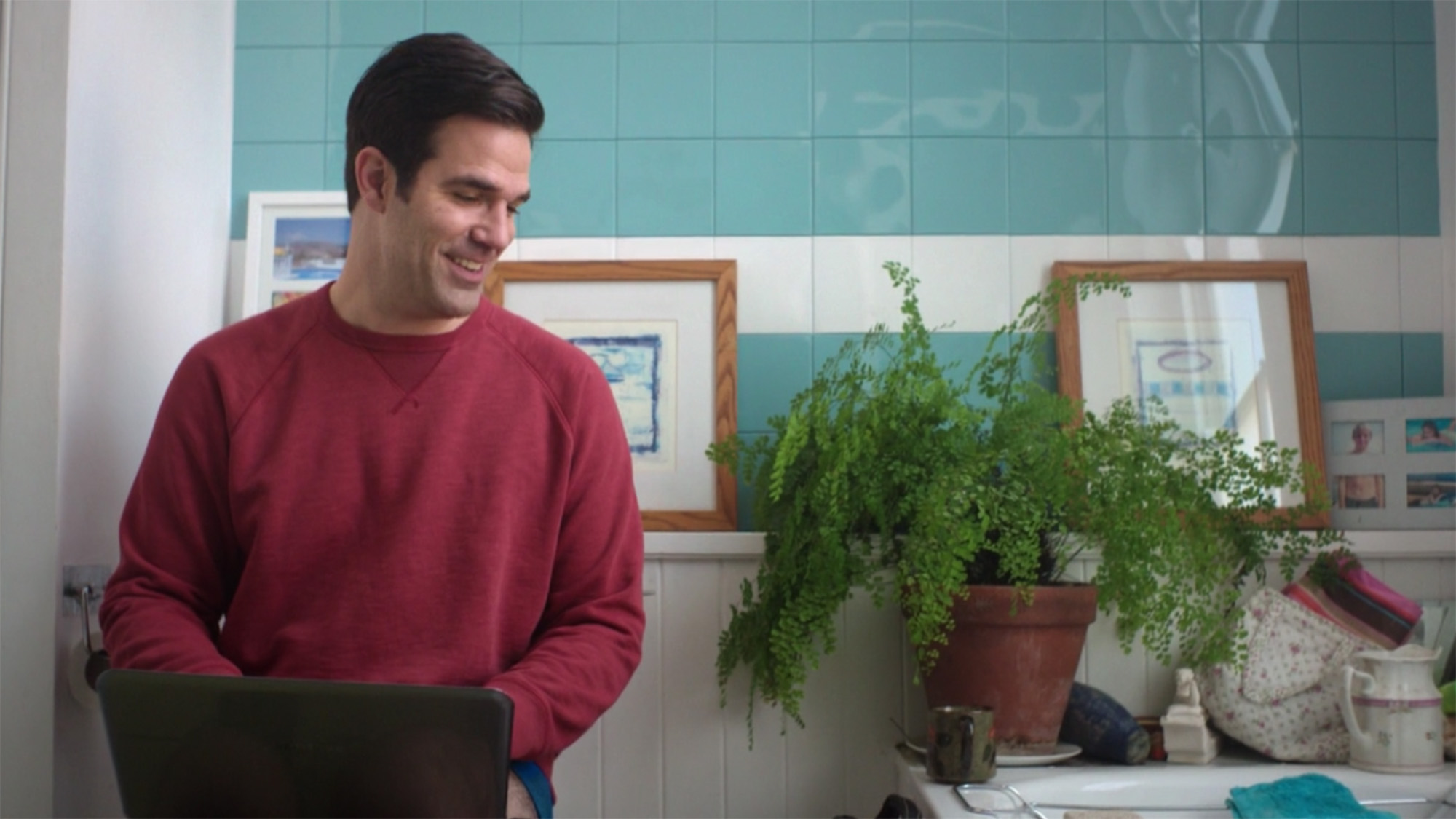 6. Sharon meets up with an old flame.
After a run-in at a book shop, Sharon gets together with an ex — but just for dinner and a catch up. Before they've even ordered food, she learns her dinner date is loved-up with his longtime girlfriend, and she's in fact pregnant. Sharon spits out her drink. It's not like she wanted to rekindle the relationship, but maybe get her flirt on? She also spits out the fact that she's pregnant, too. She originally kept her news under wraps, literally, using her sweater to cover up. But, now that they're swapping notes, she definitely wants to match his list of accomplishments. He asks why she didn't reveal her baby news earlier, she coolly answers, "Well, I forgot." Quick thinking, Shar! This wildly awkward exchange happens in episode three at 16:20.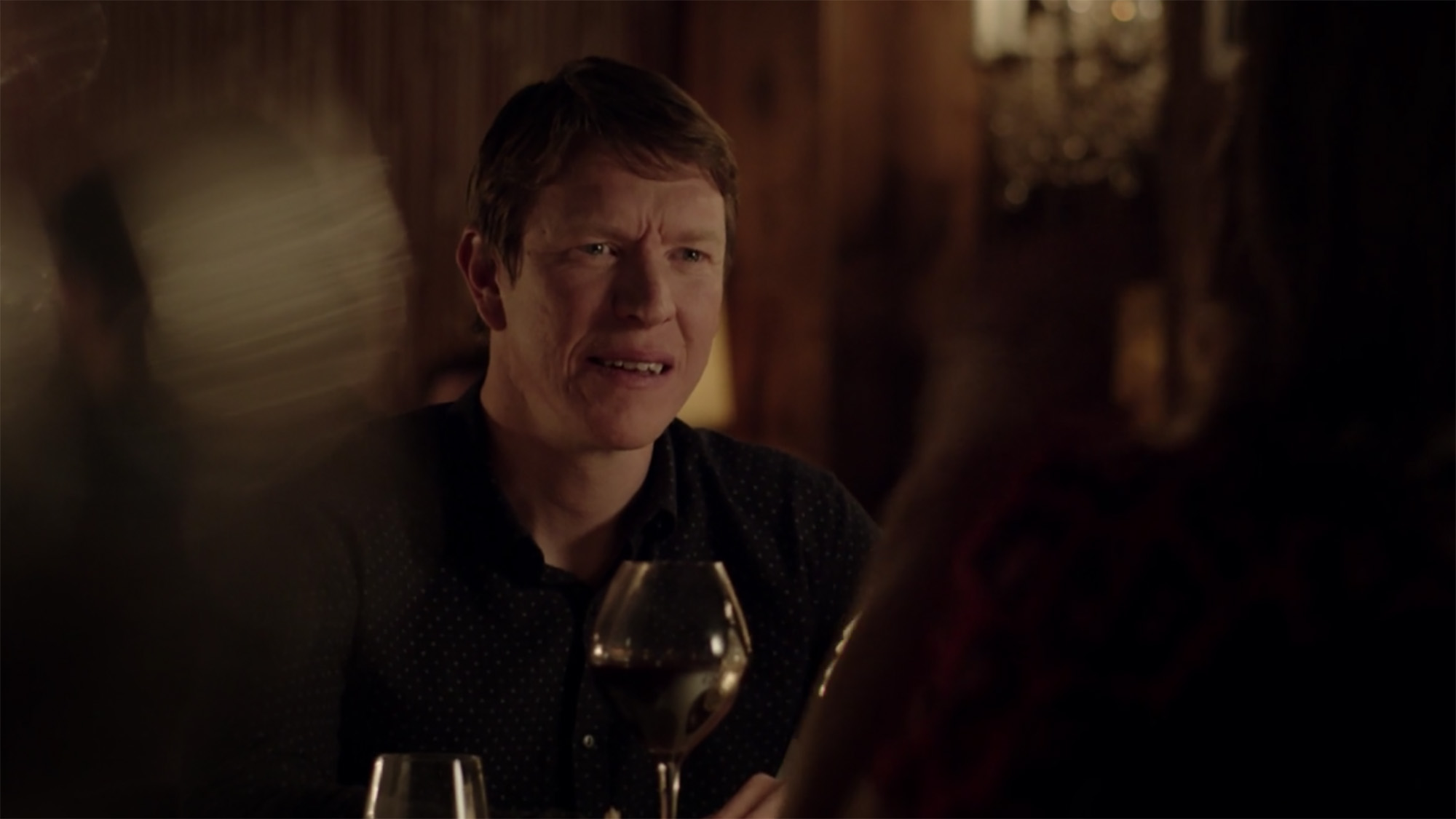 7. Telling Sharon's parents.
Sharon and Rob sit down with her mom and dad to make an announcement. Well, two announcements… Only, Sharon's brother is bursting to tell their parents her news before she can get it out. Naturally, she tells him off in typical sibling fashion, threatening, "If you say a syllable, I will cut your hands off." Fair warning. After some pleasantries, Sharon gets up her nerve, blurting out, "We're getting married." And what was their response? Oh, her dad says, "Whew. Thought you were going to tell us you were pregnant there, for a minute." Yep, that, too. The painfully entertaining sit down happens at 4:21 in episode four.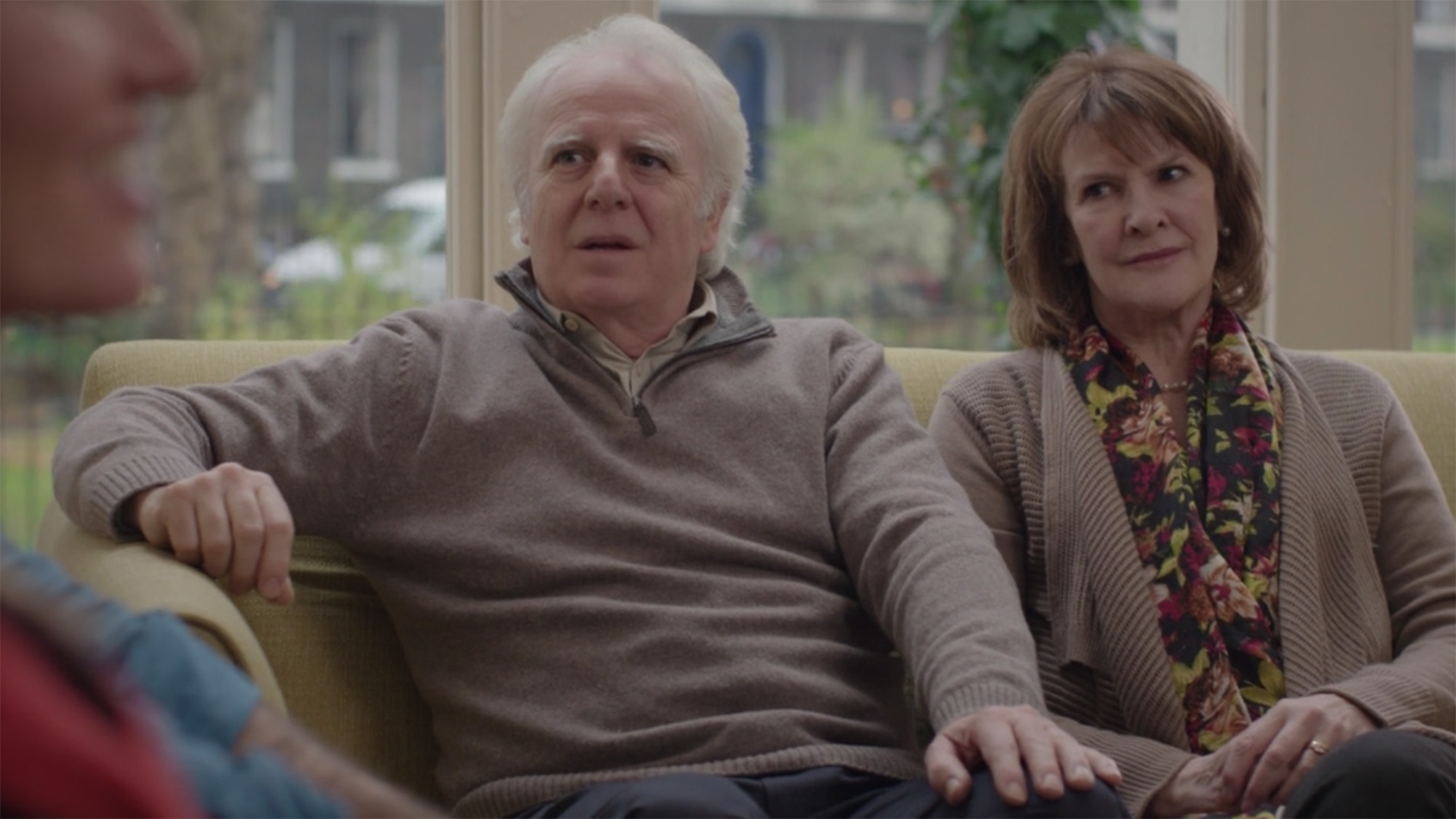 8. Rob sprinting for his life.
No, no, not from Sharon or her family. Rob has a meet-up with Sharon's friend, Fran. Rob and her husband, Chris, had been palling around, and she wants to chat about this new bromance. After the chat, things get weird. He gives her a friendly hug. And, in return, she gives him a sloppy kiss, smack on the lips. Rob, as one does, runs for the hills. The convo starts at 15:23 in episode four, but the not so scandalous kiss lands at 17:08, if you want to get straight to it.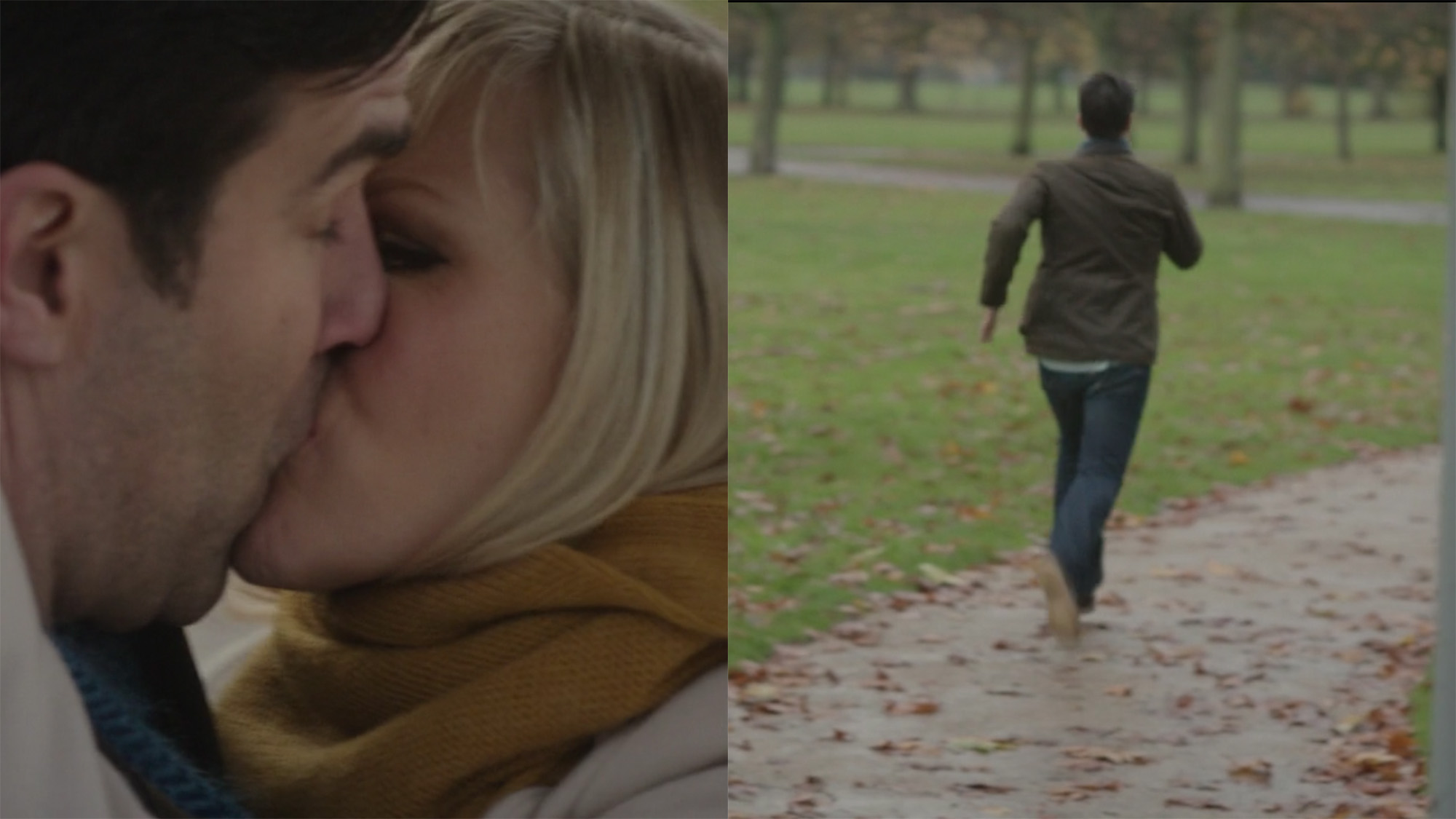 9. Rob getting himself fired.
Rob is just having one of those weeks; he keeps stepping in it. He's set to have a meeting with his Boston colleagues, but things go downhill. Fast. He's been at his company for over 11 years and he gets word via Skype, he needs to return to the U.S. or… he'll get his walking papers. But he's committed to staying in London with Sharon, and so he quits. But, he doesn't do so quietly. His heroic rant, for disgruntled worker bees everywhere, happens at 2:35 in episode five. Yeah, it feels great to say what's on your mind (while not wearing trousers because he's working from home), but then it all sort of sinks in. And he remembers, he and Sharon are having a baby, very soon.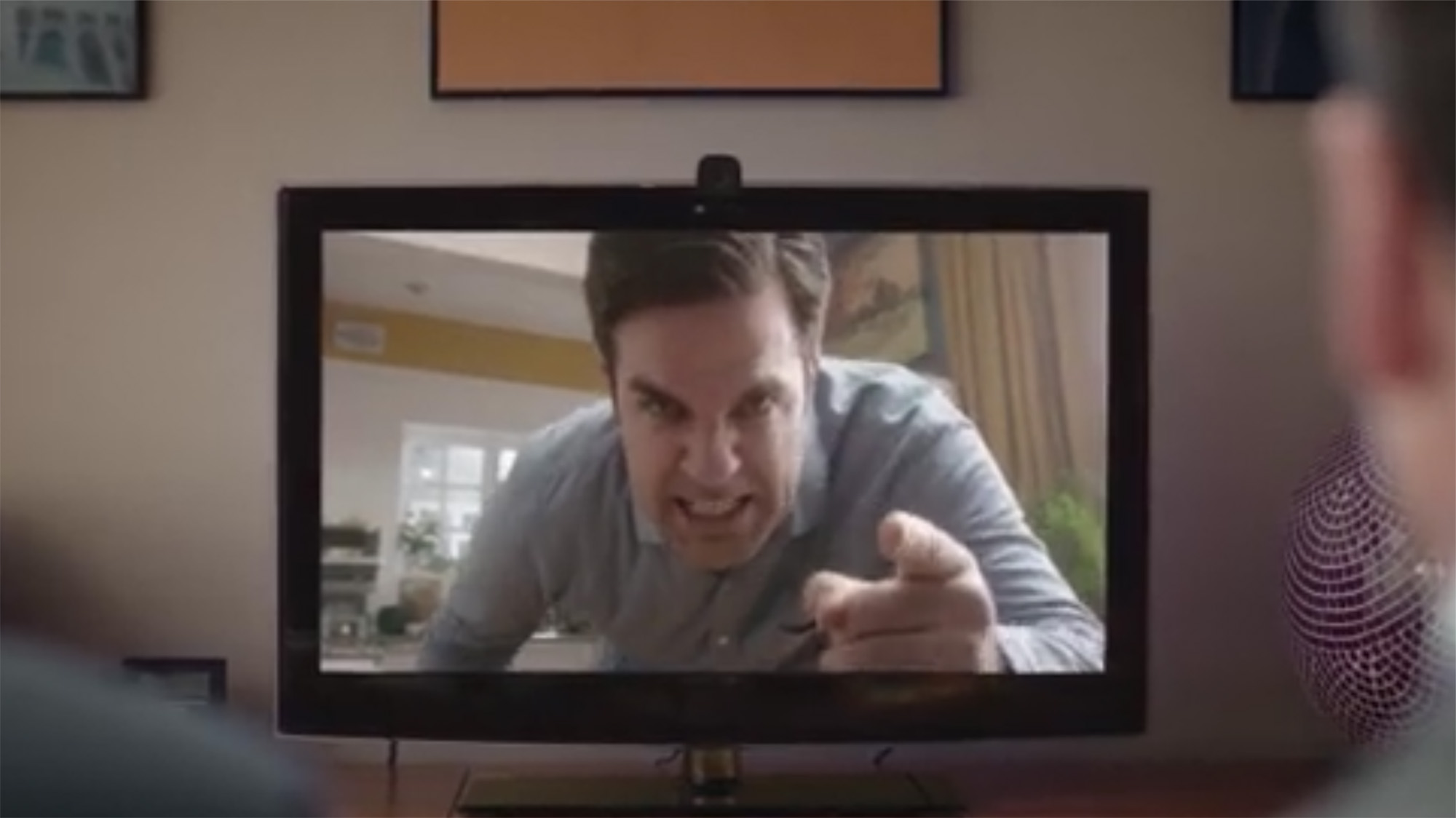 10. Sharon ringing Rob's mom in the U.S.
While out on the playground with her students, Sharon calls Rob's mom, Mia, played by the late Carrie Fisher. This is their first convo, and his mother has no clue who she is. Sharon nervously explains how she knows Rob, and why she's phoning, which is to invite her to the wedding. Mia is less than impressed. There isn't a ton of dialogue at first, but that's actually what makes it so funny: Mia's lack of chatter makes Sharon begin to ramble. It all kicks off in episode five at 7:48. Ultimately, Mia slips in an unfortunate update about Rob's ex, who Sharon's never heard of. Nice! In the end, Sharon rescinds the invitation.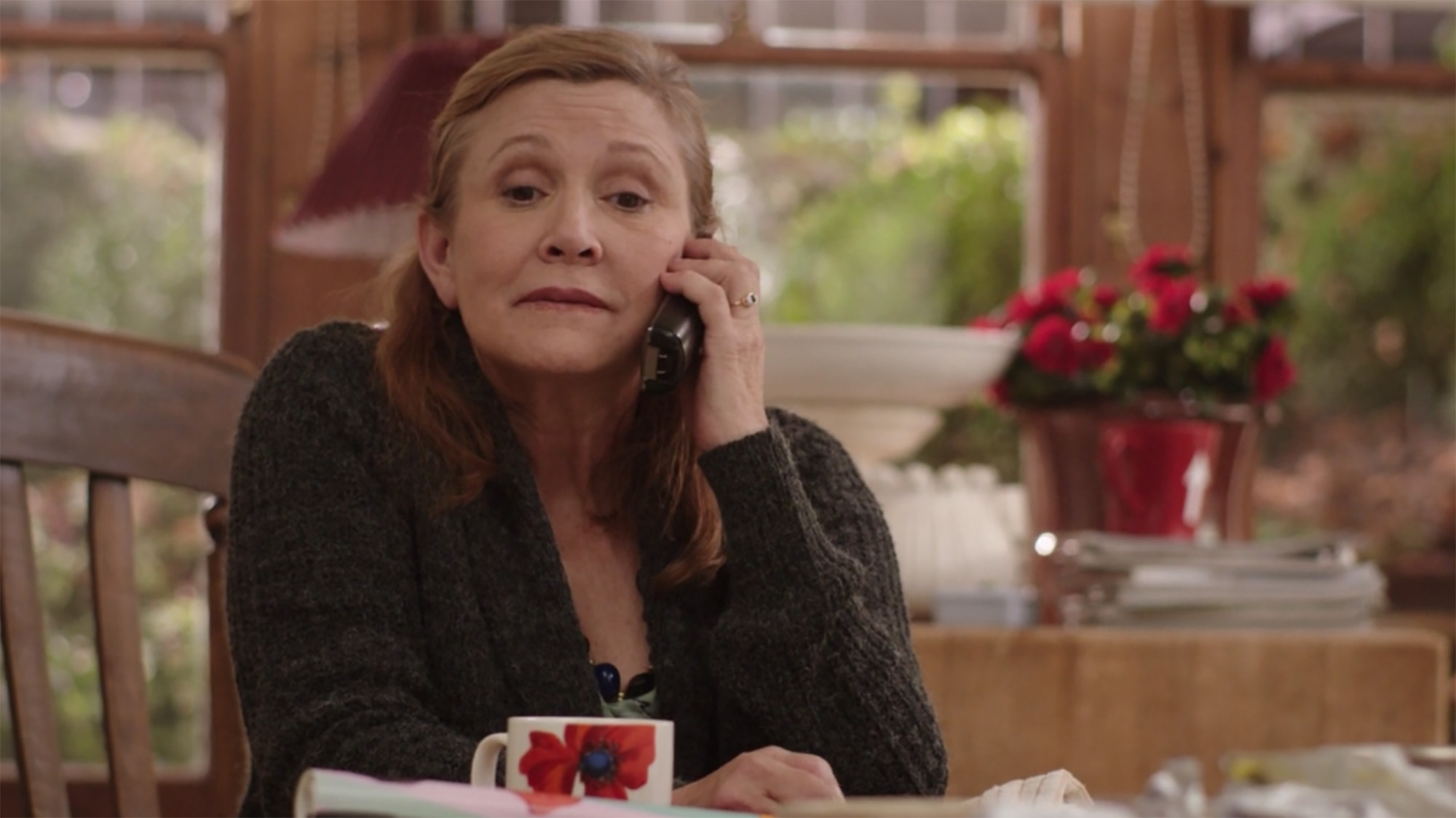 11. Sharon's friend comes to town.
She's probably not up for a bachelorette party, nearing her due date. But when one of Sharon's best mates comes for a visit, the two plan a girly night out. Sharon's thinking pizza, but her friend has something else in mind. Sharon's bestie turns to Rob as they make their way out, flashing something small, white and narcotic on her tongue, unbeknownst to Sharon. Uh-oh. The ladies' night out starts at 6:50 in episode six.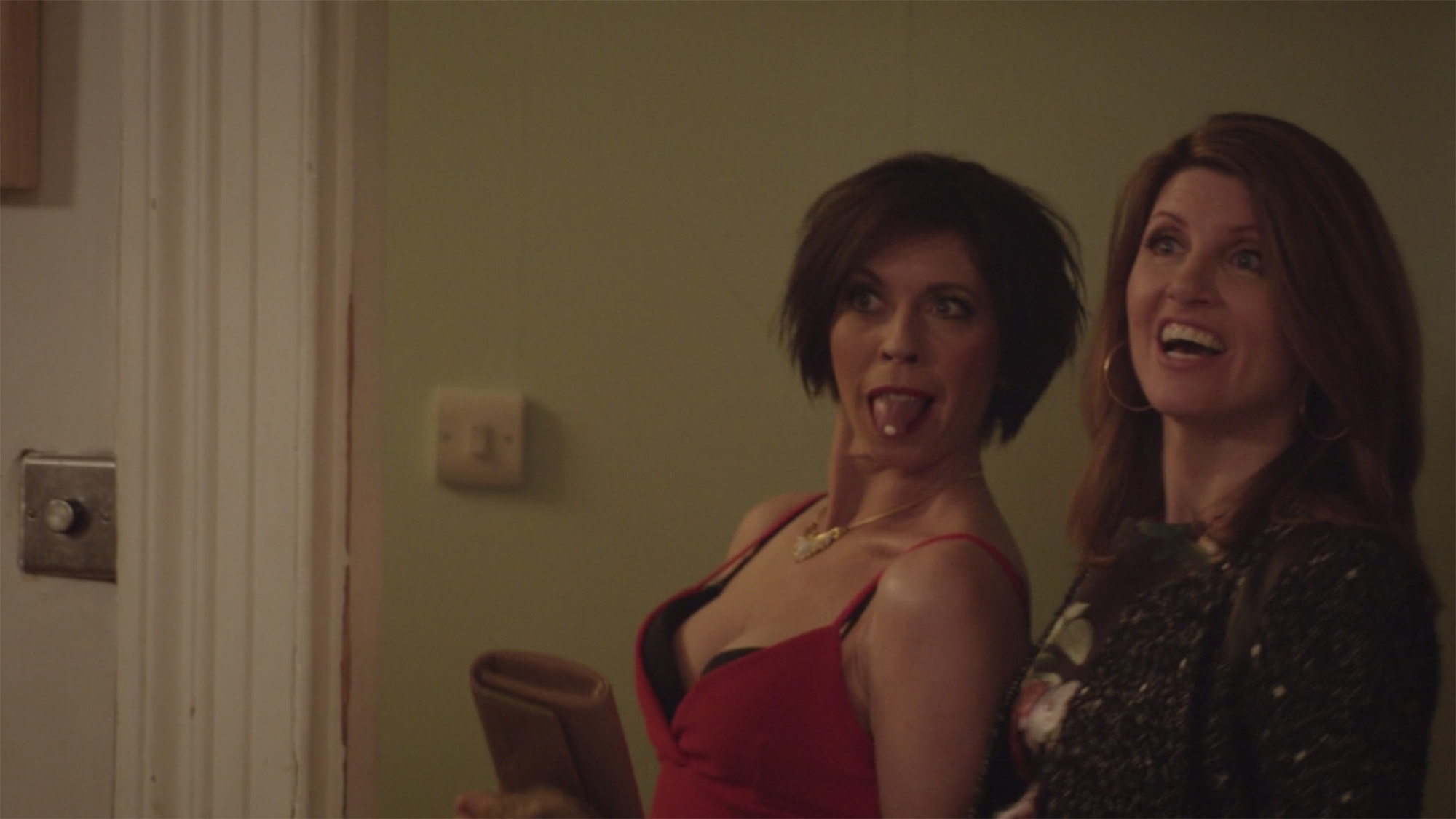 12. Rob's vows.
Isn't it sweet when a bride and groom write their own vows, putting their heart into the words said at the altar? Emm, not always. Rob starts by saying, "I never thought it would happen this way." That's definitely an understatement. He continues on, to make sure the point is made, saying, "If this was on the menu, I wouldn't have ordered it." There were a lot of gaped mouths amongst the guests. The scene featuring his distinctly wonky vows starts at 16:23 in the season one finale.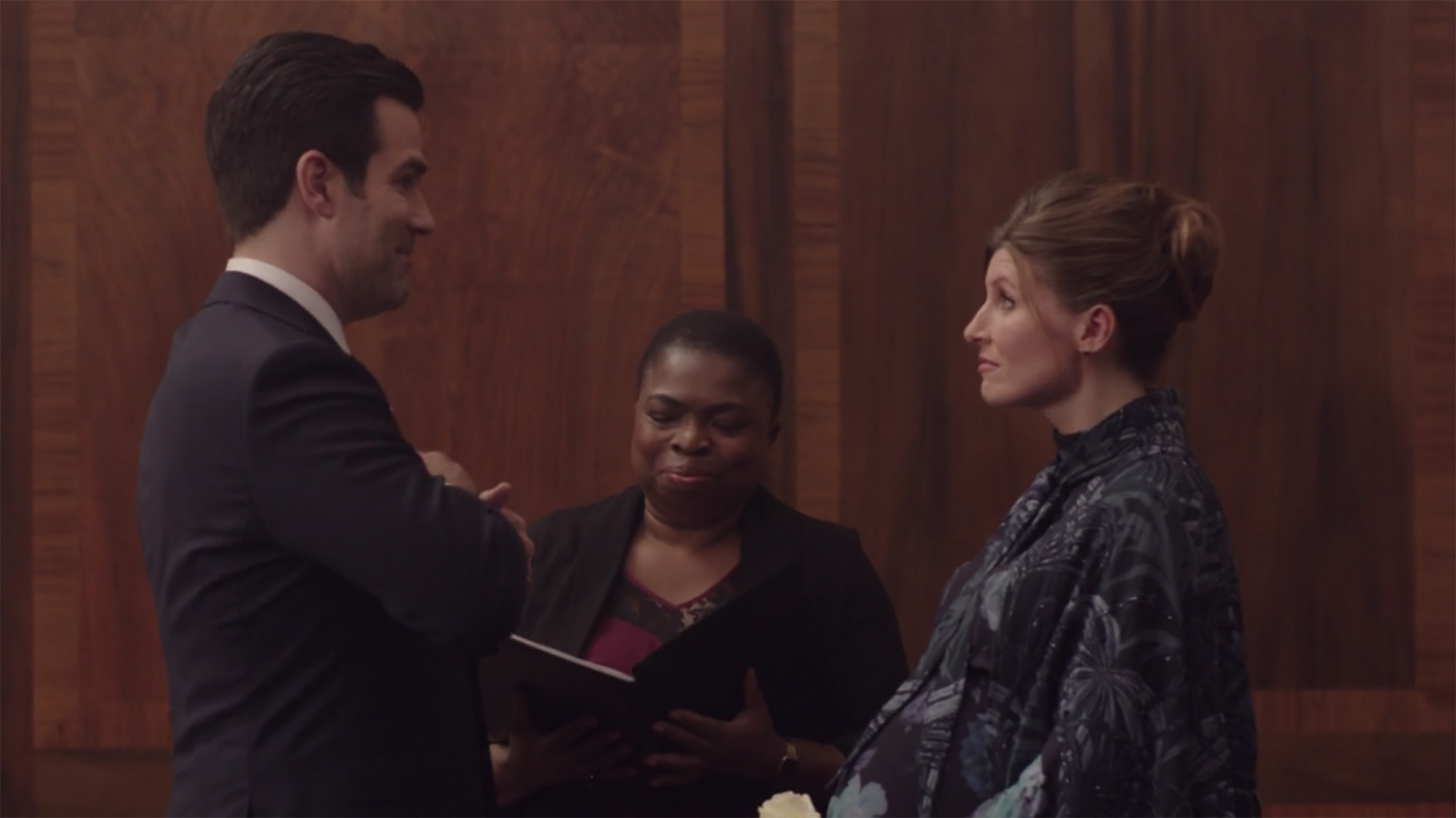 We don't get to head to the delivery room with the newlyweds… but, you can catch up with Rob, Sharon and fam in season two, also available over at Amazon.com.
Are you ready for more Catastrophe? Season 3 is almost here!
Read More
Filed Under: