It seems everyone's dressing up as Winston Churchill these days. First there was John Lithgow playing the portly world leader in The Crown, and now Gary Oldman, and — er, okay, so that's it.
The point is, it's no easy task getting into character as one of the most recognizable men in history, but we had no idea just how much time it might take until Gary let us in on some backstage goss yesterday (March 29).
The Tinker Tailor Soldier Spy star was appearing onstage at CinemaCon, an annual convention for theater owners in Las Vegas, and according to Deadline, he revealed how he spent over 200 hours in the makeup chair to become Churchill, carrying "around half my body weight" in prosthetics to pile on the pounds.
And the result? Well, this photo released last November gives us an idea: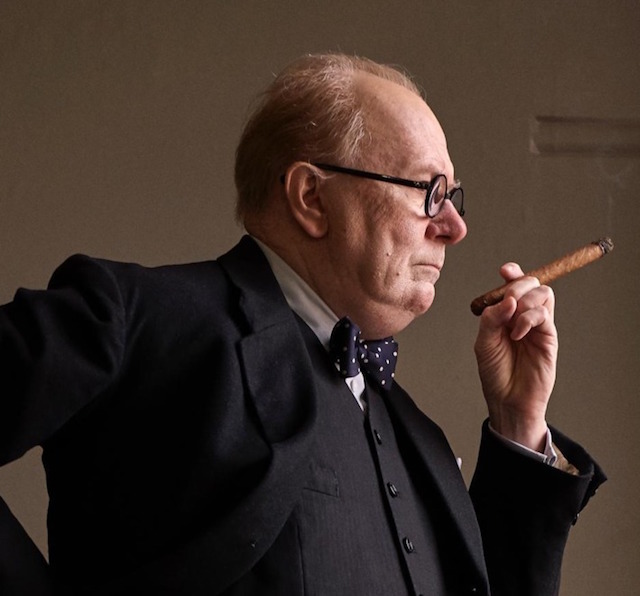 Pretty Churchillian, eh?
Gary plays the celebrated British prime minister in Darkest Hour, an upcoming film about the first few weeks of Britain's war with Nazi Germany in 1939.
Also starring is John Hurt, whose performance as statesman Neville Chamberlain was his last committed to celluloid before his death earlier this year.
So, to recap: Gary Oldman and John Hurt, facing off over an extremely fraught political situation. The scene is already set for a film of epic proportions, and that's even before you know it's directed by Joe Wright, whose previous features include Atonement and 2013's sumptuous retelling of Anna Karenina.
Rounding out the cast are Ben Mendelsohn (Rogue One), Kristin Scott Thomas (The English Patient), Lily James (Downton Abbey), and Stephen Dillane (Game of Thrones).
Darkest Hour doesn't open in theaters until November 24, but initial reports from CinemaCon are good, with critics saying not only that Gary was the "spitting image" of Churchill, but that his voice and tone of speech was spot-on too.
Who wears it best, do you think? Gary Oldman or John Lithgow?
Read More
Filed Under: