The 2017 BRIT Awards air tonight on BBC America, with performances from the likes of Ed Sheeran, Katy Perry, Bruno Mars, The 1975, Emeli Sandé, and Robbie Williams.
It's shaping up to be a BIG night in the global pop culture calendar, with grime star Skepta, girl band Little Mix and Coldplay leading the nominations. Artists as diverse as the late David Bowie, Kano, Michael Kiwanuka, Calvin Harris, James Arthur, Clean Bandit, Jonas Blue, and Tinie Tempah  are all up for awards, and there'll be a tribute to the late George Michael, who won five BRIT awards in the course of his career.
We thought we'd celebrate by remembering some of the best bits in the award show's 40-year history. The BRIT Awards are certainly famous for some of music's most iconic moments, though it's fair to say that some of them are more rock 'n' roll than rehearsed.
10. Adele vs James Corden
The 2017 Grammys weren't by any means the first music awards show James Corden has hosted. Since 2009, he's hosted the BRIT Awards no fewer than five times, but it's safe to say no-one wanted to be in his shoes when he was tasked with cutting Adele's acceptance speech short in 2012. The singer was left stunned as producers cut to Blur's performance during her gushing moment on stage — though it wasn't long before she responded in true Adele style. Thankfully, she and James have since made it up.
9. The KLF
Controversial electronic band The KLF redefined career suicide in 1992, with a typically anti-establishment performance of their international dance hit "3am Eternal." They invited death-metal band Extreme Noise Terror to join them in a thrash performance of the track, which saw frontman Bill Drummond fire machine-gun blanks over the crowd and culminated in the band's promoter and narrator Scott Piering announcing over the PA system, "The KLF have now left the music business." They sure had. The show's producers were reportedly so furious they refused to allow a courier to collect the award on behalf of the band.
8. James Corden Grabs a Selfie with Prince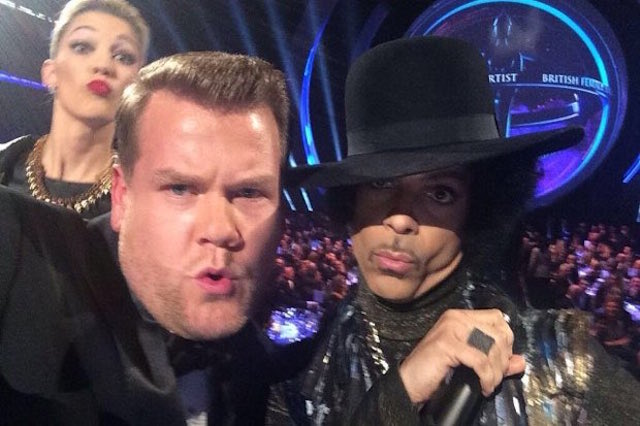 The one and only Prince Rogers Nelson was not well-known for displays of anything other than an ice-cold cool, but that didn't stop host James Corden interrupting his speech in 2014 to get a selfie. Some called it awkward; some, disrespectful. Whatever you think, you've got to admire James's chutzpah.
7. Adele's Breakthrough Performance
There are a few standout performances in Brits history, but Adele's spellbinding rendition of "Someone Like You" in 2011 just about takes the cake. Nowadays, what with stars constantly vying to out-do each other with pyrotechnics, mid-air acrobatics, and gravity-defying chairs, it can be easy to forget that sometimes all you need to blow an audience away is a piano and a world-beating voice.
6. That time Russell Brand hosted
Life lesson learnt: If you don't want mayhem to occur, don't give Russell Brand a microphone. For instance, when British soul star Joss Stone came on stage and a made a slightly off-color remark about ol' Russ's issues with drug addiction, the host retaliated with a question about her surprising new accent.
5. Ginger Spice Rocks the Union Flag
And the award for Most Iconic Brits Performance Ever goes to…. The Spice Girls' Geri Halliwell, who stormed onto stage in 1997 in a dress made by her sister out of an old Union Jack tea towel to give a take-no-prisoners performance of "Who Do You Think You Are?" Girl Power indeed.
4. Madonna Takes a Tumble
Madge's 1980s stablemates Michael Jackson and Prince had both come undone at the BRITs — and in 2015 it was her turn. Her nemesis didn't come in the form of a cheeky British chappie, however, but gravity: Unaware she'd not fully untied the cape from around her neck, one of her dancers tugged it off as rehearsed, bringing the Queen of Pop down a flight of stairs with it. Ouch. Madonna once again proved her hard-ass credentials though, by promptly getting back up and carrying on singing.
3. Lady Gaga's Debut Appearance at an Awards Show
Believe it or not, in 2009 Lady Gaga was not yet the massive star she is today. The Pet Shop Boys, as that year's winners of the Outstanding Contribution to Music award, were down to perform a medley of their hits, and needed a female singer to perform the vocals in "What Have I Done to Deserve This?" originally sung by Dusty Springfield. They invited an as yet little-known Stefani Germanotta, whose debut track "Just Dance" they'd heard on the radio, to sing with them, and the rest, as they say, is BRITs history.
2. Michael Jackson vs Jarvis Cocker
Unpopular opinion alert: Pop music, at its heart, is hubris incarnate. It says, "look at me, I'm the greatest, or at least I am for the length of this 3:24 song." Look at John Lennon calling The Beatles "bigger than Jesus." Look at Kanye West. In Michael Jackson's case, during a performance of his planet-saving power pop-paean "Earth Song" at the BRITs in 1996, it took the form of appearing to suggest he was so great he could, uh, actually heal people.
This was too much for some people. Moreover, the U.K. was at the time in the grip of Britpop, and this sort of behavior was just not on. So Pulp frontman Jarvis Cocker took it upon himself to speak for the country, using the single biggest weapon in Britain's arsenal. And no, we don't mean mass colonization on a global scale. We're talking about the time-honored tradition of mooning. Take it away, Jarvis:
1.Adele and Amy Winehouse Join Mark Ronson on Stage
And no, not in a wiggling-their-butts at Michael Jackson kind of way. First, 19-year-old Adele sang "God Put a Smile Upon Your Face," then Daniel Merriweather sang The Smiths' "Stop Me," before Amy Winehouse made a surprise appearance. After a shaky start, she quickly pulled it together to give a barn-storming rendition of The Zutons' "Valerie" to the screams of the delighted crowd.
You can watch the BRIT Awards 2017 on BBC America tonight (February 22) at 10/9c, and @Anglophenia will be live-tweeting the entire ceremony.
What do you predict will be the stand-out moment from this year's BRIT Awards? 
Read More
Filed Under: