We can't help it. He's just so good at being bad, we find ourselves cheering for Sherlock's Jim Moriarty. Don't get us wrong, we don't want him to get away with anything too villainous. And of course, Sherlock Holmes and his gaggle of friends come first.
But this particular bad guy is just so… moreish. So we inevitably find ourselves rooting for his return. And he seems to bring out the best in Sherlock (Benedict Cumberbatch), providing the British sleuth a real intellectual challenge.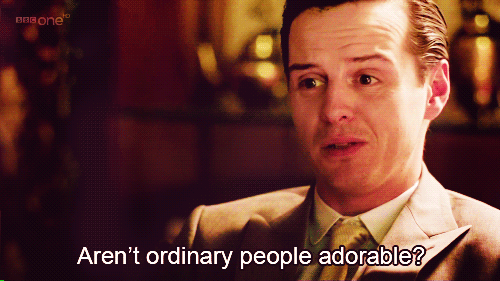 And here we are, just days away from the premiere of Sherlock season four on January 1, and it's still not clear if Moriarty, portrayed by Andrew Scott, will be making his return. But, we have a sneaky feeling he might be, based on the clue he dropped in London's Piccadilly Circus yesterday (December 28):
The short answer to his question: Yes. We have missed you Moriarty. (SPOILER ALERT) And to rewind a little bit, as all you super Sherlock fans surely know, we saw Moriarty shoot himself in the head in the season two finale. But, as you also know, looks can be deceiving. Let's not forget Sherlock's apparent demise in the same episode, "The Reichenbach Fall"… and we all know what ACTUALLY happened at this point.
Moriarty was absent for the third season, but did appear in the Christmas special, though that doesn't necessarily mean he's back from the dead. The special was a one-off set in the Victorian era and was not a part of the regular series. So it's been a while since we've seen him in real time. We're definitely curious what he's been up to, and what his plans are going forward, if he has, in fact, been written back into the story.
Sherlock co-creator Steven Moffat recently talked to Entertainment Weekly about giving villains time-outs, saying, "You can't have the Batman vs. The Joker every week, you get depressed when the archenemy never seems to notice that they always lose. It just becomes predictable."
It's a fair point. And when people aren't around so much, you do end up missing them.
If Moriarty doesn't turn up in the next season, and it turns out the teaser was a little bit of a trick, then apologies in advance. We'll blame it on wishful thinking.
We may not be able to confirm Moriarty's whereabouts, but we do know where Martin Freeman (Sherlock's Dr. Watson) is these days. You can look for him on The Graham Norton Christmas Special, airing on January 7 at 10/9c on BBC America. By that time, Sherlock season four will be up and running on PBS, and we'll all have some answers. And possibly a lot more questions.
Anyhow, here's a preview of Freeman's Graham appearance, where he talks about the difference between Sherlock and The Hobbit fans:
Do you think Moriarty will make a comeback?
Read More
Filed Under: