The first Star Trek TV series in over a decade looks set to change things up in more ways than one.
Last month we told you how Crouching Tiger, Hidden Dragon star Michelle Yeoh had been cast as the captain of Starship Shenzhou, the first actor to be cast in a show well known for its diversity.
Michelle may be a big star, but that doesn't mean she's playing the series lead role. No. According to erstwhile showrunner Bryan Fuller, the lead role will be a "lieutenant commander" who brings a "new perspective on the starship," breaking with a tradition that stretches all the way back to Captain Kirk and sees the lead role played by the ship's captain.
So if it's not Michelle, then whom? Well, Entertainment Weekly is now reporting the lead role will be played by Sonequa Martin-Green, best known for her role on AMC's mega-hit The Walking Dead.
Here's what she looks like chasing zombies as survivor toughie Sasha: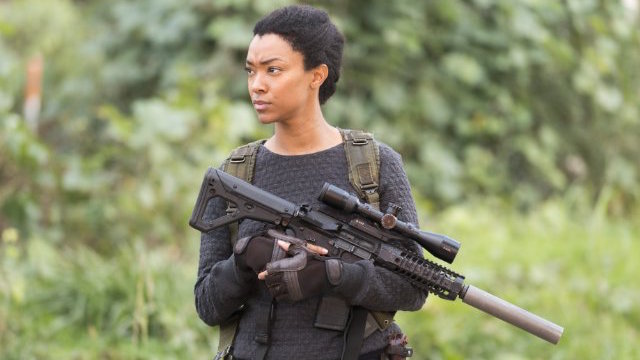 You may also recognize her from The Good Wife, in which she played aspiring paralegal Courtney Wells.
CBS have yet to confirm the news, but when they do, it will make her the first African American woman to be the main character in a Star Trek TV series.
Sonequa's role will lead a cast that's expanding with every week that passes. Anthony Rapp (Rent) and Doug Jones (Hellboy, Falling Skies) have recently joined the show, playing Lieutenant Stamets, a fungus expert and Starfleet Science Officer aboard the Starship Discovery, and Lieutenant Saru, a Science Officer and member of an alien race, respectively. Not only that, but Chris Obi, Shazad Latif and Mary Chieffo were cast this week as Klingons.
It's all taking shape, with filming starting soon, ready for the show's debut in May.
Are you excited yet?
Read More
Filed Under: