We've been excited about the gritty drama Taboo ever since the trailer was released nine months ago, and even more so now that we know it'll start airing on January 10.
First, it stars Tom Hardy (say no more) as James Delaney, an adventurer who returns to London after being left for dead in Africa to seek vengeance for his father's death.
Second, it's got a supporting cast to die for, including Jonathan Pryce (Wolf Hall), his Game of Thrones castmates Oona Chaplin, Roger Ashton-Griffiths and Jefferson Hall, plus Michael Kelly (House of Cards), Jason Watkins (Being Human), and Franka Potente (Run Lola Run).
Third, it's from the team behind Peaky Blinders, with creator Steven Knight writing the screenplay from an idea by Tom Hardy and his dad Chips Hardy. And fourth, the whole thing has a Nordic Noir feel to it, which isn't surprising given directors Kristoffer Nyholm and Anders Engström are between them responsible for The Killing, Wallander, and Jordskott.
And then there's the spooky key art, released yesterday (November 15) along with the announcement of the official air date: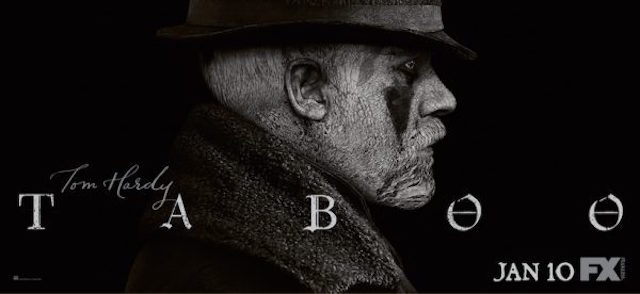 Yes, Tom's wearing a top hat, and yes, the action takes place in 1814, but don't get any ideas that this might replace a certain well-known, cozy period drama. Cast member Stephen Graham (This Is England) recently put to rest any such hopes:
"It's the antidote to Downton Abbey," he told Digital Spy. "There's no lords or people making tea, it's gritty and heavy. It's a fantastic piece and a pleasure to be a part of it."
Maybe there's no one drinking tea, but Taboo does see Delaney take on the all-powerful East India Company — the private company that formed the early part of the British Empire through its trade of commodities like tea and cotton.
Not only that, but it promises "conspiracy, murder and betrayal," as a "dark family mystery unfolds in a combustible tale of love and treachery."
Okay, fair enough: That last bit doesn't sound like something the Dowager Countess would approve of at all.
Are you excited about this one too?
Read More
Filed Under: