It's fair to say that J.K. Rowling has her hands full at the moment, what with attending glitzy premieres of Fantastic Beasts and Where to Find Them, and knuckling down to write the next four movies in the ever-expanding Harry Potter universe.
That's not to say that she doesn't have other projects on the go, though. The series of crime novels she wrote under the pseudonym "Robert Galbraith" is also currently being adapted for TV, called Cormoran Strike, and has just started filming.
Photos released yesterday (November 14) give us our first glimpse at what it will look like. The first shows The Musketeers' Tom Burke as Cormoran Strike, the Strike books' eponymous hero, as he walks down a distinctly un-magical looking street in London.
As anyone who's read the books will know, Strike is a military policeman-turned private-investigator who sets out to solve three complex cases that have so far confounded the police.
And in the tradition of TV crime shows everywhere, Strike is not alone. He has a sidekick in the form of Robin Ellacott, who, as we reported earlier this month, will be played by Lady Chatterley's Lover star Holliday Grainger.
The second photo from the set shows them both outside a very important location indeed: That's right, it's Strike's local pub, The Tottenham.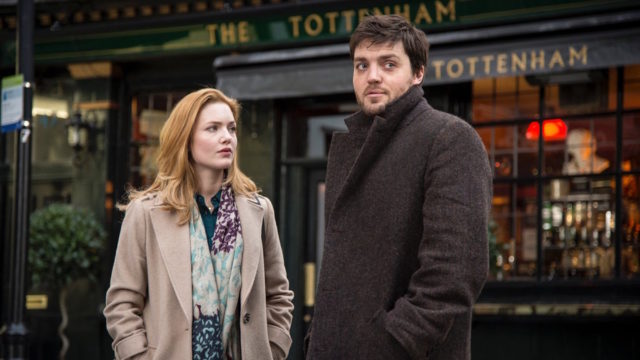 The series will adapt all three of the Strike books, with The Cuckoo's Calling set for three hour-long episodes, while The Silkworm and Career of Evil will have two one-hour episodes apiece.
It'll air in 2017, on the BBC in the U.K. and on HBO in the U.S.
Is this how you pictured Strike and Robin?
Read More
Filed Under: