Never let it be said that at Anglophenia we don't do our prep work. All thirteen episodes of the new royal megaseries The Crown hit Netflix today (November 4), and if you're anything like us, it won't be long until you've watched them all and are looking for your next fix.
Well, fear not. We've come to your rescue by putting together this list of the ten best movies about young royals. Enjoy.
10. Young Catherine (1991)
Things were just way more dramatic in the eighteenth century. This Emmy-nominated TV movie tells the story of Catherine (Julia Ormond), who is torn from her homeland to marry heir to the Russian throne Peter (Reece Dinsdale) and become Catherine II of Russia.
The marriage does not go to plan, and she must contend with her aunt-in-law, the formidable Empress Elizabeth of Russia (Vanessa Redgrave), and British diplomat Sir Charles Williams (Christopher Plummer) to ensure the survival of the Russian Empire.
9. The Other Boleyn Girl (2008)
An ever-so-fanciful version of events, but an oh-so-dramatic tale of love, betrayal, and deception, not to mention a very entertaining take on Henry VIII (played by a rather too-handsome Eric Bana) and his famous bevy of wives.
Scarlett Johansson stars as the "other" Boleyn girl, Mary, who must do the bidding of her father (Mark Rylance) and gain the king's affections, but is superseded by sister Anne (Natalie Portman).
8. Lady Jane (1986)
This British costume drama directed by Trevor Nunn sees Helena Bonham Carter star as Lady Jane, the woman who sat on England's throne for a total of nine days in 1553, before Henry VIII's eldest daughter Mary I was crowned.
Let's just say things don't end well for poor Jane. But a royal drama is nothing without a thwarted romance, and in Jane's case it was with Lord Guildford Dudley (Cary Elwes). Look out for Sir Patrick Stewart as Jane's father.
7. Wallis & Edward (2005)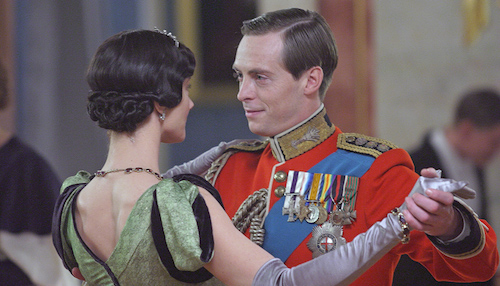 The clash between royal duty and living a normal life doesn't get better than this, and sure enough, the real-life story of Edward VIII and American divorcee Wallis Simpson has been told numerous times, including in Madonna's directorial debut W.E.
This BBC film from 2005 tells it best, as Wallis (Joely Richardson) comes under fire from the British press and royal family when the king (Stephen Campbell Moore) gives up the throne to marry her.
6. A Royal Night Out (2015)
Also about the current British queen as a young woman, this film focusses on one night in 1945, when, as peace extends across Europe, Princesses Elizabeth (Sarah Gadon) and Margaret (Bel Powley) are allowed out by their father George VI (Rupert Everett, in a rather fetching fake nose) and mother Elizabeth (Emily Watson) to join the celebrations.
5. Marie Antoinette (2006)
We head over the channel to eighteenth-century Paris for this tale of young royals, albeit particularly unruly ones.
Kirsten Dunst stars in director Sofia Coppola's punk retelling of the life of France's iconic but ill-fated queen, Marie Antoinette, from her marriage to Louis XVI at the age of 15 to her becoming queen at 19 and on to the dramatic end of her reign, and ultimately the fall of Versailles.
4. The Young Victoria (2009)
Recently adapted into a TV series starring Doctor Who's Jenna Coleman, the story of Victoria I was also explored by this film scripted by Downton Abbey writer Julian Fellowes and starring Girl on the Train's Emily Blunt as the young princess who ascended the British throne in 1837 aged just 18.
Her beloved husband Prince Albert is portrayed by Rupert Friend (Pride & Prejudice), and their love story is set against court intrigue that features Paul Bettany (The Da Vinci Code), Miranda Richardson (Harry Potter and the Goblet of Fire), Jim Broadbent (Bridget Jones's Baby), Thomas Kretschmann (Valkyrie), and Mark Strong (Kingsman: The Secret Service).
3. Nicholas and Alexandra (1971)
Yes, this is a dramatization of the royal marriage at the heart of the events that tore Russia apart in 1917, and yes, it won Oscars for its set design and costumes, plus numerous nominations, including for Best Picture, Best Music, and Best Actress for Janet Suzman.
Most important, however, is the figure of Rasputin, the fanatical monk whose questionable behavior drove a wedge between the Tsar and Tsarina. Who plays him? None other than the Fourth Doctor Tom Baker.
2. The King's Speech (2010)
Okay, so George VI wasn't particularly young when he unexpectedly became king in 1936, but he was unprepared, and this movie became an instant classic in its telling of his struggle to speak like a great leader at a time of extreme national need.
It also sheds light on his marriage with wife Elizabeth (Helena Bonham-Carter), a.k.a. the Queen Mother, and even offers a glimpse of their daughters Elizabeth and Margaret as children.
1. Elizabeth (1998)
Elizabeth I's remarkable reign was portrayed in 2007's Elizabeth: The Golden Age, but it all started with the Bafta-winning Elizabeth in 1998. On the death of her half-sister Mary I, the young daughter of Anne Boleyn ascends the throne amid religious and political turmoil that threatens to cut short both her reign and her life.
Though love plays a part (and Joseph Fiennes does his best as Sir Robert Dudley to win her heart), it's actually a survival story in a royal setting, featuring a performance by Cate Blanchett that made the world sit up and take notice.
Did we hit the mark? What would be on your list if it differs from the above? 
Read More
Filed Under: