Fire up those boxsets, chaps — we've got more sleuthing to do.
In the run-up to season four of Sherlock, we've already watched and rewatched the trailer, scoured photos of Benedict Cumberbatch (ahem), and read up on every fan theory, and yet co-creator Mark Gatiss has said we've still missed "blindingly obvious" clues on what the future holds for our favorite detective.
According to the Radio Times Gatiss told an audience in London on Monday night (September 12) that "there are things that come to fruition in this series which we've been planning for years."
There's only one thing for it. We're going to have to rewatch every episode from start to finish with a magnifying glass. (You can do part of your homework on BBC America: Sherlock returns for an encore with network premieres of "A Scandal in Belgravia", "The Hounds of Baskerville" and "The Reichenbach Fall" airing three straight Saturdays, starting on October 1, 8:00pm ET).
Gatiss went on: "But people also find things that aren't there, which is my favorite. And then miss the blindingly obvious things that are there. People read an awful lot into it."
Sounds like Mark reads the same fan forums we do. And talk about a tease: Some of those theories even made their way into the first episode of the last season, which tackled how Sherlock survived his fall from the top of a very tall building.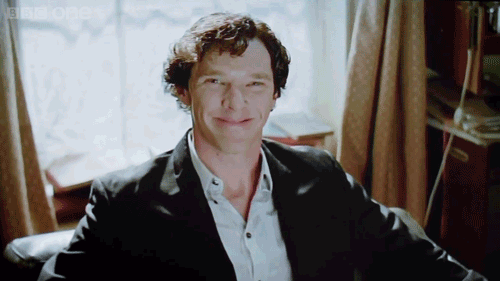 There's still no official air date for season four of Sherlock, though the cast and crew wrapped filming in August. The current best guess is January 1, 2017 in the U.K., and a few months after that in the U.S., meaning we've got a while to ponder the evidence.
There is one theory Mark can put to rest, however:
"I did read someone's theory about Moriarty's suicide, which was all based on Grimm's fairy tales," he recalled. "And it would have required a dossier, like a really annotated episode guide. That's obviously not going to happen, because this has to be something for the casual viewer, who's not going to say, 'Oh, I see…'."
That's not to say he's not impressed by some theories. "Sometimes I'm made aware of these things and I think the level of invention is amazing, but it's amazing that you think it's going to turn out to be that, because it really isn't."
So, we read too much into it, and yet we've missed really big clues? This is turning into a case only one detective can solve.
Read More
Filed Under: