Recently we told you about Cargo, the zombie film starring Fargo star Martin Freeman. (Cargo, Fargo. It's just a shame he didn't have a bit part in the Ben Affleck movie Argo…)
Anyway. Where were we?
Filming for Cargo started last month in southern Australia, and today (September 23) Martin told the Sydney Morning Herald a little more about the movie and his character Andy, a man who has become infected by the zombie virus and has just 48 hours to get his baby daughter to safety.
Just don't call him a "zombie."
"It's not a zombie film," he says, before offering his own interpretation. "I think it's a film with some zombies in it, that's the absolute truth of it."
Okay, okay. Let's not mention the z-word. Luckily there's no hint of the undead in this newly released picture from the set: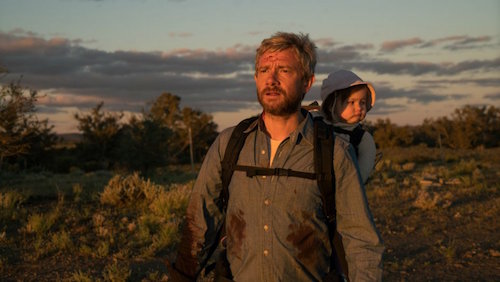 Based on a seven-minute short made by directors Yolanda Ramke and Ben Howling, the feature sees Andy trek through the Australian outback to find an isolated Aboriginal tribe, and befriend a young girl on a tragic quest of her own.
Also starring are legendary Aboriginal actor David Gulpilil (Charlie's Country) as well as Anthony Hayes (Animal Kingdom, The Light Between Oceans), Caren Pistorius (The Light Between Oceans), Susie Porter (Puberty Blues), and newcomer Simone Landers. None of whom are zombies. Nooo. Nuh-uh. Oh no.
Cargo is set to be released next year.
Read More
Filed Under: