Charming young man that he is, Daniel Radcliffe never fails to be polite whenever people bring up the subject of H**** P*****. And they do. A lot.
Look, it was in our first sentence.
But that's not to say Daniel isn't doing his darndest to avoid being typecast. Since leaving the boy wizard behind, he's pursued an interesting mix of memorable indie roles and studio projects, with the past year alone seeing him play a technology tycoon in Now You See Me 2, a farting corpse in Swiss Army Man, and an FBI agent who infiltrates a group of neo-Nazi in Imperium.
Say what you want, but that's quite a range. (And that's not even mentioning all his different hairstyles.)
Daniel's next movie signals another change in direction for the Woman in Black star. Based on a real-life account by Yossi Ghinsberg, Jungle tells the story of a young adventurer (Radcliffe) who heads into the Amazon in what turns out to be a dangerous and deadly expedition.
If you're in any doubt about what "deadly" might mean, then the fact it's helmed by director Greg McLean, best known for horror movies such as Wolf Creek and Rogue, should give you some indication.
As should this look on Daniel's face, in the first picture from the movie released yesterday (September 14):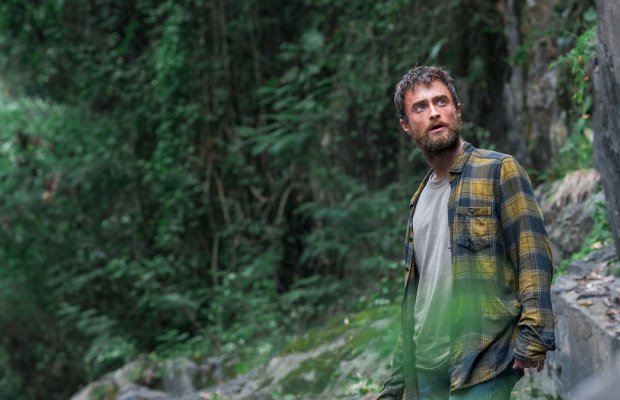 Ruh-roh. Whatever he's looking at is either very big, or very high up. Neither of which is a good sign.
The psychological thriller tells the story of Yossi's ill-fated expedition and his desperate attempt to survive, and co-stars Thomas Kretschmann (Avengers: Age of Ultron) and Alex Russell (Chronicle, The Host and Carrie).
Expect Jungle to hit theaters some time in 2017, along with a slew of new and unexpected roles that Daniel's no doubt got hidden up his sleeve. Because he's magic. Like a wizard, see.
Oops. We did it again, didn't we?
Read More
Filed Under: