The Beatles' seventh studio album Revolver was released in the U.K. 50 years ago today (August 5), arriving in the U.S. three days later.
Sandwiched between 1965's Rubber Soul and 1967's Sgt Pepper's Lonely Hearts Club Band, and in the wake of Pet Sounds by The Beach Boys, it can be relegated to second or third place by fans and critics eager to name their favorite Beatles album. To all of those people, I say: You are wrong, and here are 10 reasons why.
10. Sgt Pepper? Pff. Overrated.
You're either an album kind of gal or you're not. Let's face it: Sgt Pepper is a concept album that only really works if you listen from the start until the finish, and I've got things to do. Taken out of sequence and in isolation, most of the songs, bar "With a Little Help from My Friends" and "When I'm Sixty-Four," lose some of their dreamlike magic. Even "A Day in the Life"—the most astounding song they ever recorded, a song that makes you stop whatever it is you are doing and listen—loses something when it's not listened to at the end of the record.
And as for the White Album? Double albums are never a good idea.
9. Every track is a killer
Revolver, on the other hand, has 14 tracks, and each one of them stands on its own. They are all under three minutes long, except "Love You To" and "I'm Only Sleeping," which clock in at 3:01 and 3:02 respectively. Whether they were influenced by psychedelic sounds, the Indian sitar, or punk clash chords, every song on Revolver is a perfect pop song through and through. (Yes, even "Yellow Submarine.")
8. The cover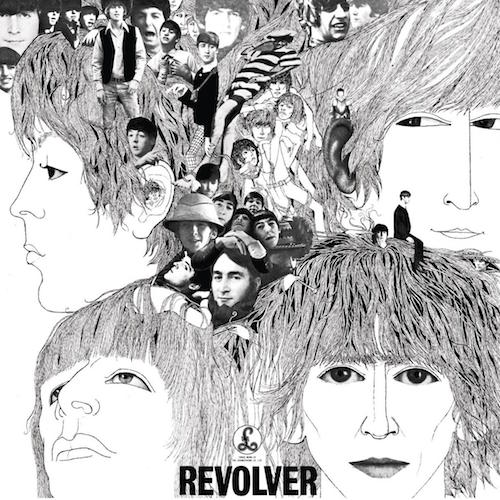 The record's monochrome sleeve is almost as recognizable as the opening of first track "Taxman." German artist Klaus Voorman was paid £50 (about $70) for his work, which he undertook on a kitchen table in his attic flat in London, cutting out photographs with a scalpel and gluing them to line drawings of the band members.
"When I had finished my work for the cover, [Beatles manager] Brian Epstein was really moved by my design," Voorman recently told the Guardian. "He said to me: 'Klaus, what you did is what we really needed. I was scared that the band's new material wasn't going to be accepted by their audience, but your cover built that bridge.'"
7. Its sheer variety
There's something for everyone on this album: rockers like "Taxman" and "Dr Robert," the psychedelic dissonance of "She Said She Said," the ethereal "Here, There, and Everywhere," followed by a welcome injection of soul from "Got to Get You Into My Life," and the orchestral high drama of "Eleanor Rigby".
(And yes. Even "Yellow Submarine".)
6. "Yellow Submarine"
Okay, okay, let's tackle the elephant in the room. Yes, one of the tracks on Revolver is "Yellow Submarine." Yes, it's essentially a kid's song. And yes, it's the song you're most likely to skip, but it's still a great addition to the album's what-the-hell, try-anything approach. It's silly and it's fun and maybe it was inspired by drugs, but whatever. It comes down to this: When "Yellow Submarine" comes on, just try and stop yourself singing along.
5. This cover by Earth, Wind & Fire
Its towering pop genius makes "Got To Get You Into My Life" one of the best cuts on the album, but even more important is that, without it, we would never have had THIS.
4. George comes to the fore
Revolver also benefits from George Harrison's balancing influence, which was lacking on Sgt Pepper and subsequent albums. He contributed "Taxman," "I Want to Tell You," and "Love You To" to the album, giving him almost equal songwriting billing as Lennon-McCartney (who each wrote five songs), and demonstrating that the talent shown in "Don't Bother Me" and "I Need You" was no flash in the pan.
3. Paul's songwriting
Don't get me wrong: "I'm Only Sleeping," "She Said She Said," "And Your Bird Can Sing," and "Dr. Robert" are all brilliant, but the album's standout tracks are Paul's. "For No One," "Got to Get You Into My Life," and "Here, There, and Everywhere" are exercises in simple, compact songwriting, and demonstrate a new level of sophistication that John lacked (though he made up for it in moments of utter genius).
And then there's "Eleanor Rigby," a song so ambitious it's been compared favorably with classical music and set to a full orchestral backing. Its lyrics are hardly usual pop fare, telling as they do the story of a lonely woman who dies alone, leading artists as disparate as Barry Gibb, Pete Townshend, and Michael Jackson to cite the song as a big influence on their songwriting.
2. It took studio artistry to another level
Nowadays we are used to the idea of sounds being created artificially in a studio, but in 1966 that idea was new; albums then were still primarily a way of capturing live instruments and live recordings of songs.
The Beatles changed all that with Revolver: they distorted sounds, experimented with sound effects, and worked with engineers to create distortion effects like the one that made John sound like the Dalai Lama chanting from a hilltop on "Tomorrow Never Knows" (his description, not mine). Automatic Double Tracking (ADT), a technique commonly used in pop music to create multiple vocal tracks, was invented in the Abbey Road Studios in 1966 by engineers working on this album.
The result? Songs so complex they were impossible to play live, and sure enough, none of the songs on Revolver were ever performed in front of an audience, despite the band heading out on a U.S. tour as soon as the album was finished.
1. "Tomorrow Never Knows"
I mean, come on. There's no contest, really. If there's a more influential song in pop history, I'd like to hear it.
The final track on the album is an otherworldly, aggressively experimental masterpiece that is still as startling today as it was when it was released. Could anyone have predicted the group that sang "She Loves You" just three years earlier would be responsible for the mind-warping "Tomorrow Never Knows"?
Sampling, tape loops, overdubs: the whole of dance music is contained in this one short song recorded in the summer of 1966, with 1990s dance duo The Chemical Brothers going so far as to call it their "manifesto."
"Tomorrow Never Knows" is so iconic, Mad Men boss Matthew Weiner paid $250,000 to use it in an episode of the 1960s drama. Don Draper (Jon Hamm) drops the stylus on the song then turns it off, unimpressed—the clearest indication yet that he's lost pace with the decade and is completely out of touch with youth culture.
How do you rate Revolver? Tell us below:
Read More
Filed Under: