Today (July 8) is 20 years since the Spice Girls released their debut song "Wannabe" in the U.K., and we couldn't let the anniversary go by without celebrating it.
It was another six months until the Fab Five released the track stateside, but by then it was too late: a wave of "girl power" had been unleashed, setting off a global domination Blofeld would have killed for (if only he'd thought of promoting a line of flavored lollipops instead of trying to outwit 007).
Ginger (Geri Halliwell), Sporty (Melanie Chisholm), Scary (Melanie Brown), Baby (Emma Bunton), Posh (Victoria Beckham). We all had our favorite. We may still be waiting for confirmation of a a reunion, but that doesn't mean we can't snap on our nostalgia goggles and pack our bags for a trip down memory lane in the mean time.
Here's just ten of the most Spice Girl moments ever:
10. When they turned up at the Olympics in Spice Cabs
The closing ceremony at the London 2012 Olympics focused on the U.K.'s musical legacy, and yeah, sure, it featured songs by Queen, John Lennon, The Beatles, The Who, David Bowie, The Bee Gees, and Pink Floyd. And fine, it saw One Direction perform with Jessie J, Fat Boy Slim and Taio Cruz.
But it wasn't until five black cabs rolled up the ramps of the stage in the shape of a Union Jack, however, that we got to the national's true musical trailblazers.
9. That Pepsi commercial
If you watched TV in 1998, then there's a very high probablity you saw this commercial at least once, if not a thousand times.
The girls sponsored everything from Pepsi to Chupa Chups, meaning fans could kit themselves out with Spice Girls backpacks, trading cards, action figures, duvets, perfumes, potato chips, lollipops, Spice Girl-shaped chocolates, Polaroid Spicecams plastered with Spice Girl stickers, and Spice Girl deodorant—in one of five different Spice scents.
8. That interview with poor Jamie Theakston
It was a brave man who set out to interview the girls on his own. And in 1997, the presenter of British music show The O-Zone, Jamie Theakston, was just that man.
How many questions do you think they answered properly? Three? One? More like zero. Nice backdrop, though.
7. Spice Girls vs Kurt Loder
The girls won their first major U.S. music award for Best Dance Video at the 1997 MTV VMAs, and to celebrate, Geri wore her best American flag corset and a fake fur gown. Veteran music editor Kurt Loder really had no idea what was heading his way.
6. When they got the Ab Fab treatment
The 1997 Comic Relief fundraising show saw the debut of a new version of the "Who Do You Think You Are?" video: one with added sugar.
Ab Fab stars Jennifer Saunders (a.k.a. Eddy, sweetie, dahling), Dawn French, Lulu, Kathy Burke, and Llewella Gideon joined forces to form the "Sugar Lumps" to show the Spices they meant business. Did they succeed? Let's just say the jury's still out.
5. That dance routine
Some people say "Thriller" has the best dance routine in a music video. Others say it is Beyoncé's "Single Ladies". They are all wrong. It is "Stop," the third single off the girls' second album Spice World, and the video had us learning a hand dance routine even Posh could get the hang of.
Some moves never leave you:
4. That time they met Prince Charles
There's a certain protocol whenever you meet a member of the Royal Family, but the girls weren't having any of it. The next in line to the British throne was subjected to kisses, flirty behavior, and, if Ginger is to be believed, even the odd squeeze. That most certainly is not in the rule book.
3. The time they were allowed to make a film
Not content with an assault on the charts, the girls set their sights on Hollywood too. 1997 movie Spice World featured a panoply of British stars from Richard E. Grant and Roger Moore to Hugh Laurie and Bob Geldof, not to mention Dominic West, who made a cameo as a photographer when The Wire was nothing more than a twinkle in his eye.
Watch the trailer below for a trip down memory lane, but please, be warned: the following contains scenes of an extremely British nature.
2. That dress
On any other day, Scary's leopard-print jumpsuit would have got top billing, but performing next to her at the 1997 Brit Awards was Ginger in one of the most famous ensembles ever worn on stage.
Her Union Jack dress must surely vie with Elizabeth Hurley's Versace safety pin dress as the most iconic dress of the 1990s and is certainly one of the only single items of clothing to have its own Wikipedia page. It was sold at auction in 1998 for £41,320 (about $53,500) and holds the Guinness World Record for the most expensive piece of popstar clothing dealt at auction.
1. When all they wanted to do was…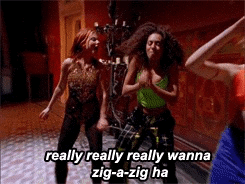 …ziggah zig ah? Zig-a-zig ahhhh? Or was it zigazig arrrr? And what on earth did it mean? Despite the confusion, the girls' first hit "Wannabe" went to No. 1 in more than 30 countries, with their first album, Spice, selling 20 million copies, including 5 million in the U.S. alone.
Happy anniversary, ladies!
Read More
Filed Under: