Who needs engines when you've got feet? That was James Corden's thinking when he challenged Matt LeBlanc to a race on The Late Late Show last night (June 14), anyway.
Having hotfooted it back to L.A. after his stint at the Tonys, Corden was joined by the Top Gear presenter, who inaugurated a studio racetrack set up specially for the occasion.
The pair had to navigate kids' scooters around it and various obstacles, including speed bumps, a wall of plastic bricks, and a fair amount of silly string, not to mention remembering to smile for the camera attached to their helmets.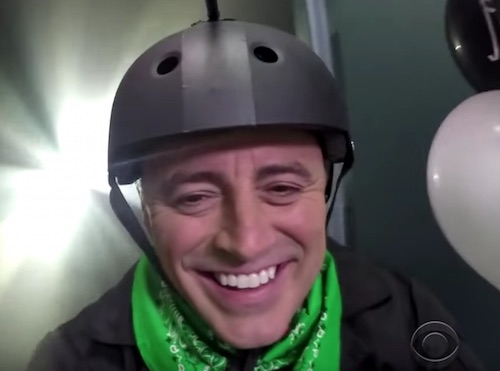 Matt took the challenge like a pro, flying the American flag just as he does against his Brit co-presenter Chris Evans. That's all we'll say though. We don't want to give away the winner:
Earlier in the show Matt had told the story of how, before becoming its presenter, he had appeared as a guest on Top Gear and broken the "Star in the Reasonably Priced Car" record, leading James to admit he'd also once given the challenge a try. And came 75th. Matt promptly invited him on the show to give it another go, which, based on this evidence, we think is an excellent idea.
The new season of Top Gear currently airs Mondays at 9/8C on BBC AMERICA.
Read More
Filed Under: