Get ready to see the Pope as you've never seen him before: chain-smoking, conspiratorial, American (sorta), and (ahem) pretty damn sexy.
The Young Pope, a new eight-part drama miniseries coming later this year to HBO, is the latest lavish TV show to lure big-name acting talent away from the big screen. Jude Law plays Lenny Belardo, a conservative cigarette-smoking American pontiff also known as Pius XIII, who doesn't let his Vatican advisers get in the way of his communion with God.
Here he is in a teaser released today (June 15):
Nor is Jude not the only reason to get excited. It's directed by Paolo Sorrentino, whose Italian-language film The Great Beauty won an Oscar in 2014 and whose English-language film Youth, starring Michael Caine, won the Palme d'Or at the Cannes Film Festival last year.
Not only that, but Diane Keaton plays a nun called Sister Mary. Yes, that Diane Keaton, in her first ever recurring TV role.
Set in Rome, the show is a joint production between Sky in the U.K., HBO in the U.S. and Canal+ in France, with its international credentials reflected in its cast.
Playing various cardinals are Sebastian Roché (Vampire Diaries), Silvio Orlando (La Passione), Scott Shepherd (Bridge of Spies), Javier Cámara (Talk to Her), Tony Bertorelli (Blood of My Blood), and James Cromwell (American Horror Story), while Cécile de France (Hereafter) plays Sofia, who's in charge of marketing the Vatican, and Ludivine Sagnier (Tinker Bell in 2003's live action Peter Pan) plays Esther, the wife of a Swiss guard.
You know, one of these guys: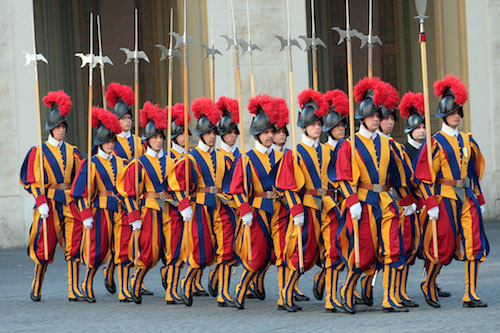 So expect a drama of faith, power, and treachery, all set against stunning Roman vistas. A U.S. air date has not yet been confirmed, but The Young Pope airs in Europe in October.
Read More
Filed Under: