We recently got a first look at Elizabeth Banks as the alien witch Rita Repulsa in the upcoming Power Rangers movie.
Now the Power Rangers themselves are suited up. Their morpher suits are made up of the full body gear and helmet we're used to seeing, but production designer Andrew Menzies points out a difference, saying, "Ours is an alien costume that grows on them, that's not man-made," reports ComingSoon.net.
Here's a peek at the 2017 Power Rangers: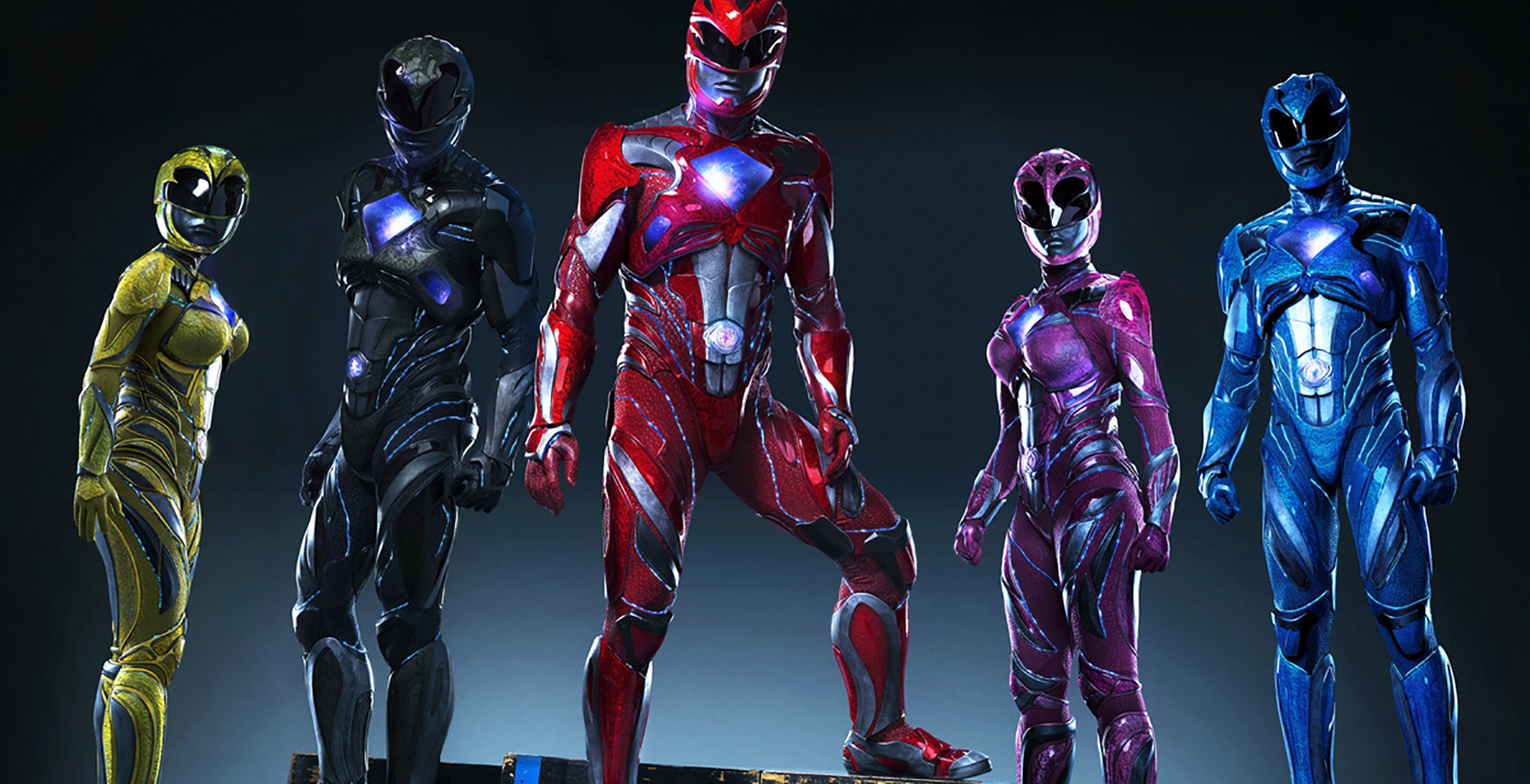 If you need a refresher, here's a look at the TV teen superheroes transitioning into their suits:
Menzies goes on to talk about fan reaction, saying, "You can't win everyone over, but we are trying to appeal to a more mature audience and gain new fans."
He may be referring to some of the backlash toward Rita Repulsa's sexed-up look being so different from the original.
Here are some Twitter comments to speed you up:
.@philipyount when they announced Elizabeth Banks as Rita Repulsa, I was 100% legit excited. But…then…this… pic.twitter.com/t8eg1Ph5FN

— I am a Magic Sword (@ZacharyWhitten) May 5, 2016
@weepysweetmonty I love the Ranger designs themselves but I'm just a little bummed Rita Repulsa doesn't have her crazy hair horns

— The Life of Jublo (@jubear720) May 5, 2016
I quite like the new #PowerRangers outfits. Much better than the days of Spanx. Still not sold on Rita Repulsa tho pic.twitter.com/Caa8TxqwaR

— Lee (@Hotdesigner) May 5, 2016
THAT'S NOT WHAT RITA REPULSA LOOKS LIKE.

— tyler easter (@tylerOeaster) April 26, 2016
Not everyone vetoed Rita's look, as there were plenty of supporters:
Hell, @ElizabethBanks looks very scary. The movie looks morphinomenal so far! An awesome #RitaRepulsa https://t.co/ibc9nE7sqm

— Maymunah Azad (@daimbycity) April 26, 2016
Elizabeth Banks looks fierce as Rita Repulsa on Power Rangers set https://t.co/4BMlOu3UF3 via @DailyMailCeleb

— … (@andthehound) April 26, 2016
@robertliefeld If this is Rita Repulsa, I may actually start liking the power rangers! Something's wrong with me, I know this already.

— Kevin Conner (@NinjaNezumi) April 26, 2016
And some were just resigned:
God I'm just tired of arguing about reboot Rita Repulsa #PowerRangersMovie

— Scott #TeamCap (@DigiRanger1994) April 26, 2016
Rita Repulsa has been getting a lot photo leaks, WHERE ARE THE POWER RANGER SUITS?! OR ZORDON ?

— Arch Grayson (@RenKrypton) April 26, 2016
Menzies is right. You can't please everyone.
Are you pleased with the Power Ranger suits?
Read More
Filed Under: