Fans of Peaky Blinders rejoice! Not only does the third season start on Netflix this coming Tuesday (May 31), but there's now a whole lot more of the 1920s British gangster drama to look forward to. That's because the BBC has ordered not one, but two more seasons of the popular series.
News of the show's renewal was accompanied by a quote from Cillian Murphy, who stars as the kingpin of a Brummie crime family: "Tommy Shelby is one of the most intense, challenging characters I've had the opportunity to play.
"I'm particularly grateful that [showrunner] Steven [Knight]'s original, dynamic writing and the long form series allow me to explore Tommy in depth. I very much look forward to Tommy's evolution over the next two chapters."
So do we, Cillian, so do we! Steven Knight added: "I am genuinely thrilled at the response to the third series of the show. The prospect of writing series four and five is truly exciting. This is a real passion project for me and I look forward to telling more stories of the Shelby family."
Meanwhile in the U.K., where season three has already started airing, a clip and pictures have been released that confirm Tom Hardy's return to the series. We won't spoil anything here, but safe to say his character Alfie Solomons, a rival gang leader last seen in season two, re-enters the fray in episode five of the new season.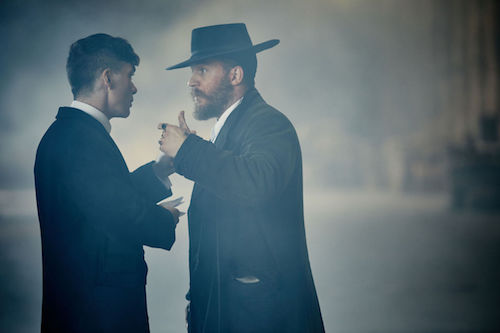 Characters Polly Gray (Helen McCrory), Arthur Shelby (Paul Anderson), Ada Thorne (Sophie Rundle) and John Shelby (Joe Cole) all return for season three, which also adds The World's End's Paddy Considine.
Read More
Filed Under: