"Honey, you should see me in a crown," says Moriarty in Sherlock episode "The Reichenbach Fall," and now, thanks to a sneak preview of what's in store on The Hollow Crown, we finally can.
Andrew Scott, who plays Sherlock's nemesis in the mega-popular modern reboot of Conan Doyle's stories, is set to star as France's King Louis XI in the next episode of the BBC's adaptation of Shakespeare's history plays.
Here he is as the devious French king: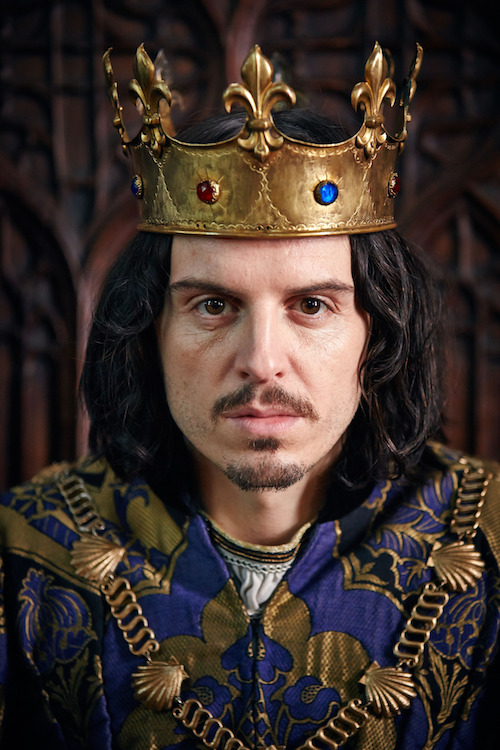 Looks pretty good, honey.
The second feature-length episode in the trilogy airs this Saturday (May 14) in the U.K., and is set to feature another face that's, shall we say, familiar to Sherlock fans. Benedict Cumberbatch stars as Richard Plantagenet, the brother of the newly crowned Edward IV, and future Richard III.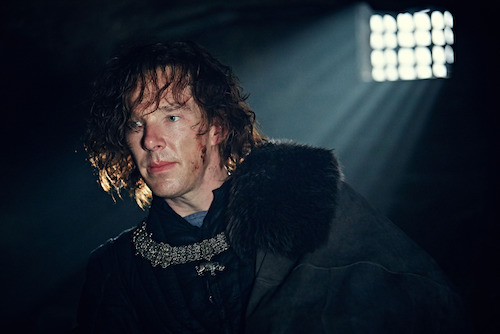 The notorious and some say maligned hero of Shakespeare's play Richard III first makes makes an appearance in Henry VI Part 2, the second play of the so-called Henriad that sets the scene for his villainy. In the third, the imaginatively titled Henry VI Part 3 (The Fast and The Furious movies have nothing on Shakespeare), King Louis proves a key ally when he switches allegiance from the current king to Richard's family in their quest for the English throne.
Can it be? Sherlock and Moriarty… in an uneasy truce?
Both history plays will be condensed into the next episode, which, if the first installment is anything to go by, will be another two hours of television as treacherous and bloodthirsty as anything Game of Thrones has to offer.
No word yet on when it'll air in the U.S., but rest assured we'll be the first to tell you.
Read More
Filed Under: