Netflix has pushed the boat out with Marseille, a new eight-part drama added on May 5 to its streaming library. As with their other original commissions like House of Cards, they've thrown money and big names at it: Dan Franck, the man behind hit miniseries and movie Carlos, created it; Florent Siri, best known as the director of Bruce Willis action flick Hostage, exec-produced it; and Gérard Depardieu stars.
There's just one difference: the whole thing is in French (with subtitles for those of us who don't know our bonjours from our au revoirs).
Streaming services such as Netflix, Hulu, and Amazon have made it easier for us to access TV from around the world, with smaller services such as DanceFever, Viki and AcornTV offering more specialist selections. Here's a list of the foreign-language TV shows worth finding the subtitle button on your remote for.
Marseille (France, 2016)
Gérard Depardieu plays city mayor Robert Taro, who, after 20 years, is passing the torch to his hand-picked successor, Lucas Barres (Benoit Magimel) and opening a string of casinos that will take money out of the city's illegal trades. The local mafia have other ideas, however, and a drama of political intrigue, corruption and gang warfare unfolds against some stunning shots of France's second city.
Watch: Netflix
Grand Hotel (Spain, 2011)
This historical period drama set in an aristocratic hotel in the early 20th century has been called Spain's answer to Downton Abbey. Certainly all the seeds are there: there's the Alarcón family who own it (and who are, admittedly, a tad more ruthless than the Crawleys), tons of melodrama and mystery, and the secret lives and loves of all who work there. It aired on VmeTV in the U.S. in 2013.
Watch: Hulu (season one only) | Netflix
Boys Over Flowers (South Korea, 2009)
Korean TV—or K-TV, or K-drama, as it's also known—is HUGE worldwide. Generally its shows are a lot lighter in tone than some of the heavy drama on this list, and almost all are love stories. Boys Over Flowers is one of the most popular, telling the story of JanDi (Ku Hye-sun), the lower-class daughter of a dry cleaner who gets a scholarship to a seriously fancy prep school full of rich kids. She immediately comes up against F4, a hyper-stylish, aloof gang of wealthy sons-of-CEOs who have their own entrance music. Basically if you love Means Girls, Gossip Girl, or She's All That, you'll love this.
Crimes of Passion (Sweden, 2013)
Set in 1950s Sweden, this series of feature-length episodes has been described as Mad Men meets The Killing. Based on the books of Maria Lang, the so-called "Agatha Christie of Sweden," each episode features a murder mystery to be solved by husband-and-wife team Puck (Tuva Novotny) and Einar (Linus Wahlgren), with the help of their best friend, a Stockholm police inspector played by Wallander's Ola Rapace.
Watch: Amazon
Empresses in the Palace (China, 2011)
When Netflix acquired this epic Chinese period drama in 2015, audiences were surprised to discover the original series' 76 45-minute episodes had been cut down into six 90-minute installments. The drama is undiminished, however, as the women of an imperial harem in 18th-century China experience betrayal, treachery and corruption as they struggle to gain power and the Emperor's favor.
Watch: Netflix
Mammon (Norway, 2014)
Described as an All the President's Men-style thriller, Jon Oigarden (Lilyhammer) plays an uncompromising investigative journalist who discovers first financial fraud among Norway's financial and political elite, and then that his own family are involved. What happens next ruins his career and family relations—not to mention putting his life at risk.
Watch: Amazon
Yudh (India, 2014)
This psychological thriller has a plot similar to Boss starring Kelsey Grammar, but this time it's Bollywood superstar Amitabh Bachchan who plays Yudh, an Indian businessman who discovers he has Huntington's Disease, an incurable neuropsychological disorder, leaving him with a few years to live.
Watch: Netflix
Atelier (Japan, 2015)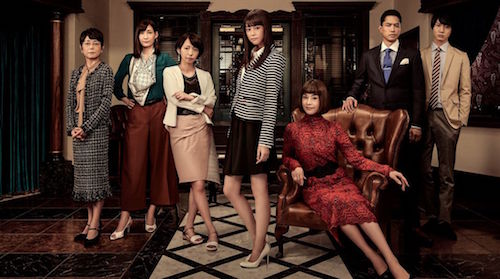 If you liked The Devil Wears Prada, you might like this one. It's a coming-of-age drama set in an underwear factory in the Ginza district of Tokyo, where new employee Mayuko Tokita (Mirei Kiritani) struggles to find her place and work with boss Mayumi Nanjo (Mao Daichi).
Watch: Netflix
Deutschland 83 (Germany, 2015)
Love '80s music? Love Berlin? Then you'll love Deutschland 83, an espionage thriller set in a divided Berlin at the height of the Cold War and during the Reagan politics of the 1980s. It follows Martin Rauch (Jonas Nay), an East German spy who must resist the temptations of the West. It was broadcast on SundanceTV in the States, making it the first German-language series to air on a U.S. network.
Watch: iTunes
My Love From Another Star (South Korea, 2013)
Stay ahead of TV trends with this "epic supernatural love story," which is due to be remade by ABC, according to the Hollywood Reporter. The plot has distinctly Doctor Who vibes: an alien (Kim Soo-hyun) lands on earth 400 years ago and lives four different lifetimes, only to arrive in the modern day and fall in love with vain actress Cheon Song-yi (Jun Ji-hyun). The wisecracking heroine is immensely charming, and the subplots (a ticking clock, a murderous villain and a desperate love square, let alone triangle) will keep you on the edge of your seat.
Watch: DramaFever  |  Viki
Borgen (Denmark, 2010)
The setting for this three-season series is Borgen, the nickname for Denmark's Parliamentary building, otherwise known as "The Castle." Often compared favorably with House of Cards and even The West Wing, this Danish show seems to take all the best parts of some of the U.S.'s greatest shows and combine them into the Platonic ideal of a political drama. Sounds too good to be true? There's only one way to find out.
Watch: iTunes
Pablo Escobar: Drug Lord (Colombia, 2012)
Three years before Narcos hit our screens, this vast 63-episode Colombian drama series told the story of Pablo Escobar, the boss of the Medellin drug cartel, with Andrés Parra playing the notorious drug lord. With a cast of some 1,300, and filmed in more than 450 different locations, it was an ambitious production that sought to be historically accurate as well as gripping.
Romanzo Criminale (Italy, 2008)
This crime drama is cult viewing in Italy, as it follows the dealings of three lifelong friends, Libanese (Francesco Montanari), Freddo (Vinicio Marchioni) and Dandi (Alessandro Roja), as they take control of organized crime and heroin trade in their area. Based on the novel by Italian judge Giancarlo De Cataldo, the whole thing gains an extra edge by being set in 1970s Rome.
Watch: Hulu
Prisoners of War (Israel, 2010)
Prisoners of War, or Hatufim, the Israeli TV drama on which Homeland is based, is even more emotionally charged and gut-wrenchingly powerful than its U.S. counterpart. Gideon Raff, the show's creator, writer and director, told the Guardian: "A lot of the changes came down to differences between the two countries. In Israel, we negotiate with terrorists to get prisoners released. The U.S. don't, so Brody had to be freed in a military operation. In Hatufim, I wanted to show broken soldiers, broken masculinity; whereas in Homeland, Brody comes back buffer, a poster boy."
Watch: Hulu
Umbre (Romania, 2014)
Billed by the New York Times as an "Eastern European Sopranos", Umbre is a gritty mob drama set in the Romanian capital of Bucharest and made by the newly created HBO Europe. It tells the story of Relu Oncescu (Serban Pavlu), a family man who appears to be an ordinary taxi driver but also works as a debt collector for a local mafia boss. Over eight gripping episodes, Oncescu's double life threatens to destroy everything he holds dear.
Watch: AcornTV
Read More
Filed Under: