This Monday (May 30) at 10:30 a.m./9:30 c, BBC AMERICA is showing the classic movies Mad Max (1979) and Mad Max 2: The Road Warrior (1981) ahead of the long-awaited return of Top Gear. Starring Mel Gibson as the titular hero, the films are the first two entries in George Miller's iconic post-apocalyptic action series, and were followed by Mad Max Beyond Thunderdome in 1985 and Mad Max: Fury Road in 2015. So for those of you who aren't familiar with the movies—or even if you are—here are ten facts you may not have known about the franchise:
Writer/director George Miller worked as an emergency room doctor in Sydney, Australia, and based parts of Mad Max on the injuries he saw and treated. The area of rural Australia in which he grew up was also notorious for car accidents, and the younger Miller witnessed several himself. In order to help fund the production of the movie, which shot in 1977 and 1978, Miller spent three months carrying out emergency medical calls, with his producing partner Byron Kennedy driving the car.
Fourteen cars were destroyed during the making of the first film. Max's iconic Ford Falcon, known as the Pursuit Special, was nearly sold by the producers after filming wrapped; but with no buyers interested, it was instead given to production mechanic Murray Smith. Miller then bought the car back from Smith ready for production of the second film. It was very nearly scrapped afterwards, but was again rescued—and although it didn't appear in Beyond Thunderdome, it was restored and placed in museums first in Cumbria, England and then in Miami, Florida. It finally made a brief appearance in Fury Road.
Mel Gibson was supposedly only cast as Max by accident. The actor had driven his friend Steve Bisley (who would ultimately end up playing Goose) to the audition, but was sporting an injured face following a bar brawl. The producers were casting for "freaks" to fill out the roles in the film, and took photos of Gibson's bruised face – asking him to return when he'd healed, whereupon he was given the lead role. At least, that's the story as told by Gibson: but Miller has denied that this was actually the case. Another apocryphal story often circulated around the film involves the supposed on-camera death of a stuntman during a crash—but the actor in question, Dale Bench, is still alive and well!
For two decades, Mad Max was the most profitable film of all time, based on percentage of budget to box office receipts. It took over $100 million worldwide, from a budget of only around 400,000 Australian dollars. This record was surrendered to The Blair Witch Project in 1999. Mad Max's worldwide success came despite the film initially being banned in its native Australia (due to one of the film's deaths bearing a coincidental resemblance to a real-life gang incident in New Zealand); as well as all the actors' dialogue being dubbed for the U.S. release, to make their accents more understandable. The film only grossed $8 million in the U.S. due to distribution issues, but became a cult classic—and in 2000, it finally received a theatrical release with the original soundtrack intact.
The first film was only set in the future for budgetary reasons. "The truth was, in the first Mad Max movie we couldn't afford to shoot in a modern day street," Miller explained. "You needed extras, buildings, and all these vehicles, so we shot it in deserted backstreets and decrepit buildings that cost us nothing. To explain this disintegrating world, I just put in a caption, 'A few years from now…'" That one simple caption would ultimately come to define the entire series of movies.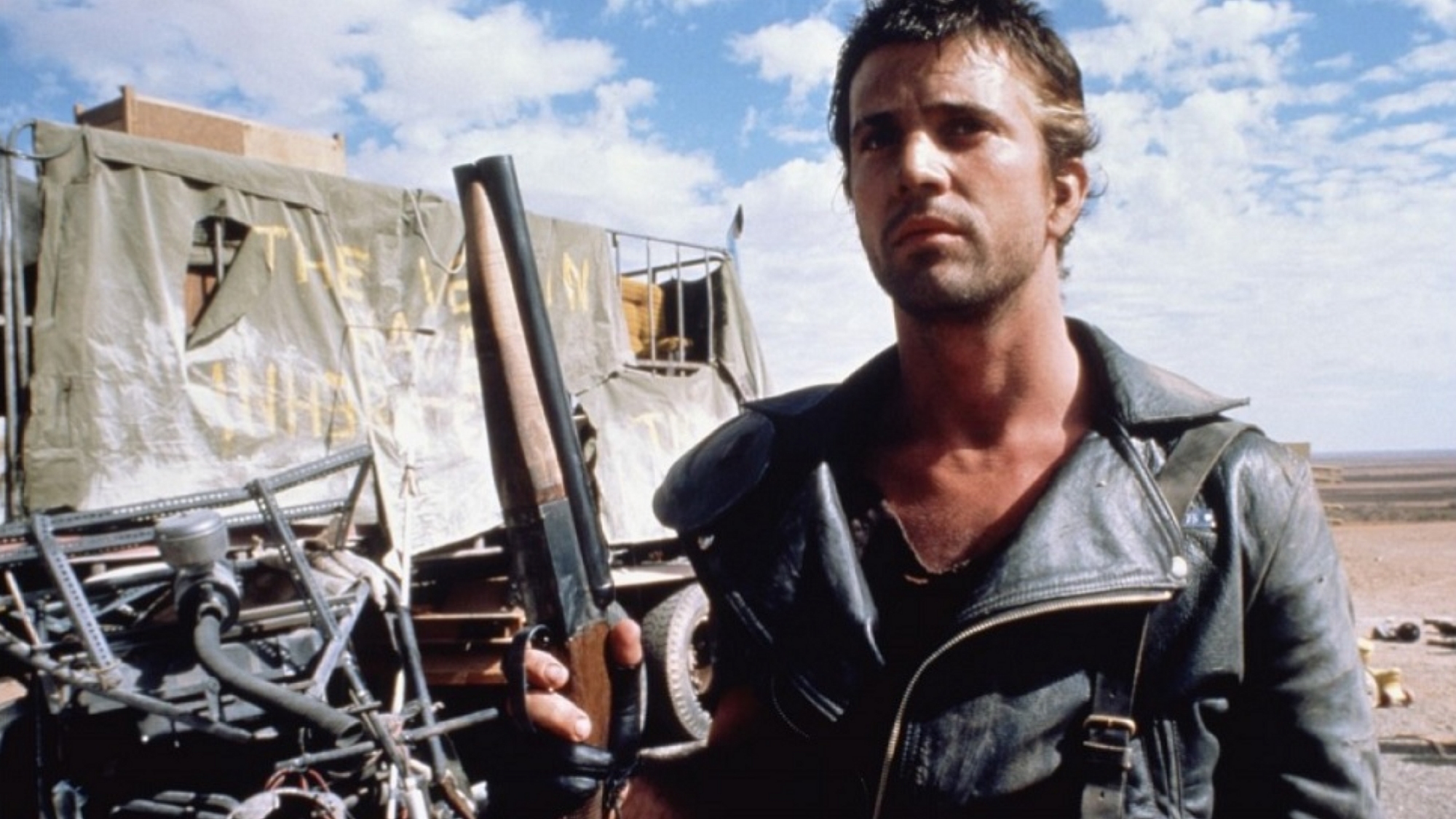 The Road Warrior was the U.S. title for the film known elsewhere as Mad Max 2, as American audiences were presumed to have been largely unfamiliar with the original movie. In crafting the film's more overtly post-apocalyptic setting, Miller was inspired by the Australian oil crisis of the 1970s. "I'd lived in a very lovely and sedate city in Melbourne," he later recalled, "and during OPEC and the extreme oil crisis, where the only people who could get any gas were emergency workers, firemen, hospital staff, and police, it took ten days in this really peaceful city for the first shot to be fired. So I thought, 'What if this happened over 10 years?'"
Beyond Thunderdome very nearly didn't happen. Although The Road Warrior had been a critical and commercial success, making a further sequel seem inevitable, Miller was affected by the death of his long-time friend and colleague Byron Kennedy in a helicopter accident in 1983. "I was reluctant to go ahead," said Miller. "[But] then there was a sort of need to… do something just to get over the shock and grief of all of that." Another friend of Miller's, George Ogilvie, would assist by co-directing the film. Although its budget was several times more than that of Road Warrior, the third film—released in 1985—grossed a lower total.
Tina Turner was George Miller's ideal choice to play Auntie Entity in Beyond Thunderdome. Prior to the 1985 film, Turner had only acted in two other movies—the musicals Tommy and Sgt. Pepper's Lonely Heart's Club Band—but Miller explained the unconventional casting choice thusly: "One of the main reasons we cast Tina Turner is that she's perceived as being a fairly positive persona. You don't think of Tina Turner as someone dark. You think of the core of Tina Turner being basically a positive thing. And that's what we wanted. We felt that she might be more tragic in that sense. But more importantly, when we actually wrote the character, as a shorthand way of describing the character we said someone 'like Tina Turner'—without even thinking of casting her. We wanted a woman, [and] we wanted someone who had a lot of power, charisma, someone who would hold a place like that together—or build it in the first place. And we wanted someone who was a survivor." Despite her performance being critically acclaimed, however, Turner has since acted in just one more film: a brief cameo in 1993's Last Action Hero.
Miller intended to make a fourth film back in the 1990s. Pre-production on a version of Mad Max 4 started in 1997, but filming was delayed due to a combination of the September 11 attacks and the Iraq War. In the intervening years, Miller created the two smash hit Happy Feet films, and was also attached to direct a possible Justice League movie. After Gibson dropped out of the project in the mid-2000s, fellow Aussie Heath Ledger was considered by Miller as a potential replacement—but after his tragic death, Tom Hardy was instead cast in the film that would become Fury Road. Rumours abounded that the fourth film would be a reboot of the series, but a prequel comic published around the time the movie came out confirmed that events take place after those of Beyond Thunderdome.
Fury Road was not written with a conventional shooting script. Instead, Miller and co-writer Brendan McCarthy, a comic book writer and artist, created thousands of panels of comics-style storyboards to relay the plot. McCarthy was famous for his work on the British comic 2000A.D., and most notably its Judge Dredd strips. The famous "Cursed Earth" storyline in Dredd had been a significant influence on Miller when creating the early Mad Max films, and McCarthy had returned the favour by pulling inspiration from The Road Warrior and Beyond Thunderdome when drawing the Australia-set "Oz" story in the late 1980s. Bringing things full-circle, McCarthy then deliberately fed a 2000A.D. influence back into Fury Road when working with Miller.
The Mad Max marathon is on BBC AMERICA at 10.30 a.m./9.30 c on Monday, May 30. Will you be watching?
Read More
Filed Under: