We can turn to sitcoms for the laughs, but sometimes our favorite shows are also a go-to for fashion inspiration (or pitfalls). Check out 30 style moments in sitcom history that made the scenes so memorable or even became fashion trends off-screen:
1. I Love Lucy
Starlet Lucille Ball was a stunner. She would look good in anything, even a potato sack. Literally! She and her gal pal Ethel Mertz (Viviane Vance) don burlap sacks on I Love Lucy, thinking the look is Parisian couture.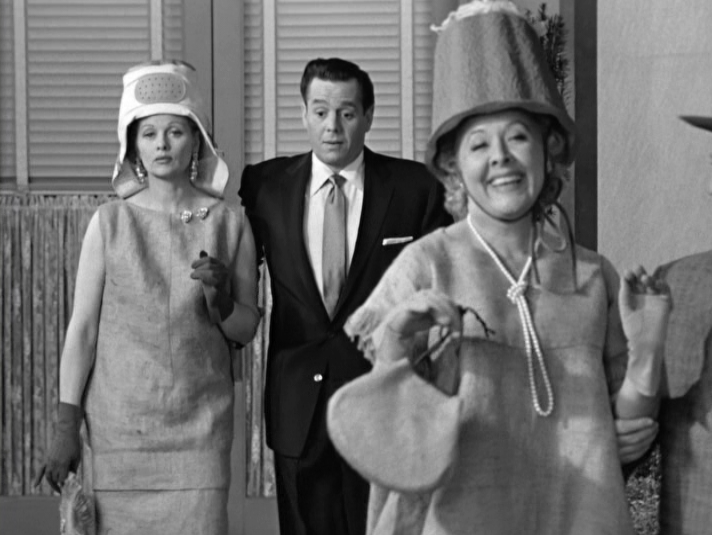 2. I Dream of Jeannie
Jeannie (Barbara Eden) from I Dream of Jeannie can blink herself anywhere. And, she doesn't have to worry about getting dressed in the morning, she rocks the same jeannie uniform every day.
3. The Mary Tyler Moore Show 
When Mary Tyler Moore makes it to Minneapolis, Minnesota to start her new job at a TV station, she throws her hat in the air at the end of the opening credits. She's made it.
4. Good Times 
J.J. Evans (Jimmie Walker) is smooth, suave, and in no shortage of confidence on the show Good Times. His signature piece was also a hat, in the denim persuasion, which you rarely saw him without.
5. Happy Days 
When we think of the Happy Days cool guy Arthur Fonzarelli (Henry Winkler), also known as Fonzie or the Fonz, we go to his catchphrase, "Eyyy," him working the juke box with an elbow jab, and, of course, his leather jacket over a white tee shirt.
6. Welcome Back, Kotter
Vinnie Barbarino (John Travolta) leads the "Sweathogs" in Gabe Kotter's (Gabe Kaplan) high school classroom in Welcome Back, Kotter. Barbarino may not be at the head of the class, but he is fashion-forward with his flowing hair, tight shirts and fitted slacks.
7. What's Happening!!
Rerun Stubbs (Fred Berry) knows how to hold an audience in What's Happening!! And he holds his pants up with suspenders (braces in the U.K.) matching his outfit that day.
8. Laverne and Shirley 
Laverne (Penny Marshall) from Laverne and Shirley never leaves the house without an "L" adorned on her shirt. That's definitely a conversation piece.
9. Facts of Life
Actress Kim Fields is now on the Real Housewives of Atlanta. But we'll never forget when she roller-skated into our lives on the Facts of Life as Tootie.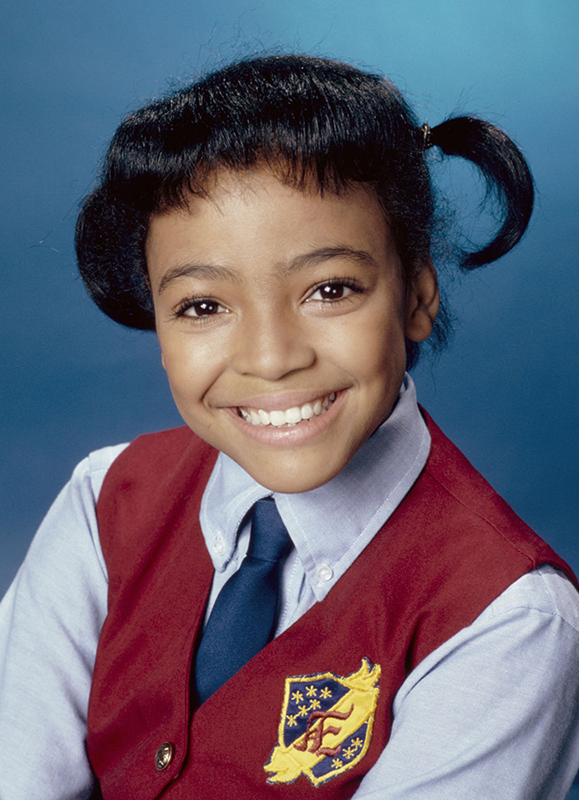 10. Family Ties
Alex P. Keaton (Michael J. Fox) never met a tie he didn't like. The teenage son on on Family Ties is all business.
11. Three's Company 
Roommates Jack (John Ritter), Chrissy (Suzanne Somers) and Janet (Joyce DeWitt) share an apartment on Three's Company. And they share a similar look, all rocking short shorts at one point.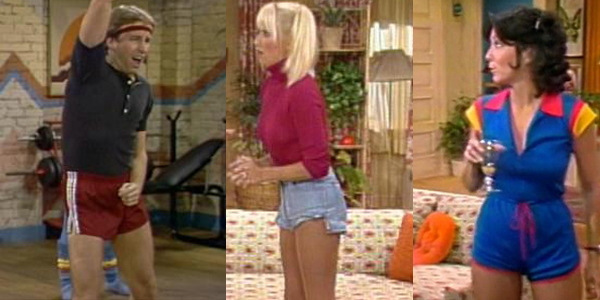 12. Designing Women
The women of Sugarbakers & Associates look the part on Designing Women, but they could poke an eye out with one of their shoulder pads.
13. A Different World
A Different World introduced viewers to a group of friends (Lisa Bonet, Kadeem Hardison, Jasmine Guy, Marisa Tomei, Darryl M. Bell, and Jada Pinkett Smith) attending college on the East Coast. And it's a celebration of Afrocentric clothing.
14. Married with Children
Peg Bundy (Katey Sagal) is a bored housewife, whose husband (Ed O'Neill) doesn't pay much attention to on Married with Children. She spices things up with her tight fitting, animal print dresses.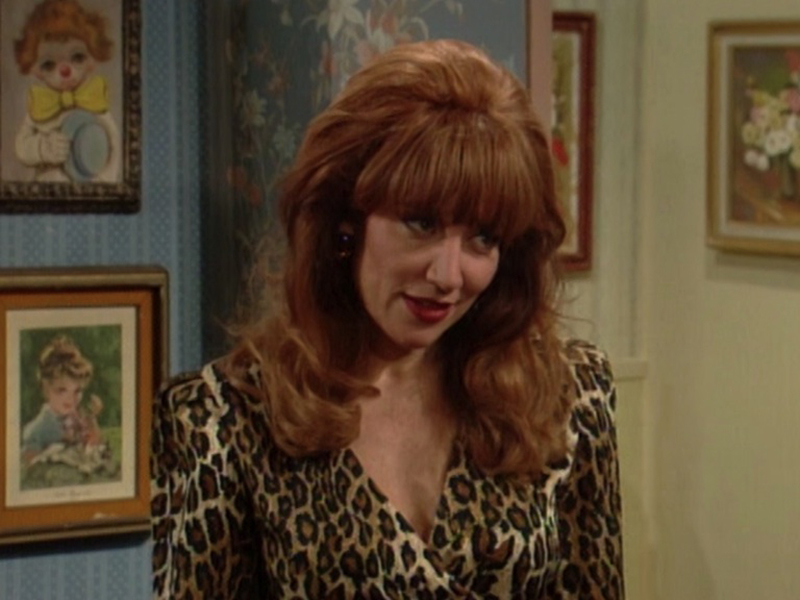 15. The Simpsons
Marge Simpson has her hands full with her goofball husband Homer, rambunctious son Bart, smarty pants daughter Lisa, and baby Lisa. But somehow she saves time to take care of her cotton candy-like blue do.
16. Seinfeld
Jerry Seinfeld didn't mean to make the puffy shirt a thing, but he did when making a promise to a "low-talker" without realizing what he signed up for. The friend of Kramer's asked Seinfeld if he'd wear a shirt she designed on The Today Show. It turned out to be a puffy, pirate-like shirt. Oof.
17. The Fresh Prince of Bel-Air
Will Smith (Will Smith) moved from the west side of Philadelphia, Pennsylvania to live with his extended family in Bel-Air, California. He brought his fresh style with him, baggy shirts and all.
18. Blossom
Mayim Bialik shows off some impressive dance moves in the opening sequence for Blossom, even voguing. But it's typically Blossom Russo's oversized hat that people remember and even emulated at the time.
19. Absolutely Fabulous
AbFab's Edina (Jennifer Saunders) and Patsy (Joanna Lumley) really don't hold back when it comes to their fashion choices. The two mix colors, materials, and designs that others wouldn't think of, but somehow they pull it off. The look may depend on the time of day, cocktail intake, and whether or not they're running late (which is typically the latter).
20. The Nanny
Fran Fine (Fran Drescher) is looking for a job and lands herself a nanny gig on The Nanny. She wouldn't complain if she landed herself a husband just as easily. Fran is always looking polished, even in this hands-on job, because she never knows who she might run into.
21. Frasier
Dr. Frasier Crane (Kelsey Grammer) can be uptight and neurotic, even though it's his job to delve out advice on his psychotherapeutic radio show. Despite his flaws, no one would accuse him of being a bad dresser. He has refined taste, a debonair look, and revives tweed jackets on the series Frasier.
22. Friends
Rachel Green (Jennifer Aniston) got her hair cut in the seventh season of Friends and the world took notice. Aniston herself may not have been so keen on it, but women were requesting "The Rachel" hairstyle left and right.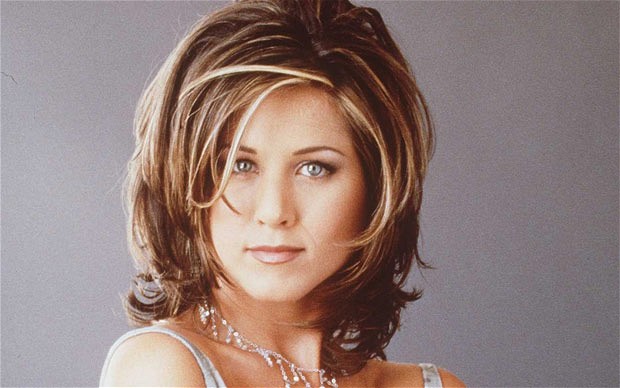 23. Felicity 
Speaking of hair, Felicity Porter (Keri Russell) heads to NYU with a stunning mane of curls. And then, she chops it. Felicity fans were in a fury and even Russell recently said in an interview that she'd tell her younger self, "Whatever you do, don't cut your hair short during the second season of Felicity."
24. Sex and the City
The women on Sex and the City own their looks. Carrie (Sarah Jessica Parker) has the downtown bohemian "I'm not trying, but really I am" look. Charlotte (Kristin Davis) is more buttoned-up with matching sweater pieces and Chanel suits. Miranda (Cynthia Nixon) dresses more for function with her long hours as a lawyer. And Samantha (Kim Cattrall) is all about what's underneath … as in lingerie.
25. Louie
On the other hand, Louis C.K. is all about sloppy chic on Louie. He makes jeans, a tee shirt and a pea coat work, not apologizing to anyone. He even tells a story in his standup when one of his neighbors didn't believe he lived at the doorman building because of the way he dressed. Hey, he got his own show. He's doing something right.
26. New Girl
Zooey Deschanel's character Jess catches her boyfriend cheating and hightails it out of the relationship immediately on New Girl. She shows up to her new apartment share with some emotional baggage, a lot of tears but with a strong fringe.
27. The Big Bang Theory
The friends (Jim Parsons, Johnny Galecki, Simon Helberg, Kunal Nayyar) on The Big Bang Theory all have their quirks, but Howard Wolowitz (Helberg) is the most consistent. Every day he wears a collared shirt or tee shirt over a turtleneck or dickey. You can't beat a turtleneck.
28. Girls
The TV show Girls has entered its fifth and final season. The girls (Lena Dunham, Allison Williams, Jemima Kirke, Zosia Mamet) dress up, dress down, a lot of times put their own stamp on a look, but really, you may see these girls' style in any U.S. city, which makes it all the more real.
29. Unbreakable Kimmy Schmidt
Kimmy Schmidt (Ellie Kemper) finds a friend when moving in with Titus Andromedon (Titus Burgess) after being saved from a cult. Titus doesn't have the best luck, but he has a good nature and ostentatious style, which tends to rub off on Kimmy.
30. Broad City
Abbi (Abbi Jacobson) mentions branching out and making new friends in the new season of Broad City, but Ilana (Illana Glazer) shuts the idea down, quickly. Abbi also considers changing up her wardrobe when asked on a date. She ends up going with her tried-and-true blue bandage dress after trying on a bunch of outfits.
Do any other sitcom style moments come to mind?
Read More
Filed Under: