There are some teen icons from the 1990s who we know exactly where to find. The Fresh Prince of Bel-Air's Will Smith is a mega movie star, set to star in the forthcoming Suicide Squad. My So Called Life's Claire Danes is protecting the nation on Homeland. And Blossom's Mayim Bialik is getting her smart on in The Big Bang Theory (and in real life, she completed her PhD in Neurosicence at UCLA in 2007).
But what about some of our other favorites from the '90s?
1. Melissa Joan Hart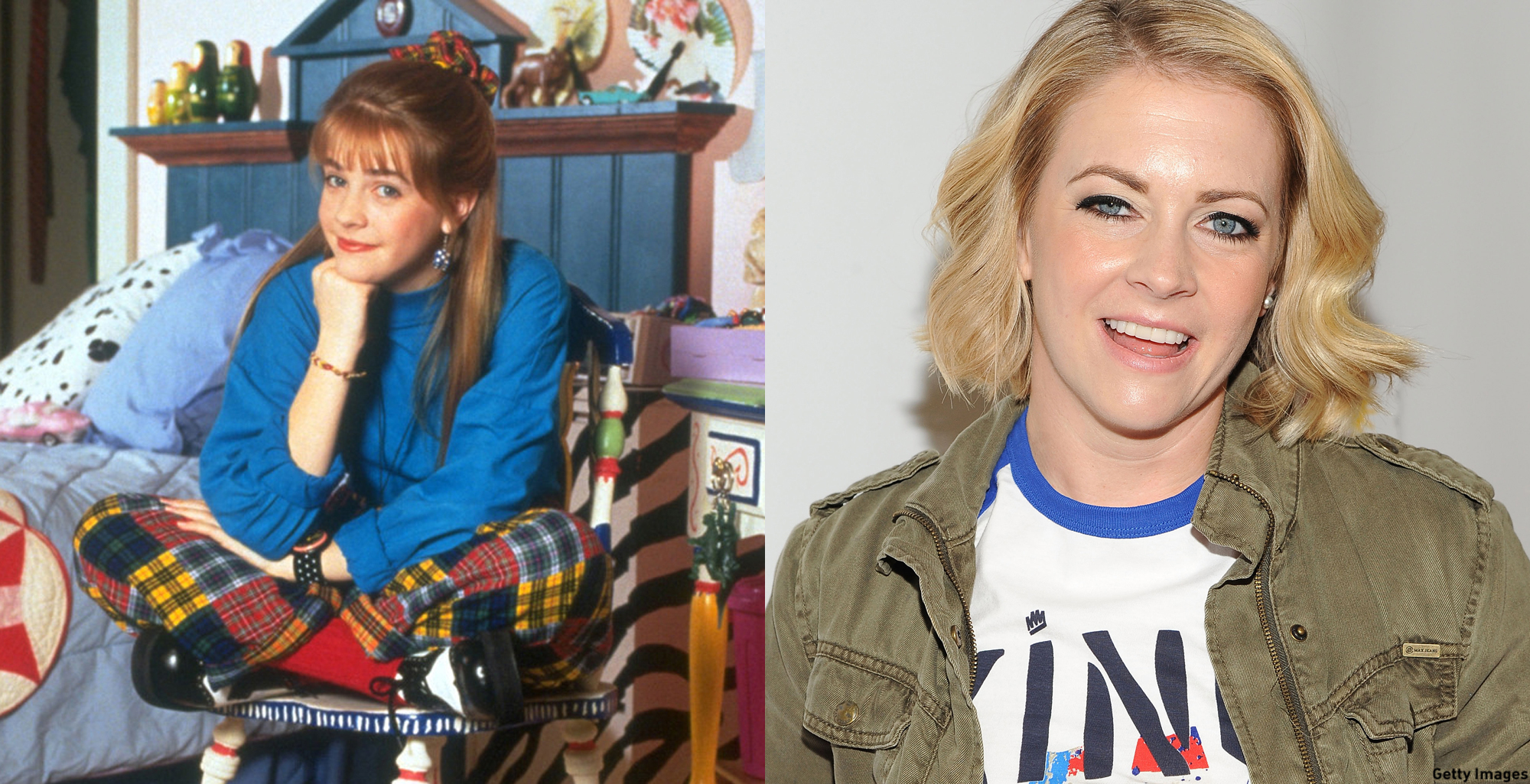 It's been 25 years since Clarissa Explains It All first hit airwaves on Nickelodeon. Melissa Joan Hart starred as the teen know-it-all. Hart made her way to primetime TV as Sabrina, the Teenage Witch for seven seasons, from 1996 to 2003. Hart continued to take on starring roles in TV movies like Rent Control (2003), Dirtbags (2006), Holiday in Handcuffs (2007), and My Fake Fiancee (2009). In 2010, she landed the starring role in the sitcom Melissa & Joey, opposite fellow '90s teen icon Joey Lawrence. The series ran for four seasons on ABC Family, coming to an end in 2015. She's already completed the 2016 film God's Not Dead 2.
2. Mark-Paul Gosselaar
Speaking of know-it-alls, Bayside High School's Zack Morris thought he had all the answers. The Saved by the Bell charmer definitely knew a lot, but as we saw on Saturday mornings from 1993 to 2000, there's always room to learn. Actor Mark-Paul Gosselaar, who portrayed the blonde-tipped Zack, actually celebrates his 42nd birthday today (March 1). Happy birthday! Gosselaar transitioned from teen star to working on TV series like Hyperion Bay (1998-1999), D.C. (2000) and NYPD Blue (2001-2005). More recently, from 2014 to 2015 we caught up with Gosselaar on CSI: Crime Scene Investigation. We can look for him in the 2016 film Precious Cargo, opposite Bruce Willis.
3. Brandy
Pop singer Brandy took on the starring role in UPN's series Moesha from 1996 to 2001. The family program revolved around Moesha Mitchell, a typical teenager balancing life and school. The real teenager was balancing a hit TV series and her music career, winning her first Grammy at 19. After Moesha came to an end, Brandy released her second and third albums Full Moon (2002) and Afrodisiac (2004). In 2010 she competed on Dancing with the Stars, and co-starred in the VH1 reality series Brandy & Ray J: A Family Business with her musician brother. She's continued her TV career, starring in series like 90210 (2011), Drop Dead Diva (2011-2012), and The Game (2012-2015).
4. Joey Lawrence
We mentioned the family sitcom Blossom (1990-1995) in the above. To balance out Blossom's teenage woes was her studly older brother Joey Russo, portrayed by Joey Lawrence. High school and life in general appeared to come easy for him, but if Joey ever did come up against any odds, he'd belt out the memorable "Whoa." In 1993 he release a self-titled album, with "Nothin' My Love Can't Fix" making it to Billboard's Hot 100. Lawrence teamed up with his real-life little brother Matthew Lawrence for the family sitcom Brotherly Love (1995-1997). He had recurring roles on other series like American Dreams (2002-2003), Run of the House (2003-2004), and Half & Half (2005-2006). His most recent major role was as Melissa Joan Hart's male nanny in Melissa & Joey (2010-2015). We can look for Lawrence in the 2016 comedy Turning Tables (his name is Reid in the film, not Joey this time.)
5. James Van Der Beek
James Van Der Beek took on the role of budding teen filmmaker Dawson Leery in Dawson's Creek. The show revolved around a group of friends living in a coastal town, running for six seasons from 1998 to 2003. Van Der Beek made some guest appearances on hit shows like Criminal Minds (2007), Ugly Betty (2007) and had a recurring role on One Tree Hill (2008-2009). In 2010 he took up residence as Dr. Joe Briggs at Mercy Hospital on Mercy. In 2012 he played an over-exaggerated (we hope) version of himself as Krysten Ritter's best friend on Don't Trust the B—- in Apartment 22. We can currently look for him on CSI: Cyber as Elijah Mundo.
6. Sarah Michelle Gellar
Sarah Michelle Gellar kicked butts and took names in the title role on TV's Buffy the Vampire Slayer from 1996 to 2003. She pulled double-duty during that time frame, also starring in films like I Know What You Did Last Summer (1997), Scream 2 (1997) and Cruel Intentions (1999). Following Buffy, she was spotted in films like 2002's Scooby Doo, 2004's The Grudge, and 2007's Suburban Girl. Gellar took on a starring role in the TV series Ringer from 2011 to 2012 and co-starred with the late Robin Williams in the CBS sitcom The Crazy Ones from 2013 to 2014. It was just recently announced that she will be returning for the TV reboot of Cruel Intentions, reprising her role as mean girl Kathryn Merteuil.
7. Jaleel White

Jaleel White made being a "nerd" cool, portraying the utterly lovable Steve Urkel on Family Matters from 1989 to 1998. In 1999 White starred in the TV series Grown Ups and lent his voice to Sonic Underground as the star Sonic. He made a cameo appearance in the 2002 comedy Big Fat Liar, starring as himself, acting like a disgruntled actor opposite Paul Giamatti's character. He's made guest appearances on TV series like House M.D. (2011), NCIS (2012), and Castle (2015). We can look for him next in the 2016 film The Preacher's Son.
8. Neve Campbell
Neve Campbell starred in Party of Five from 1994 to 2000 as Julia Salinger. Julia and her four siblings found themselves on their own after their parents unexpectedly both died in the primetime drama. While Campbell held down the fort on Party of Five, she also starred in box office hits like the Scream franchise (1996, 1997, 2000) and 1998's Wild Things. She's been spotted in TV series like Medium in 2007 and The Philanthropist in 2009. More recently, she guest starred on Grey's Anatomy in 2012 and Mad Men in 2014. We can look for her in the 2016 season of House of Cards as Leann Harvey.
9. Edward Furlong

Edward Furlong was the original John Connor in Terminator 2: Judgement Day, which premiered in 1991. The sequel saw the return of Linda Hamilton as Sarah Connor and Arnold Schwarzenegger as a cyborg from the future, but a good one this time around. You may remember Furlong from the Aerosmith music video for the song "Living on the Edge" in 1994. He starred opposite Edward Norton in 1998's American History X. From 2006 to 2010 he had a recurring role on CSI: NY as Shane Casey. You may have spotted Furlong in 2011's Green Hornet as Tupper. More recently, he starred in 2013's The Zombie King, 2014's The Last Night, and 2015's Awaken. His next project is a crime caper called Karma, with a release date yet to be confirmed.

10. Tatyana Ali
Will Smith may have been the Fresh Prince of Bel-Air, but his little cousin Ashley Banks seemed to have the final word, being the sensible one. Tatyana Ali starred as Ashley from 1990 to 1996. She was spotted in feature-length films like 1997's Kiss the Girls, 1999's Jawbreaker, and 2004's Nora's Hair Salon. She took on the role of Roxanne on The Young and the Restless from 2007 to 2013. She was just recently spotted on BET's Zoe Ever After as Ashley King. We can look forward to seeing her in 2016's Supermodel, also starring Tyson Bedford and Roger Guenveur Smith.
What TV show have you been missing from the '90s?
Read More
Filed Under: