Matt Smith will always be the Doctor, of course. But we continue to appreciate him as an actor and for the work he is doing on screen following Doctor Who. You can look for him in the Friday release (February 5) of Pride and Prejudice and Zombies.
There are more than 10 reasons we love him, but let's start with the below (you can add on in the comments if you like):
1. He made us laugh.
Smith starred as the Eleventh Doctor from 2010 through 2013. From day one, when we witnessed him regenerate, Smith tickled our funny bones:

2. And cry.
All good things come to an end. The Doctor had to say goodbye to his longtime companions Amy and Rory Pond. Smith talked about what it was like saying goodbye to his castmates and friends Karen Gillan and Arthur Darvill in the below clip:

3. He tries new things.
Smith is set to take on the role of Prince Philip, the Duke of Edinburgh. Yes, that duke, he's married to Queen Elizabeth II. It's definitely a challenge to take on the portrayal of an actual person who is still living. If you haven't seen it yet, here's a look at the trailer for the forthcoming 10-part Netflix drama:

4. He gives good hair.
It's not clear if people who have good hair know they have good hair (probably). Either way, Smith doesn't keep it to himself. He knows how to work it and shares it with the world: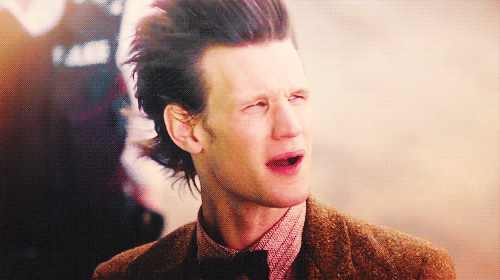 5. He's stylish.
Do you remember when Smith and Gillan swung by the Ziegfeld for a Doctor Who screening in August 2012? We do! And they both looked fab. Smith was rocking skinny jeans with a casual vest over a tee. His outfit was accessorized with aviator glasses, lace-up boots, and the peace sign.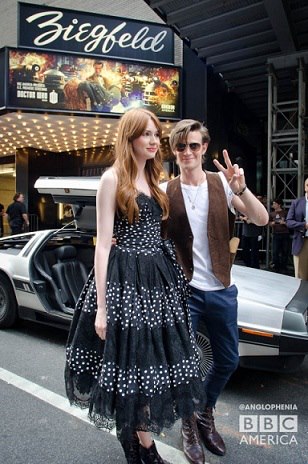 6. He made bow ties cool.
Speaking of accessories: Smith gave the bow tie a new life.
7. He's gracious…
Smith is a successful actor, stylish and just plain cool (even sans hair). But he's not above it all. He took the time to send out a personal message to his fans: 

8. …and humble.
Upon hearing the news that showrunner Steven Moffat is leaving Doctor Who, Smith expressed his gratitude for working with him in the below interview:
9. He gets the feels.
Smith, as the Doctor at least, doesn't always keep his cool, letting his emotions get the best of him: 

10. He's infectious.
It's not just us who love him. Ryan Gosling approached Smith to star in his directorial debut Lost River. Smith read the script, loved it, and described what happened next, saying, "And then I auditioned and we spent about four hours together doing some stuff, and he filmed it on his iPhone. And that was it. And now I'm going off to shoot it in a couple of weeks." We love how he makes it sound so easy, but clearly he didn't phone in the role, as seen in the below trailer: 
Now, why do you love Matt Smith? 
Read More
Filed Under: