We already knew Mindy Kaling had good taste, with her recent list of favorite romantic comedies, but now she's really talking our language.
Kaling recently gave Sherlock a shout-out on Twitter, and it was spotted by the folks over at RadioTimes.
It's not just the show the American actress embraces, but one particular scene from "The Sign of Three":
Benedict Cumberbatch and Martin Freeman's drunk acting in this one episode of Sherlock I just saw is the best thing I've ever seen

— Mindy Kaling (@mindykaling) January 18, 2016
RadioTimes wasn't the only eagle eye to spot the above.
Sherlock star Amanda Abbington came across it, chiming back:
@mindykaling going to pass that onto my hubby because we are both HUGE fans of yours!

— amanda abbington (@CHIMPSINSOCKS) January 19, 2016
In true Mindy fashion, the comedian took this as a reason to swing by the set:
@CHIMPSINSOCKS thanks for saying that. I love you both on the show. Now when I come uninvited to your set I have proof of our friendship

— Mindy Kaling (@mindykaling) January 19, 2016
Abbington had no problem with this. Why would she based on the below?:
@mindykaling I have a picture of your face tattooed on both my arms. That's the proof right there my friend… X

— amanda abbington (@CHIMPSINSOCKS) January 20, 2016
In case you missed it, or it's been a while, here's a look at the scene the two actresses bonded over:
Drunk Sherlock makes us think of Drunk Sheldon, but it might just be the fact that they're both savant-like smart and anti-social (for the most part):
Kaling isn't the only American TV personality fanning over Sherlock.
Aziz Ansari wrote Sherlock into his Netflix original Master of None, when he and a group of friends gathered to watch the show together: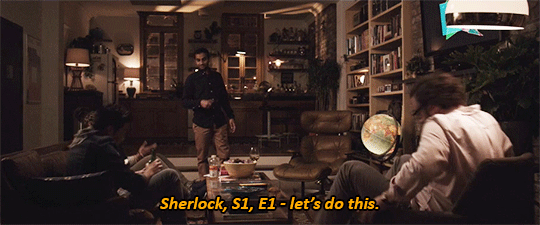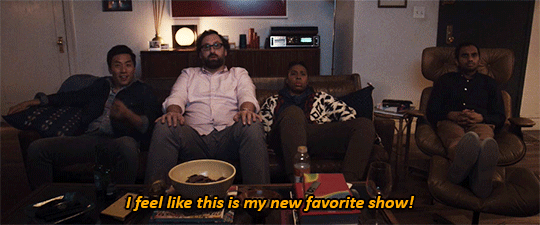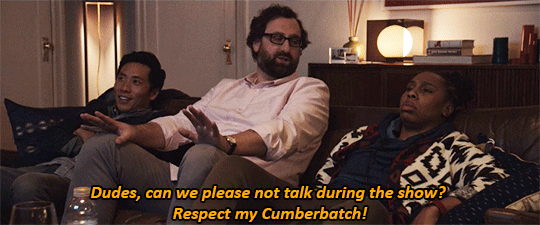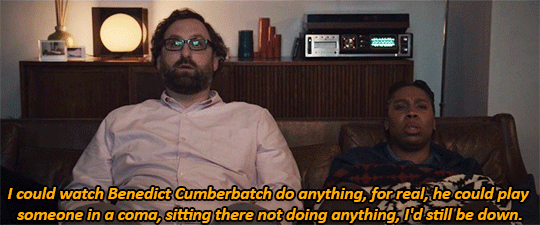 If the above has you missing Sherlock during its hiatus, don't forget London Spy premieres tonight (January 21). It's for mystery lovers for sure, even if it's more of the stylish-brooding-conspiracy-unraveling sort than the legendary-private-investigators-getting-schnockered-for-laughs variety.
Are you surprised to learn Mindy and Aziz are Sherlock lovers, too?  
Read More
Filed Under: