Welcome to Doctor Who's Day, a Gallifreyan gallimaufry of all of the TARDIS trivia and Whovian hoo-hah that has mysteriously appeared on the internet over the past week or so.
Having said that, we begin this week with something a little older that has come to light this week. Back in April, a group of Whovians led by Beth Axford put together a special video wishing Peter Capaldi a happy birthday. He was busy filming Season 9 of Doctor Who at the time, and in fact you may recall seeing him blowing out the candles on the set of "The Woman Who Lived", thanks to #Rufuscam:
Nevertheless, he took the time to thank everyone who had sent him their best wishes, with good wishes of his own. He recorded a response video for Beth, and this week, she put it on her YouTube feed:
It's worth watching for his response to the knock on the TARDIS door alone.
Here's what else has been going on in space and time this week:
• Congratulations are due to Doctor Who, which has been nominated in drama category at the British National Television Awards.
• BBC AMERICA is showing fan-annotated episodes of Doctor Who:
• Oh look, it's a first sighting of Matt Smith in his new movie Patient Zero: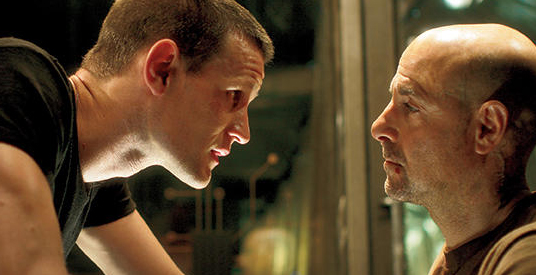 • BBC Shop looks back over the history of The Sarah Jane Adventures.
• Doctor Who: The Fan Show has an interview with comedian and Whovian Jake Yapp:
• An appreciation of the Eighth Doctor, as experienced through the Big Finish audio adventures.
• Ingrid Oliver (a.k.a. Osgood) still can't get over kissing John Barrowman:
Osgood ❤️ Captain Jack pic.twitter.com/V2rY1lqS0D

— Ingrid Oliver (@ingridoliver100) December 27, 2015
Here's the context, it was for a 2012 sketch on her comedy show Watson and Oliver:
• Can you match the celebrity guest star to the Doctor Who episode?
• Karen Gillan and Zoe Saldana rehearse fighting for the next Guardians of the Galaxy movie:
Can't wait to start filming the second @Guardians! pic.twitter.com/pOHDQbwUqi

— Zoe Saldana (@zoesaldana) December 30, 2015
• GeorgeCMusic wondered what the Doctor Who theme would sound like if it had been recorded by Vangelis (synthesizer pioneer and film soundtrack composer for movies such as Blade Runner and Chariots of Fire), and then this happened:
• People often ask Sean Pertwee (currently starring in Gotham) whether he'd consider taking a role in Doctor Who, and when they say "a role," they invariably mean "THE role". His answer is firm, but fair: "But how can you top my dad? You can't. He was my Doctor Who."
• Alex Kingston and Paul McGann are in the new issue of Doctor Who Magazine:
There's a new issue of Doctor Who Magazine in shops later this week. Here's a first look at the front cover… pic.twitter.com/XdqpFBEvPa

— Doctor Who Magazine (@DWMtweets) January 4, 2016
• Alex Kingston and Steven Moffat reflect on (what appears to be) River Song's final goodbye.
• Speaking of which:
• And also:
• Well, maybe not EVER…
• And finally, a sobering clip to reflect on the passage of time, at the beginning of a new year. Toby Hadoke has put together a fan tribute to the former members of Doctor Who's cast and crew who have passed away in the last 12 months:
TTFN!
Read More
Filed Under: