David Bowie came out as gay in 1972, then as bisexual in 1976, and, years later, walked it all back with a statement that he had been a "closet heterosexual." Nonetheless, Bowie was an LGBT icon, and there was an outpouring of grief and reflection from the community after his passing this past Sunday (January 10). Buzzfeed has collected the many posts on social media from LGBT fans who found courage through Bowie's confident artistic expression. Pitchfork's Alex Frank wrote, "I cannot quantify precisely the effect he has had on the increasing visibility of gay and trans peoples throughout the world, but there are few figures, at least in the influential world of pop culture, that I'd give more credit to for expanding the boundaries of what we think of as beautiful."
Out editor Aaron Hicklin wrote in his Bowie obit, "Otherness was also how Bowie was able to connect with the LGBT community over the years. Whether he was attracted to men or not (at times he called himself both gay and bisexual, though was married to the model Iman) is hardly the point: he projected an otherness that thousands of LGBT people could relate to."
In a post titled "David Bowie allowed you be to gay," Arnold Wayne Jones in the Dallas Voice wrote, "Don'f fool yourself: Stonewall may have been the start of the gay rights movement, but without Bowie, can you imagine it would have gained traction in every corner of society?"
Bowie's personas—androgynous, libidinous, ostentatious—played with assumptions around gender binaries and paved the way for an embrace of sexual diversity in popular culture. As Slate wrote, "Bowie leaned wholeheartedly into the contradictions he embodied in his gender and sexuality: A man in a dress and makeup isn't necessarily gay, see, and a man who marries one of the world's most dazzling female supermodels isn't necessarily straight. He wasn't quietly androgynous, nor genderless, smack in the middle of butch and femme. Bowie was flamboyant about both his masculine and feminine sides; he was all of the things at once, flying in the face of easy definitions." Or as Refinery 29 said, "The only way to sum up his various costumes and personas is to say they can't be summed up — that their cumulative effect is to represent the full spectrum of human expression and suggest that spectrum can be singularly inhabited by one person, or by implication any of us."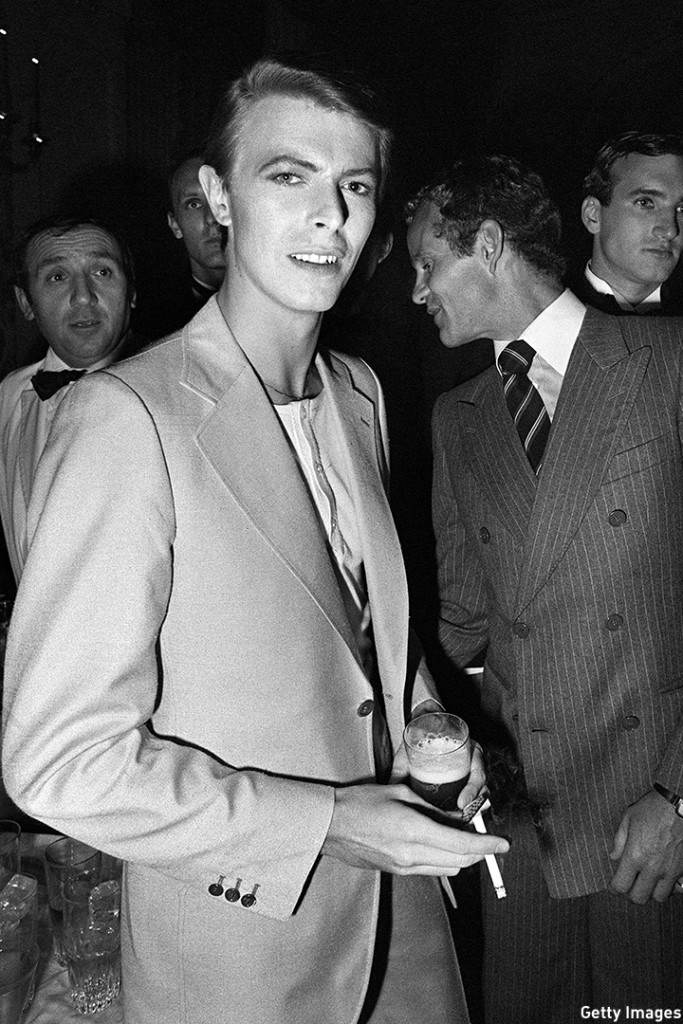 It's hard to imagine the lush theatricality of the Pet Shop Boys or the mascara-drawn sensitivity of Boy George without David Bowie having come first. And these performers were among the LGBT artists who have paid tribute to Bowie recently.
In the Daily Mail, Boy George recounted being nearly 12-years-old and seeing Bowie performing as Ziggy Stardust. He called the concert a "life-changing and life-affirming event." He added, "My childhood is peppered with memories of being a Bowie super fan and I have loved him constantly throughout my adult life."
Meanwhile, Jake Shears, frontman of the glam rock band Scissor Sisters, wrote in Out Magazine about his young encounter with Bowie's work: "As soon as I could save $5, I bought Lodger and Scary Monsters, his two albums before Let's Dance, which are arguably his most bleak. I'm not sure how many other 8-year-olds there were at the time who were seduced by the bare themes of alienation, heroin addiction, genocide. Thus began my fascination and love with Screaming Lord Byron and the Thin White Duke. My first and only favorite rock star. Growing up, no matter what I was doing—whether it was theater, tap dancing, or writing horror stories—it always seemed like he was there to guide my way."
Todd Haynes, the Velvet Goldmine director who spoke to Marc Maron just days before Bowie's death, said that the formation of an identity was "a struggle for stability or some sense of normalcy . . . except in glam rock. Like all of the sudden. All of the sudden these teenage kids—who are in a constant state of instability, uncertainty—have this image of a bisexual space alien up onstage." Velvet Goldmine had explored this world, featuring a Bowie-like character played by Jonathan Rhys Meyers.
Adam Lambert offered this summation of Bowie's influence: "I love how Bowie challenged people's perception of gender stereotypes and what an outsider truly was. He was SO ahead of his time."
The Pet Shop Boys posted their own acknowledgement of Bowie:
Sir Elton John, a contemporary of Bowie's, shared this heartfelt message to Instagram:
Read More
Filed Under: