The movie may not be hitting theaters for another year, but if you're desperate to get a glimpse of Eddie Redmayne as Newt Scamander in the Harry Potter affiliate Fantastic Beasts And Where To Find Them, the news is good.
Next Tuesday (December 15) will see a first announcement trailer for the movie, which has been announced with its very own announcement teaser on the official Warner Bros YouTube channel.
And now we're announcing that the announcement tease about the announcement trailer is here:
Keep your eyes peeled for further announcements (or announcements about announcements).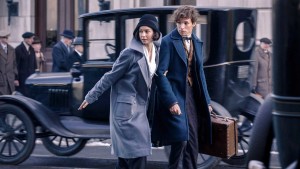 Fantastic Beasts And Where To Find Them is due for release on November 18 2016.
Read More
Filed Under: