Amazon's original series Transparent officially returns with its second season on Friday, December 11 at 8pm Eastern. It may seem like transgender characters are just entering mainstream storytelling, with Jeffrey Tambor's Emmy-winning portrayal of Maura Pfefferman in Transparent and Laverne Cox breaking the transgender glass ceiling as Sophia Burset in Orange is the New Black. And while by no means have there been a plentitude of trans portrayals in film and TV, there have been a handful of depictions worth highlighting.
Here are 15 films that put a spotlight on transitioning, with two coming out this year:
1. Dog Day Afternoon
In 1975 Al Pacino took on the role of Sonny Wojtowicz, a man so desperate for money that he attempts to rob a bank in this true story. Wojtowicz wants to pay for the reassignment surgery of his lover Leon, portrayed by Chris Sarandon.
Pacino was already known for his starring role in 1972's The Godfather, but this was Sarandon's first major role, earning him an Oscar nomination for Best Actor in a Supporting Role. You may also remember Sarandon as Prince Humberdinck in 1987's The Princess Bride. More recently, he starred in The Good Wife as Judge Howard Matchick in 2010. In 2015 he took part in The Sonnet Project, in which an actor performs one of Shakespeare's sonnets at a NYC location.
2. In a Year with 13 Moons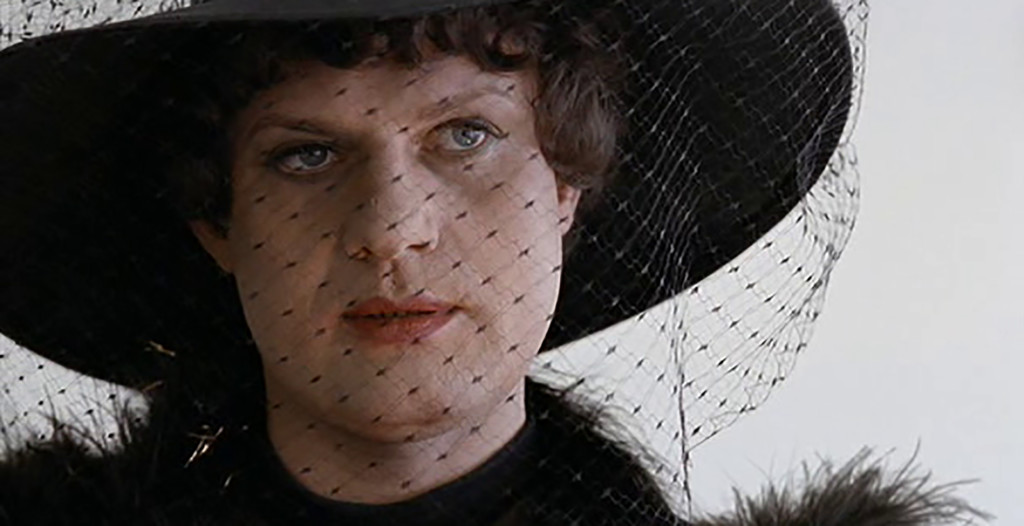 The late director Rainer Werner Fassbinder was prompted by his lover's suicide to make a film about living life as transgender in this 1978 German film. The film follows a transgender woman Elvira, portrayed by actor Volker Spengler, through the last few days of her life. Fassbinder described filmmaking as a form of psychotherapy, saying in an interview, "I have to deal with everything that I experience in one way or another … in order to have the feeling that I've really experienced it."
Spengler made his first TV appearance in 1965 and had a full CV prior to taking on the role of Elvira. Following his lead role in 13 Moons, he continued a long career starring in the 1980 German TV series Berlin Alexanderplatz and films like 1996's The Ogre and 2003's Dirty Sky. You can watch a trailer for In a Year with 13 Moons here.
3. The World According to Garp
1982's The World According to Garp tells the story of a young man (Robin Williams) raised by his single, feminist mother Jenny Fields (Glenn Close). Garp's mother is a successful author who opens a center for struggling women and transgender women. That's where we meet a former NFL football player who now goes by Roberta Muldoon, portrayed by John Lithgow.
Lithgow talked about taking on this role in a 2014 interview, saying, "(I) just decided to underplay everything [and] make her a perfectly normal person—in fact, a person who is utterly unaffected." He considered the role "revolutionary," because Roberta feels more herself than she's ever been. The film is an adaptation of John Irving's international bestseller novel released in 1978. Irving described Roberta's coming out as transgender as having "the vanity of a middle-aged man and the anxieties of a middle-aged woman," which "is not without its advantages."
4. The Crying Game 
In 1992, and some years to follow, if someone hadn't seen Neil Jordan's The Crying Game, it was like, "Do. Not. Tell. Me. Or. Else," because it was clear there was some kind of twist to the story. It's hard to have a complete list on transgender roles and leave off The Crying Game, but having the film on the list may be a spoiler in itself. We're stalling here and trying to give you a chance to back out now to avoid a spoiler. Really, if you don't want to know the big reveal, then please stop reading.
For those of you who already know, here's a refresher: Stephen Rea portrayed Fergus, an IRA supporter in the film. He befriended a British soldier (Forest Whitaker) who was being held captive. The soldier makes a break for it when walked out to the woods and is unexpectedly killed by an automobile. Fergus lives out his promise to seek out the soldier's girlfriend Dil, portrayed by Jaye Davidson. Fergus ends up falling for Dil not realizing she is transgender. Roger Ebert reviewed the film in 1992, writing, "It involves us deeply in its story, and then it reveals that the story is really about something else altogether."
This was Davidson's first film role, for which he received an Academy Award nomination for Best Actor in a Supporting Role. Davidson had no interest in being famous, which he talked about when the film first came out, and he only appeared in three other roles in Stargate (1994), Jiggery Pokery (1994) and The Borghilde Project (2009).
5. M. Butterfly
Jeremy Irons stars in the 1993 film adaptation of David Henry Hwang's Tony Award-winning Broadway play M. Butterfly. The story was inspired by the real-life 20-year love affair between a Chinese opera singer (John Lone) and a French diplomat (Irons). The diplomat passed along confidential documents to appease his lover, apparently not knowing she was transgender. The New York Times explained the nature of the story, writing in 1998, "Instead of reducing the world to an easily digested cluster of sexual or familial relationships, Mr. Hwang cracks open a liaison to reveal a sweeping, universal meditation on two of the most heated conflict—men versus women, East versus West—of this or any other time."
Lone took on the role of Song Liling in M. Butterfly after starring in films like 1985's Year of the Dragon and 1987's The Last Emperor. Following his role opposite Irons, he starred in 2001's Rush Hour 2 and 2005's Paper Moon Affair.
6. The Adventures of Priscilla, Queen of the Desert 
Three friends go on the ultimate road trip in The Adventures of Priscilla, Queen of the Desert in this 1994 film based in the Australian desert. Guy Pearce and Hugo Weaving star as female impersonators trying to make their way to a performance. They're joined by their transgender friend, played by Terence Stamp. The movie inspired a musical production, kicking off in Sydney in 2006 and making its Broadway debut in 2011.
Stamp talked to The Independent when the film was first released about his character's look, saying, "I was less stunning than I hoped." Describing his thought process when going into the role, he told the U.K. paper, "I've had a tremendous fun time on this movie, but the idea that I had of myself at the beginning could very well have stopped me doing it. I learned that I don't have to take myself too seriously. The idea I have of myself is just an illusion." You may also know Stamp as General Zod in Superman (1978) and Superman II (1980) and have seen him in more recent appearances in 2011's The Adjustment Bureau and 2014's Big Eyes.
7. Different for Girls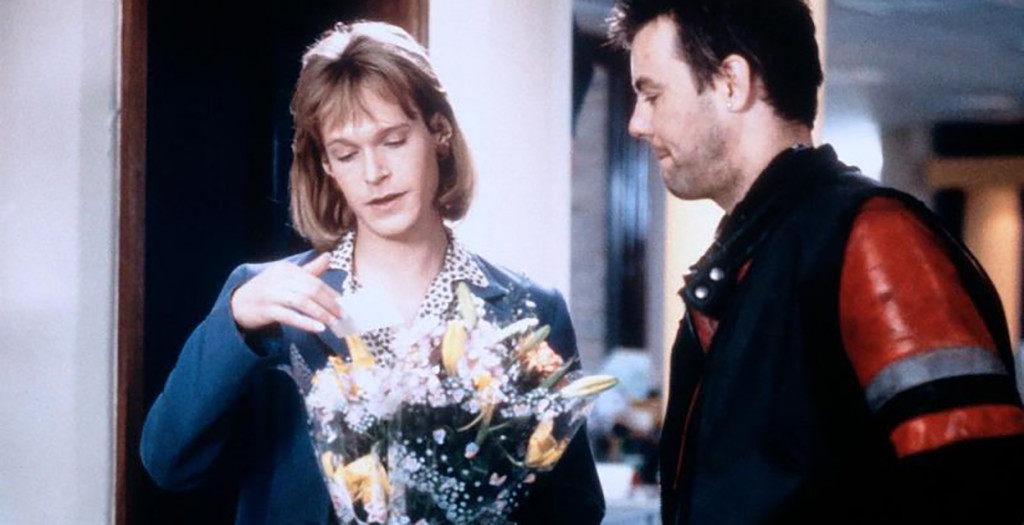 The 1996 British comedy Different for Girls examines the possibility of romantic love between two platonic friends. Rupert Graves and Steven Mackintosh play best buds who went to school together, reuniting in London in their late 20s. Graves' character Paul recognizes his old friend who now goes by Kim rather than Karl. Ebert also reviewed Different for Girls, pointing out that "despite her sex change, Kim is less complicated than Paul: What you see is what you get with her, while Paul doesn't know how to present himself or how to give."
Mackintosh was a seasoned actor prior to being cast in Different for Girls, with credits including Doctor Who (1985), Inspector Morse (1992) and Princess Caraboo (1994). More recently he's starred in the 2011 TV series The Jury and BBC AMERICA's The Game in 2014. He's currently filming Stan Lee's TV series Lucky Man, set for 2016. Check out the trailer for Different Girls via YouTube .
8. Boys Don't Cry
Kimberly Peirce made her directorial debut with the re-telling of Brandon Teena's struggle in Boys Don't Cry. Hilary Swank took on the role of Brandon, a young woman who was more comfortable living as a man. Brandon moved to a small town for a fresh start, where he met a girl (Chloë Sevigny) who loved him unconditionally. However, Brandon soon comes under threat when it is revealed that he's transgender.
Swank talked about taking on this real person character in 1999, saying, "To me the film is just really about finding your true self and having the courage and the drive to follow through with being yourself and living that to its fullest." Previously best known for The Next Karate Kid and a recurring role on Beverly Hills 90210, Swank's portrayal of Brandon kicked off her career, winning her a Best Actress Oscar. Swank moved into high- profile roles, like starring in Clint Eastwood's 2004 boxing film Million Dollar Baby, which won her a second Best Actress Oscar. She's currently signed on to star in the TV series The One Percent, which is in pre-production.
9. All About My Mother
In this 1999 Pedro Almodóvar film a single mother (Cecilia Roth) travels from Argentina to Spain to seek out the transgender father (Toni Cantó) of her son. Her travels introduce her to some new faces, including a nun (Penélope Cruz) and a famous actress (Marisa Paredes). The New York Times described the central characters at the time of the release, writing, "This film's assorted females—real, theatrical or would-be—move past the nervous breakdown stage and on to something much more forgiving."
Cantó began his career with roles in TV movies, including 1989's Los Ochenta Son Nuestros and 1996's Lucrecia. He recently starred in the TV series Pareja en Prácticas in 2007 and Vida Loca in 2011. San Juan appeared in two feature films prior to All About My Mother as Toñi in The First Night of My Life and as Paca in El Grito en El Cielo, both in 1998.
10. Breakfast on Pluto
Cillian Murphy starred as a young Irish transgender woman named Kitten in 2005's Breakfast on Pluto, adapted by Neil Jordan (The Crying Game). She leaves her hometown for London in search of her mother. The Crying Game's Stephen Rea stars in the film as a hypnotist. Murphy was nominated for a Golden Globe for Best Performance by an Actor in a Motion Picture – Musical or Comedy and won an IFTA (Irish Film & Television Academy) Award for Best Actor for his role as Kitten.
Murphy had already landed roles in blockbuster films like 2002's 28 Days Later … and 2005's Batman Begins before teaming up with Jordan. He reprised his Scarecrow character in 2012's The Dark Knight Rises and led the cast of the the gangster series Peaky Blinders (2013-2014).
11. Transamerica
Felicity Huffman took on the role of a transgender woman in 2005's Transamerica. Huffman played a man transitioning into a woman, who went by Bree. Bree gets a phone call from her son (Kevin Zegers) she's never met. She flies to NYC to bail him out of jail, and the two end up on a road trip back to Los Angeles together. Bree struggles to find a way to explain to her son that she is his biological father. The film received 30 awards, including a Best Actress Golden Globe for Huffman and a Best Actress Oscar nomination.
The film was also met with some backlash, with members of the transgender community questioning inaccuracies about the transition and surgery-approval process (Bree's therapist insisted she meet her son before being approved), but LGBT Perspectives Magazine stood up for the film, writing, "Indeed, it would not have happened in the manner presented in the film, but that's not important; it's not a documentary and the story needs to be told in 90 minutes." Huffman was already starring on Desperate Housewives (2004-2012) when taking on the role of Bree. When the successful TV series came to an end, Huffman landed roles in the 2014 film Big Game, Cake and the 2015 TV series American Crime.
12. Tomboy
Ten year old Mickäel and his family move to a new neighborhood in Paris in the 2011 film Tomboy. Mickäel is befriended by a girl in the neighborhood, who then introduces him to the rest of the other kids in the area. Mickäel is actually Laure (Zoé Héranwho), a young girl living as a transgender boy unbeknownst to his parents. This was Héranwho's first major film role. Advocate magazine includes Tomboy on its list of The Best Overlooked Films, simply describing the main character as, "a 10-year-old who lives as a girl or a boy depending on the people around."
Director Céline Sciamma talked to Film Independent about the lack of transgender stories in France, saying, "Twelve years ago there was Ma vie en rose about a little boy wanting to be a girl. But in the meantime, the page on the subject remained blank. I think it's part of the success it (Tomboy) had in France actually. It's a story that hasn't been told much, and the audience responded also to that."
13. Dallas Buyers Club
Matthew McConaughey and Jared Leto starred in 2013's Dallas Buyers Club. The film is based on a true story, with McConaughey taking on the role of hustler Ron Woodroof. In 1984 Woodruff was diagnosed with AIDS. He traveled to Mexico to get medication that was not approved in the U.S., using it for his own purposes and to distribute to others with the disease. He befriends a transgender woman, portrayed by Jared Leto.
Digital Spy asked Leto in an on-camera interview if he had any trepidation going into the physicality or sexuality of the role, which he replied, "No, I wasn't so trepidatious about that, I thought that was a really attractive component that she was dealing with these issues of gender and identity. I think that made it all the more interesting." Leto took home the Academy Award for Best Actor in a Supporting Role in 2014 for his performance in Dallas Buyers Club. He is currently working on 2016's Suicide Squad.
14. The Danish Girl
Eddie Redmayne has officially hit household name status, following his Best Actor Oscar win for his portrayal of Stephen Hawking in 2014's The Theory of Everything. The Academy Award couldn't have been on his mantle too long before first looks for The Danish Girl began to appear online. Redmayne takes on the role of real-life Danish artist Einar Wegener, who attempts reassignment surgery in the 1920s. We meet the artist as a young man, who is married to fellow artist Gerda (Alicia Vikander) prior to the transition into Lili Elbe.
Boy Meets Girl star Rebecca Root, who is a trans actress, portrays Lili's nurse in the film. When asked about being accepted in the film industry as a trans actress, she tells i-D magazine, "Once I have been cast, there has been no problem. The fact is it is a very overcrowded industry and just getting the work in the first place is difficult." She continues the conversation with i-D, covering topics like the lack of roles for trans actors, cisgender (not transgender) actors portraying transgender characters, and what gender means to her in this insightful article. While The Danish Girl has yet to be released (December 25), The New York Times has released an early review, writing, "Her (Lili) bravery makes this film a welcome tribute to a heroic forerunner of the current movement for transgender rights." Redmayne is currently filming J.K. Rowling's Fantastic Beasts and Where to Find Them.
15. About Ray

People are coming to a realization and transitioning genders earlier than they have in the past, as seen in 2015's About Ray. Elle Fanning takes on the role of Romona, a teenage girl who identifies with being a boy. He's already transitioned mentally, dresses like a male, and goes by the name Ray, but he can't start testosterone supplements until getting the approval of his absentee father (Tate Donovan). Ray's mother (Naomi Watts) and grandmother (Susan Sarandon) are supportive, but his grandmother is still grappling with the decision a little bit, suggesting, "Why can't she just be a lesbian?"
Early reviews suggest the family dynamic takes up a lot of room in the telling of Ray's story than the transition itself, but at the same time, the film provides an examination of what a young person has to face with or without family's support. About Ray will be in U.S. theaters on December 31, 2015. We can also look for Fanning in the recently released Trumbo, opposite Dame Helen Mirren.
Which film resonated most with you? 
Read More
Filed Under: