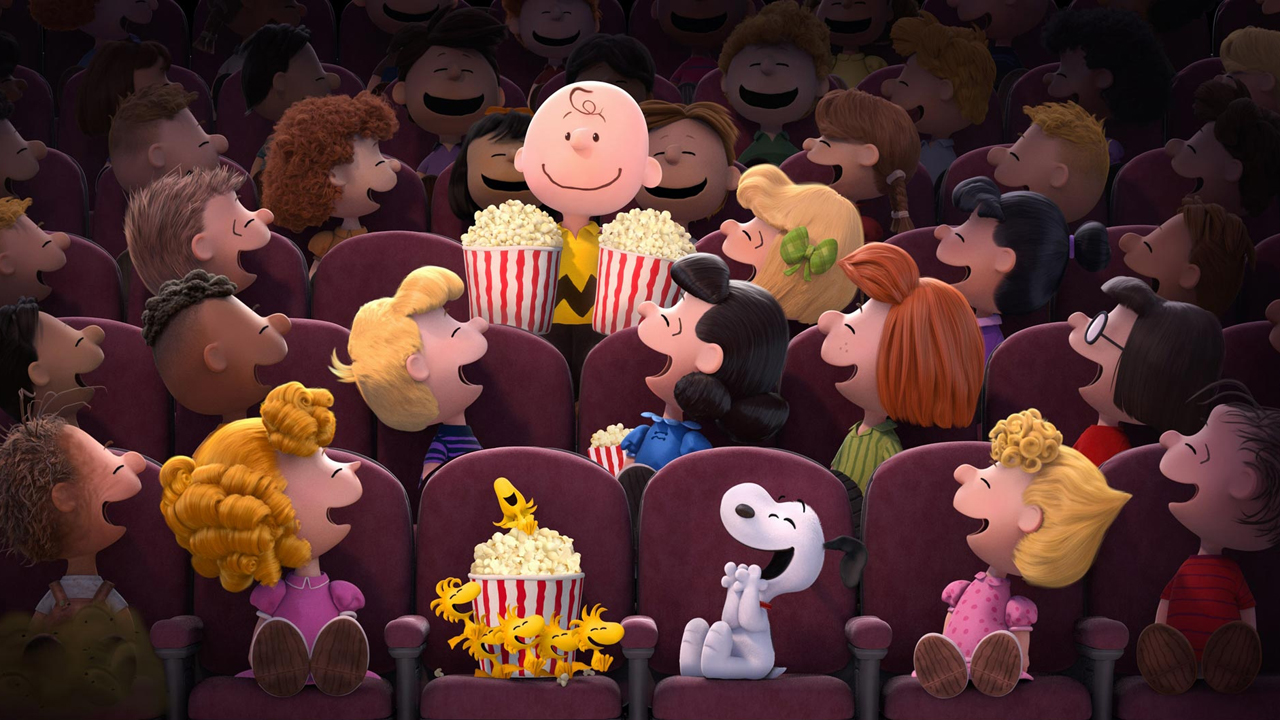 Charles Schulz's (1922-2000) Charlie Brown, Snoopy, Sally, Lucy, Linus, Peppermint Patty and the rest of the Peanuts gallery are making their big screen debut today (November 6) with The Peanuts Movie. Charlie has his eye on the Little Red-Haired Girl at school, and his friends are there for moral support (for the most part).
Schulz named some of his characters after friends and family members. He even stepped into the stories, having said, "I think anybody who is writing finds he puts a little bit of himself in all of the characters, at least in this kind of a strip."
We're cheering for you, Charlie Brown, and it makes us do a "happy dance" just thinking about being friends with you and the rest of the Peanuts.
Here are 10 other groups of TV pals we'd like to hang with:
1. Friends
NBC's Friends may have gone off the air over ten years ago, but it still plays a few times a day in repeat on U.S. television. It ended its ten-year run, but we can still hang out with Joey, Monica, Chandler, Ross and Phoebe on a regular basis. The group doesn't really get up to too much: We don't typically see them outside of their apartments or the coffee shop. But they really don't need to go anywhere, as they enjoy their own company that much. We want to hang out with this group because they will be there for us. And Rachel makes a mean trifle. They have room for one more, right? You can meet up with Friends over at Netflix.
2. Seinfeld
NBC hit the Thursday night jackpot back in the '90s with Friends and Seinfeld on back-to-back. It really was like sitting down with friends for the evening. Seinfeld revolves around comedian Jerry Seinfeld and his friends George Costanza, Elaine Benes, and Cosmo Kramer living in NYC. The group of friends hangs out at Jerry's or the diner down the street and for the most part it's a show about doing nothing. They'd make good company because they like to sit around and analyze life and work out their problems with each other. They can be a tad selfish, but it's still nice to have a group of pals to sort things out with. Let's pull up a chair at the end of the table. You can hang out with the gang over at Hulu.com.
3. The Big Bang Theory
The Big Bang Theory is one of the most popular TV shows in the history of the universe (okay, maybe a slight exaggeration but we wanted to sound science-y.) We'd love to have Thai food with Sheldon, Leonard, Howard, Raj and Penny. Or swing by to watch Doctor Who or play a game of Battleship. Of course, we'd be mindful of Sheldon's seat. It'd be great to learn from our new friends, with the guys' advanced knowledge in science. Penny is there to translate their stories if needed, since she's been around long enough to pick up the lingo. Let's catch up with these guys (and girl) over at CBS.com.
4. The Mindy Project
Mindy Kaling wrote her own show The Mindy Project, casting herself as Mindy Lahiri. She made herself a doctor, working in an OB/GYN office. Being a doctor you're at the office most of the time, so her coworkers Morgan, Tamra, Beverly and Dr. Reed, have become her best friends. Another doctor in the office, Dr. Danny Castellano, is more than a friend. We want to hang out with this exuberant group, with each person having such a strong but different personality. The office is fully staffed and they're not hiring, but maybe we can swing by their happy hour for a catch-up. Mindy may ditch out though, so be prepared to fly solo. The Mindy Project has moved from FOX to Hulu.com.
5. Girls
Lena Dunham followed in Mindy's steps, writing her own TV show with the help of moviemaker Judd Apatow. Lena stars as Hannah, an aspiring writer in NYC just out of college. She is surrounded by her college friends Marnie, Shoshanna, and Shoshanna's British cousin Jessa. They have each other to lean on as they figure out how to manage work, love and life. We may be long out of college, but it's fun to see life through younger people's eyes. It might be hard to fit into this tight-knit group, but the girls are pretty open-minded. You can catch up with Girls on HBO GO.
6. How to Get Away with Murder
Four students led by their law professor and criminal defense attorney Annalise Keating (Viola Davis) investigate current cases. Keating breaks it down her Criminal Law 100 class into three steps: Discredit the witnesses, introduce a new suspect and bury the evidence. These students are ambitious, following the lead of their professor. They work as a team, but that doesn't mean they're necessarily loyal. We want to hang out with these legal eagles (to be) because maybe some of their ambitious ways may rub off. We could be the friend who provides some comic relief to such a serious lot. If you want to make your way back to university life, you can do so over at Netflix.
7. Sherlock
Technically Sherlock Holmes and Dr. Watson may not quite constitute a "group," but let's not forget Sherlock's landlady Mrs. Hudson and his brother Mycroft. Sherlock and Watson are always running around London solving crimes, so it might be hard to keep up with them. But they do take a minute to unwind with a cuppa, and we can sit back and listen to their adventurous stories. We can be in charge of keeping an eye for any gatecrashers like Moriarty at the house party at 221B Baker Street. You can Brit-binge on Sherlock over at Netflix.
8. Broad City
Upright Citizen Brigade alums Abbi Jacobson and Illana Glazer started making their own videos (we're seeing a pattern here of women creating their own jobs), which turned into a web series, which turned into a TV series on Comedy Central. The series is pretty much exaggerated versions of themselves running around NYC, and their characters are named Abbi and Illana (another pattern). The girls work random jobs, but the stories are more about them getting in and out of trouble. If we were friends with these two, we'd be laughing all day. Even when they're completely stressed out, like when they realize they're totally broke, they manage to have a good time creatively fixing the problem. We'd definitely be a third wheel hanging out with this dynamic duo, but we're okay with that. The girls hang out over at Hulu, and their earlier work can be found on the Broad City Youtube page.
9. Catastrophe
An Irish woman living in London has a one-night stand with an American tourist she meets at a bar. The one night stand turns into a weekend tryst, resulting in London schoolteacher Sharon becoming pregnant with her new flame Rob's child. Rob moves to London to be with Sharon, making a life together. They aren't 100 percent sure if they're doing the right thing, or what they actually are doing, but they're making the best of it. The new couple pal around with another married couple, Fran and Chris. Hanging out with this group would be comfortin because who really knows what they're doing? We'll have to find a date to hang out with this coupled-up group. Or, we can just tell the single person stories. If you're in the mood for some banter, you can make your way over to Amazon Prime for some more Catastrophe.
10. Doctor Who
With 50 years of material, we have ample Doctors and companions to hang out with. Who wouldn't want to be friends with the Doctor? We get to hang out inside the TARDIS, maybe even take control of steering if we're lucky. We'd get to visit spots all over the world, travel to different universes, meeting all sorts of people and creatures on the way. We're stating the obvious, but we can even travel in time. Not to say we're only hanging with the Doctor because he can take us places, he's just good company and has some funny one-liners. The Doctor already has a companion, but maybe he has room for two? You can catch up with the Doctor's travels on Netflix, Hulu and Amazon Prime.
Who are your ideal TV friends? 
See More: 
How to Make a British Friend in America
WATCH: Tom Hiddleston Throws a Killer Party to Make Friends
David Schwimmer Is Unofficially an Official Anglophile, Starring in British Sitcom
Read More
Filed Under: