The new series of Top Gear is on its way, with new presenters, including Chris Evans, who holds a very special place in British affections.
It's partly because he's been a cheeky imp, partly because he's a live wire, and mostly because he's been involved in some of the most inspired and entertaining television moments of the last 20 years.
Here, for the uninitiated, is a brief fact file of just some of the stuff he's been up to:
1. He was Zig and Zag's guitarist
The Big Breakfast was a brightly colored, very popular and very odd TV show that aired on weekday mornings on Channel 4 in the early '90s. It dispensed with the formalities of other breakfast TV shows, preferring a kind of rolling anarchy, in which guests were expected to join in with whatever comic conceit the producers had cooked up, including strange interviews, stunts and skits. And then there were Zig and Zag, the kind of puppets who'd be kicked out of Sesame Street for changing the letter of the day and confusing everyone. Having quite a low boredom threshold, Chris fit in very well.
2. He invented Don't Forget Your Toothbrush
Or rather, his production company Ginger Productions—formed after he left The Big Breakfast in 1994—did, and then sold the rights around the world. This proved to be a very good idea indeed, as the show's format was taken up by TV channels in Australia, Belgium, Denmark, Finland, France, Germany, Italy, the Netherlands, Norway, Portugal, Sweden and the United States.
3. He's a proper petrolhead
Having made quite a sizable sum selling the format for Don't Forget Your Toothbrush around the world, Chris indulged his passion for cars, buying (among other things) a series of Ferraris including Steve McQueen's 1961 Ferrari 250 GT California Spyder, a Ford Escort Mexico, a VW Beetle, and the original car from Chitty Chitty Bang Bang. This, for example, is Chris's Ferrari LaFerrari—the first to reach the U.K.—being driven by paying guests at a charity function.
4. He was Mr. Friday Night…
Chris's 1990s show TFI Friday (yes, it means what you think it means) was a music, chat and comedy show that set British youth up for their weekends. It went out at teatime on a Friday night, featured an astonishing range of stars from Paul McCartney to David Bowie, Ewan McGregor to Helen Mirren, and always had live music from the elite of British music at the time. Which meant a lot of Britpop, and this song, by Ocean Colour Scene, which became synonymous with the show, as it was intro music for guests walking into the bar in which all the interviews took place.
5. …and Mr. Monday Morning
At the same time as TFI Friday, Chris was presenting the BBC Radio 1 breakfast show, the most prestigious job in British radio. And like any decent Top Gear presenter to be, he spent his time talking up a storm and then setting up races. One memorable show had the entire production team hurtling through the pre-rush hour London streets in a variety of wheeled vehicles, from supercar to bicycle. Sound familiar?
6. He used to be a Tarzan-ogram.
Everyone has to get their start in showbiz somewhere, and before Chris found work at Manchester's Piccadilly Radio, he had several odd jobs, including work as a private investigator (tricky, considering he's over 6 feet tall, wears big glasses and had a shock of red hair). He also appeared at the homes and offices of his native Warrington in a leopardskin loincloth as a Tarzan-ogram.
7. He was once married to Billie Piper.
In fact, their whirlwind romance is a perfect bookend of the end of Billie's pop star career and the start of her acting career. They split in 2004 but have remained on very good terms ever since.
8. He met his wife while playing golf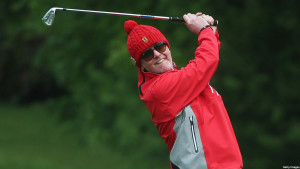 Chris has a handicap of 15, having played golf for years, and when he attended the 2005 All*Star Cup celebrity tournament in Newport, he was paired with pro golfer Natasha Shishmanian. The two hit it off (pun intended) and were married in Faro, Portugal, two years later.
Incidentally, at that same tournament, Chris was awarded a £10,000 Russian Kristall Smolensk diamond for playing a great round. He gave it to his caddy, 17-year-old Natalie Harrison.
9. He still is Mr. Friday Night…
Not only has Chris presented the Friday episode of the BBC's The One Show, another magazine format weekend starter with celebrity interviews, skits and musical performances, he actually brought TFI Friday back this year too. The weekend, as always, starts here.
10. …and Mr. Monday Morning
Chris is now the presenter of the BBC Radio 2 breakfast show, with a greater listening audience than ever. As well as playing host to astonishing musical moments and in-depth interviews—like this discussion of male pattern baldness with Sir Elton John—his show contains the same freewheeling sense of fun that has characterized all of his various shows down the years.
Read More
Filed Under: