The British gangster movie, whether played as a caper, a comedy, a musical or a deadly serious thriller, has a distinctly different tone of voice to similarly criminal films from other parts of the world.
There may be common themes—sex, violence, a certain devil-may-care attitude towards the feelings of other people, and at some point you're going to meet a crime boss who makes your skin crawl—but there's generally less emphasis on the glamour of the game, and even when the gang lords are living high on the hog, there's still something a little too domestic, a little too grotty, to match up to any of the lifestyles as depicted in, say, Goodfellas or The Godfather.
Also, there's a different range of swear words to choose from, and Anglo Saxon sounds entirely different when delivered in any of the most urban British accents. This, as we shall come to see, is very important if we are to concoct a believable criminal fantasy. Let's look at some examples:
Lock Stock and Two Smoking Barrels (1998)
If you've been witness to Don Cheadle's frankly bizarre accent in the Ocean's [number] movies, here is the reason anyone felt it would be important that his character should be British. In Lock Stock, Guy Ritchie presents gangsters as geezers, which means they're not only full of local London character, they each have their their own foibles and blind spots. Everyone thinks they know what they're doing, and pours scorn on everyone else, but they're all comically easy to trip up if attacked in just the right way. And you have to love the movie that made a star of Jason Statham.
Sexy Beast (2000)
For reasons of public decency we can't actually bring you much of a clip from Sexy Beast, even the trailers have F-bombs, and with good reason. You can't wander unwarned into a film in which Sir Ben Kingsley unleashes the most disturbing, tantrum-prone, cuss-dispensing and downright chilling crime boss in British film history. He only has one job, to bully the retired Ray Winstone back to work, and yet the manner in which he does it is enough to give you nightmares for weeks. Sir Ben later claimed to have based his interpretation of Don Logan on his own grandmother, which is frankly even more disturbing.
The Krays (1990)
While Legend seemed to make the rise of the Kray twins feel a bit more like a Hollywood comic fable, this version, starring Gary and Martin Kemp of Spandau Ballet fame, offers a more realistic (and downright unpleasant) view of the two most stylish (and brutal) gang leaders in London's past. The peculiar mentality of Reggie and Ronnie Kray—partly inspired by their strong fraternal bond, partly by their mother's insistence that they are very special indeed—leads them to simply seize anything they feel should rightly be theirs. And it's that air of entitlement, celebrity and prestige, that the Kemps knew all about from their pop star past, that is eventually their undoing.
Performance (1970)
When gangsters are acting like rock stars, as the Krays did, it's not such a big jump to imagine a rock star acting like a gangster. And when that rock star is Mick Jagger—at the apex of his devilish phase when the movie was shot in 1968—things can get pretty hairy (pun intended). James Fox is Chas, gangster on the run from his former East End bosses, who hides out at the home of faded rock star Turner. Turner encourages Chas to express his feelings while Chas encourages Turner to regain his "demon." The two begin to morph into one another, and that's when the trouble begins.
Bronson (2008)
And as we have so cruelly skipped past Tom Hardy as the Kray twins, how about we take a look at this gruesome real-life tale of crime and punishment, in which Tom plays a one-man crime wave, young Michael Peterson. Jailed for a bank robbery at the age of 19, Michael went on to spend his jail time making a thorough nuisance of himself, transforming into the musclebound horror Bronson—Britain's most dangerous prisoner, and ensuring that he would spend more than 30 years in solitary confinement.
Adulthood (2008)
One of a series of British movies that brought home the human consequences of being involved in gangs in the modern era (a list to which we must also add the equally compelling Bullet Boy from 2005), Adulthood is where the folly of youth intersects with the brutality of urban life. Sam Peel (played by the film's writer/director Noel Clarke) has just come out of jail after six years for killing a local youth with a baseball bat. He now has to try and rebuild his life with an entire community against him and some very nasty ways of showing it.
The Long Good Friday (1980)
No one does angry exasperation like Bob Hoskins. He's the gangland boss that really, furiously objects to any disruption to his plans, and he makes his frustration at a string of challenging events very clear, in a succession of creatively violent outbursts that must have pleased Quentin Tarantino very much. Although again, it's less his sadistic streak that comes across and more the sheer vexation of a weekend of very disappointing news. It is also the only gangster movie outside of those set in Gotham City that makes use of a Batmobile, although this one is yellow.
Get Carter (1971)
The revenge fantasy—in which one man is pitted against an entire community, with only his hate to keep him from succumbing to the odds—was already well established by the time Michael Caine put his suit on and started shooting. And in fact the film owes some of its basic plot to Raymond Chandler's Farewell, My Lovely. (Carter is even seen reading the book at one point, in an affectionate nod.) Except Get Carter is very much a product of more brutal times, so Michael's cold stare, impassive lack of forgiveness and extremely violent retaliation for the death of his brother push him closer to something like The Crow than conventional film noir.
The Lavender Hill Mob (1951)
A less heralded influence on Lock Stock and Two Smoking Barrels than anything starring Bob Hoskins or Michael Caine, but a more profound one, The Lavender Hill Mob is another comedy of errors. It concerns four would-be gangsters and a plot to steal three million pounds in gold and then smuggle it away, having melted it down and re-cast it as statues of the Eiffel Tower. Anyone watching the bickering of Guy Ritchie's gangsters will be familiar with the prickly relationships between the gang, who include in their number Alec Guinness—one of British theater's greatest talents—and Sidney James, soon to take up his role as lecherous cackler in the Carry On comedies.
Brighton Rock (1947)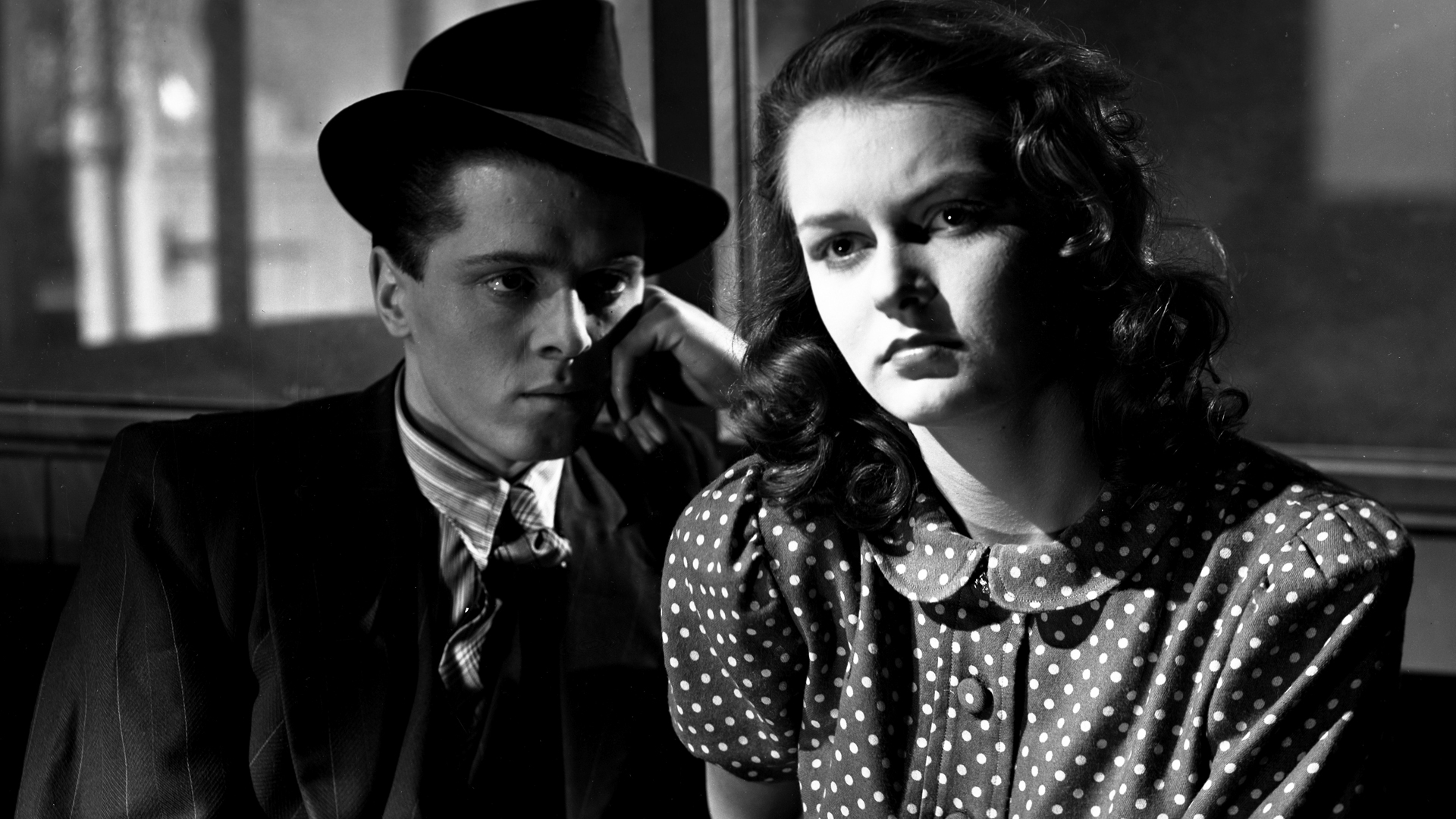 Graham Greene's novel was an essay in Catholic guilt and the fear of a new wave of amoral youth. This film adaptation ramps up that fear, casting a hellishly self-possessed Richard Attenborough as the cold, calculating Pinkie Green, a gang leader who has to manipulate the affections of a young waitress called Rose, in order to prevent her from exposing his gang's involvement in a murder. He is even prepared to try and con her into committing suicide, a mortal sin that reveals the blackness of his soul and his unreasonable evil. As a way of making a firm link between Pinkie, gangster mythology and Al Capone, Brighton Rock was retitled Young Scarface in the United States.
And finally, the one that never makes it onto lists like these…
Bugsy Malone (1976)
While all the others are films about gangsters, Bugsy Malone is a film about films about gangsters. Nothing that happens in the movie would make any sense had there not already been a fine tradition of gangland movies set in prohibition-era New York and Chicago, and yet the irony is that it's a children's film. It is not intended for an audience that has any idea who James Cagney is or what constitutes film noir. In fact, were it not for the sparkling script, engaging performances, brilliant splurge guns and deeply wonderful songs from Paul Williams, Bugsy Malone would be the equivalent of those deeply annoying references to grown-up movies that filmmakers like to throw into modern children's animations, so that parents find themselves whispering explanations to their confused kids in theaters instead of enjoying the movie. As it is, it's a wonderful musical love letter to genre cinema that requires no background reading for anyone to enjoy it.
Read More
Filed Under: