David Tennant will always be the Tenth Doctor; there's no question about that. But we understand we can't be selfish, keeping him all to ourselves, and it's okay to share him with the rest of the world. His popularity is about to blow up a little bit more with the Netflix release (November 20) of Jessica Jones, where he threatens to steal the show as British baddie Zebediah Kilgrave.
We know you know why David Tennant is so great, but we want to spread the word:
1. He's funny.
Tennant is a proven TV and movie star with roles in fan favorites like Doctor Who, Broadchurch, Spies of Warsaw, and Harry Potter and the Goblet of Fire. But his head isn't too big to put on a funny face for BBC's Comic Relief: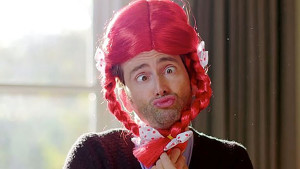 2. He's sentimental.
Okay, the secret on Tennant may be out already, with the National Television Awards honoring him with a Special Achievement award in January 2015. The Scottish actor seemed caught off guard, and a little teary-eyed, particularly when his dad popped up on screen to pay tribute:
3. His hair has a mind of its own.
Yes, he's an amazing actor. He appreciates his peers and family. But it's not just the man we adore: It's his do. Does the man make the hair, or does the hair make the man?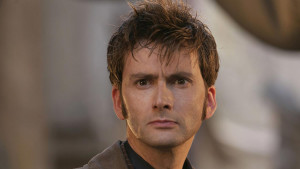 If you're interested in DIYing Tennant's Tenth Doctor hair, check out this tutorial:
4. He takes it on the chin.
Tennant swung by David Letterman's chat show in 2014, with the late night host razzing him a bit. Letterman was asking Tennant to speed him up on how American audiences should know the actor. Can we all say "duh" all at once? Tennant wasn't fazed by the rapid questions at all and handled himself like a true gentleman:
5. He's delightful.
Tennant headed to his mum and dad's in Scotland to celebrate Christmas with his family in 2005. And, what did they do? As part of the day Tennant recorded him and his family watching the first episode of Doctor Who he starred in, "The Christmas Invasion," and excitedly shared it with us:
6. He's discreet.
When asked about the premiere date for Jessica Jones at a Radio Times event, Tennant answered like he was in fact a superhero himself, saying, "These questions are not for me to answer." The interviewer tries another two times to get some deets on his Purple Man role, but Tennant doesn't budge:
7. He's a doting husband and father.
Tennant and his wife Georgia Moffett just welcomed a baby girl into their growing family. He was happy to share the news with his fans while co-hosting Christian O'Connell Breakfast Show. Here he is portraying the doting father (minus the time he fell asleep at the wheel) of three in the trailer for What We Did on Our Holiday:
8. He started a fan-off with Billie Piper.
Tennant and Billie Piper (Rose Tyler) rocked a Q&A at Wizard World Comic Con in Philadelphia. The Q&A turned into a fan-off with Matt Smith, Freema Agyeman and Alex Kingston, who were hanging with Whovians in Brisbane, Australia for the Whoniverse Five City Tour. It went something like this:
The David & Billie video that started it all! pic.twitter.com/Bs6SZunRtD

— Barry Greenberg (@celebconn) May 11, 2015
And a small part of the response! pic.twitter.com/kCRStOh7EW

— Barry Greenberg (@celebconn) May 10, 2015
This competition gets crazier & crazier! pic.twitter.com/CR312RpNhT

— Barry Greenberg (@celebconn) May 11, 2015
9. He's a helper bee. 
The actor used his charm to help a young fan ask out a girl he fancied while at Wizard World Comic Con. Tennant made a call out to the girl, saying, "Margaret. It's David Tennant here. I believe you were here yesterday, where are you?? … Can I give you one word of advice: you need to go out with this guy." You can watch his persuasive ways here:
10. He is the Tenth Doctor.
And, finally, he's the Doctor. He's a Time Lord. He is from the planet Gallifrey in the constellation of Kasterborous. He is 903 years old. He's not just a Time Lord, he's the last of the Time Lords. His legacy as the Tenth Doctor will always live on:
How much do you love David Tennant? 
Read More
Filed Under: