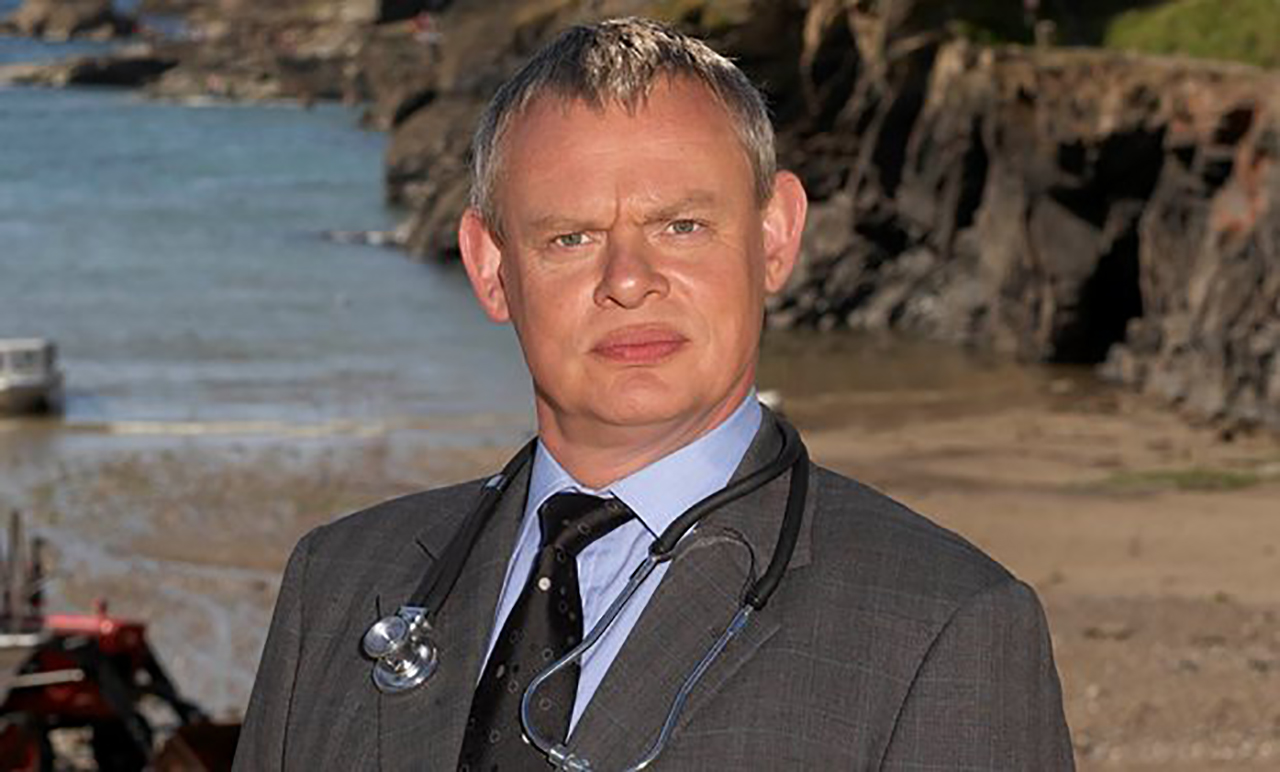 Martin Clunes returns to American TV, with the seventh season of Doc Martin premiering on Acorn TV this week (October 5). The first two episodes of the eight-part series are currently available online, with a new episode being released every Monday, leading up to the finale on Monday, November 16. Clunes is so good at playing Dr. Martin Ellingham, the grouchy general practitioner in a small Cornish village, that we almost forget that, well, he has portrayed other roles, as seen below:
1. Saving Grace 
Clunes takes on the role of Dr. Martin Bramford in the British romantic comedy, written by Doc Martin executive producer Mark Crowdy and former late night host Craig Ferguson. The story revolves around a recently widowed housewife (Brenda Blethyn) who finds herself in debt. With the help of her gardener (Ferguson) the two come up with a scheme to make some quid. It's not a coincidence that Clunes portrays a Dr. Martin in this film too, because the Doc Martin character was actually based on his Saving Grace role.
Watch Saving Grace on iTunes.com.
2. Dirty Tricks
Clunes plays a trickster who is "in a spot of bother from the law." In other words, he's on the run. Sure, his character may not have the highest of morals, jumping into bed with someone else's wife and dabbling in robbery, but he's now suspected of murder, which he denies. This two-part TV movie has been described as "part bawdy bedroom farce, part zany crime caper." The TV movie also stars Julie Graham (William & Mary) and James Bolam (New Tricks).
Watch Dirty Tricks Part 1 and 2 on Amazon Instant.
3. William & Mary
Clunes teams up with his Dirty Tricks co-star Julie Graham in this loved-up series. Clunes is William. Graham is Mary. William is an undertaker, and Mary is a midwife. It's the classic story of undertaker meets midwife, undertaker falls in love with midwife.
Watch William & Mary on Acorn TV.
4. Arthur & George
Clunes takes on the role of Sherlock Holmes author Sir Arthur Conan Doyle in the three-part adaptation of Julian Barnes' novel Arthur and George. The drama is based on true events and is set in 1906 Staffordshire, Hampshire and London, England. Doyle and his secretary Alfred Wood (Charles Edwards) investigate the case of George Edalji (Arsher Ali) and the events that led to his imprisonment.
Watch Arthur & George on Amazon Instant.
5. Room on the Broom
This animated tale follows a witch who is asked by a bird, a dog, and a frog if they can get a ride on her broom. Her cat already has a fixed spot as her aid, and he's not too pleased with the interlopers. In addition to Clunes, the 25-minute short film is topped up with British stars lending their voices, including Simon Pegg, Gillian Anderson, Rob Brydon, Timothy Spall, Sally Hawkins, and David Walliams. At first glance, this may seem like it's just for the lil' ones, but the short is actually quite delightful at any age.
Watch Room on the Broom on Netflix.
Are you in the mood for some more Martin Clunes?
See More:
Five Great British TV Shows Where The Location Is The Star
10 American Actors Who've Done British TV
2015 British Fall Preview: 10 Shows to Watch
Read More
Filed Under: